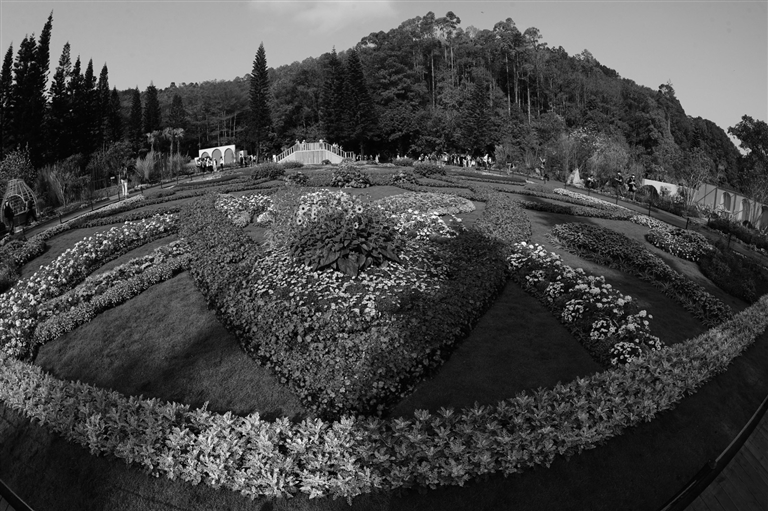 Wang Jingli
wangjingli0715@163.com
AN opening ceremony was held Saturday morning at the Fairy Lake Botanical Garden in Luohu District to officially kick off this year's Guangdong-Hong Kong-Macao Greater Bay Area (GBA) Shenzhen Flower Show, which will run until March 29.
A total of 38 exquisite gardens including eight international gardens, seven city gardens, five future gardens, six Zen gardens and 12 creative gardens that are designed by domestic and foreign horticulturists are on display at the flower show's main venue, Shenzhen Fairy Lake Botanical Garden.
Affected by the pandemic, foreign creators of the eight international gardens are not able to come to Shenzhen to personally bring their ideas to life.
However, workers in Shenzhen kept a close contact with the designers via live streaming before the show to ensure everything in the gardens is in order, said staff with the Fairy Lake Botanical Garden.
The staff also told Shenzhen Daily that the foreign designers studied materials on the GBA to also make their garden designs unique to Shenzhen and the GBA.
Alistair Baldwin, one of the garden designers from the U.K., added a body of water in his design, called "Bayside Retreat." It is said that the water's J curve represents a line that connects cities in the Guangdong-Hong Kong-Macao GBA.
Chinese rose was chosen as the show's theme flower. Over 1,000 new and high-quality plants are being exhibited in the show. Moreover, the flower show created a rose-themed garden for the first time.
A new rose variety, called "Glittering Star," was unveiled at the opening ceremony Saturday. The rose was cultivated by Peter Beales Roses, a renowned British company specialized in the collection, preservation and research of roses.
On the same day, a floral arrangement competition was held at the Shenzhen International Garden and Flower Expo Park in Futian District, a subvenue of the flower show.
All winning entries are being exhibited at the flower pavilion in the expo park.
The total exhibition area of the flower show is 71,000 square meters.
Meanwhile, the organizers said that more than 100 public activities, including landscaping, horticulture and flower industry forums, floriculture classes and educational activities will be held during the flower show.
Interested visitors need to book their free tickets in advance via Fairy Lake Botanical Garden's official WeChat account "szbgac."
The show is open from 8 a.m. to 6 p.m. each day until March 29. Visitors should follow required pandemic prevention measures on site.
Roads to Fairy Lake Botanical Garden such as Luosha Road and Xianhu Road have experienced heavy traffic since the show opened. Cars also lined up at the garden's entrance Saturday morning.
Traffic police suggested that they will conduct temporary traffic control on busy roads.