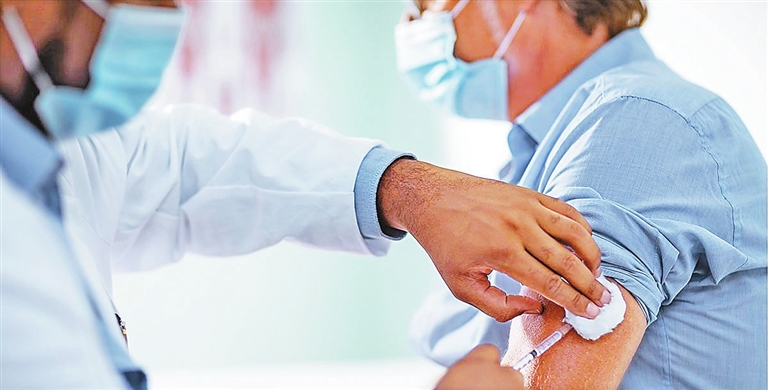 IF you're planning to get vaccinated for COVID in the near future, or if you've recently received the jab, it's only natural to be concerned about potential side effects. Despite some people having no reaction to the vaccine, it is expected that your body will have some sort of response.
Some people have noticed a red, itchy, swollen, or painful rash at their injection site, which can be quite large. The rashes have been colloquially deemed "COVID arm" and, the U.S. Centers for Disease Control and Prevention (CDC) says it could even crop up more than a week after you get vaccinated.
Charles Webb, an allergist-immunologist in Boise, Idaho says that one thing that's particularly unique about this vaccine side effect is that it shows up approximately five to seven days after the jab. This "delayed-type hypersensitivity reaction," as it's called, also happens with some non-COVID vaccines, like tetanus and pneumococcal shots.
Experts say the reaction is completely normal. "The COVID arm is reflecting that we have a very robust immune response meaning your immune system is recognizing what we injected you with."
The COVID vaccines work by signaling to the body to create antibodies to fight against the virus should you be infected in the future. The CDC explains that two types of "memory" defensive white blood cells, known as B-lymphocytes and T-lymphocytes, are left in the body after the jab and work to fight off the real virus should it enter your immune system.
Any side effects you experience are the result of that immune response. Whether it's a fever, headache, chills or possibly a rash, consider it proof that your body is building immunity against COVID-19.
Discomfort from the vaccine-induced rash can be reduced with treatment.
If you get this COVID vaccine side effect, Webb says to use an antihistamine like Benadryl and if you're experiencing pain, he suggests Tylenol. Cool compresses are also helpful, and then of course topical steroids help depress the swelling and local redness.
"COVID arm" should not be confused with a severe allergic reaction.
The CDC does not consider "COVID arm" to be a severe allergic reaction. "An allergic reaction is considered severe when a person needs to be treated with epinephrine or EpiPen or if they must go to the hospital," the CDC says.
The CDC suggests getting vaccinated in the opposite arm for your second dose if you experience the rash after your first.
On the other hand, severe allergic reactions, known as anaphylaxis, following the first COVID jab are the reason why you are monitored for 30 minutes after getting vaccinated. (SD-Agencies)