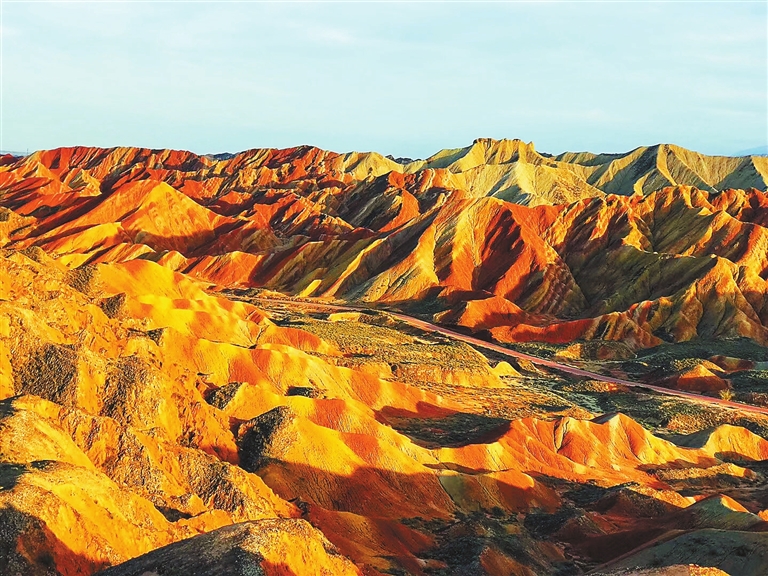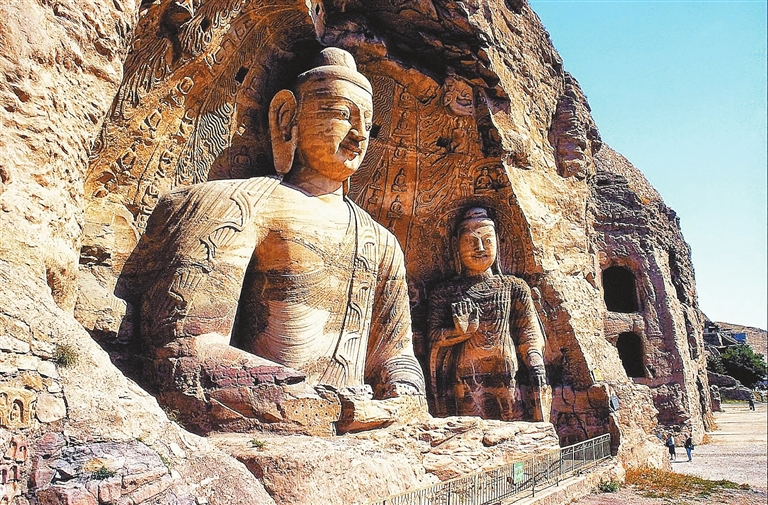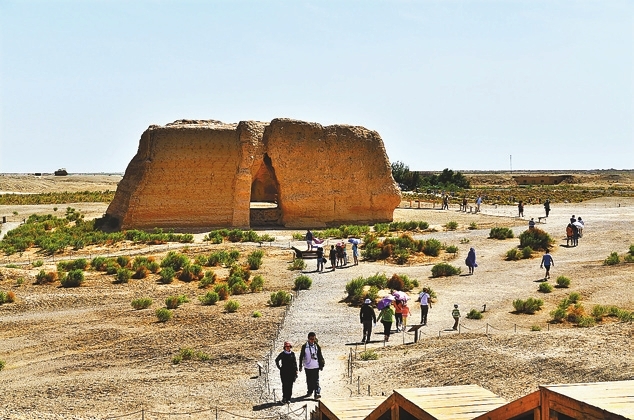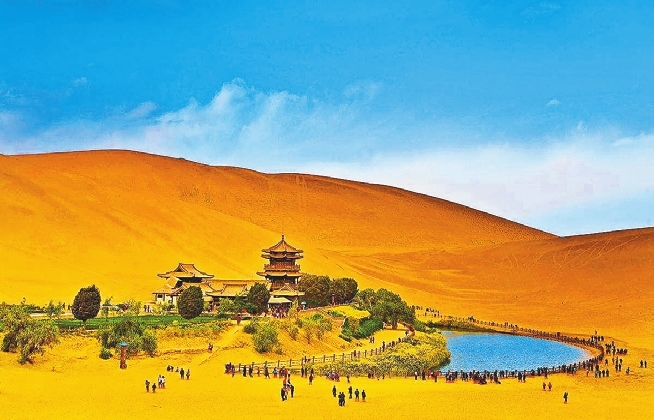 DUNHUANG, which means "grand glory" in English, is a major gateway linking China with the West in Gansu Province. Traces of exchanges between different civilizations can be found in the mottled murals and Buddhist statues of its iconic Mogao Grottoes, the rolling sandstone of Echoing-Sand Mountain, a quiet oasis in the Gobi Desert, mysterious ancient graves and numerous earth-tone ruins. All of this attracts more than 10 million tourist visits from around the world every year.
Zhang Yuping, a taxi driver in Dunhuang, said during peak season in July and August, the small city would be packed with tourists. Room prices at four-star hotels and above would be as high as 1,000 yuan (US$154) per night. And he, like the other 1,000 or so local taxi drivers, would work around the clock to serve passengers.
"Some tourists are curious about remote, exotic desert scenery, and some have a strong interest in Buddhist art," he said.
The number of tourist visits to the city grew by 20 percent annually during the 2017-19 period, according to He Yanhong, deputy director of the Dunhuang culture, sports, radio, television and tourism bureau. Total tourist visits reached around 7.75 million in 2020, about 60 percent of what it was annually before the coronavirus pandemic. However, October and November last year saw a year-on-year increase, after cross-provincial travel recovered in mid-July, he said.
Dunhuang, one of the first cities in China to open to the West, has long been a port of entry along the ancient Silk Road. It borders the Xinjiang Uygur Autonomous Region on the west, beyond which lies Central Asia: Kazakhstan, Uzbekistan and other countries. Farther still lies Europe.
The path to civilization may be strewn with thorns, but the result of the journey has been remarkable. When envoy Zhang Qian was sent by emperor Wu during the Han Dynasty (206 B.C.-A.D. 220) to seek diplomatic alliances with countries and tribes in the West, he passed through Dunhuang and thought it was an important base. So he suggested the emperor to build a city in the barren desert. As officials, soldiers and merchants moved to Dunhuang from inland areas, military fortresses were built at Yangguan Pass and Yumen Pass, and Dunhuang established its name firmly in history.
Its construction also laid the foundation for cultural exchanges.
For thousands of years, traders speaking different languages came to Dunhuang to buy and sell Chinese silk, tea, porcelain, Western gemstones, spices, horses and fruit. The prosperous social and commercial activity has been depicted in paintings on walls of the ancient grottoes.
The Mogao Grottoes are a UNESCO World Heritage site with their numerous ancient murals and Buddhist statues in 735 caves. They are a rich resource for artistic and historical exploration.
Since opening to the public in 1979, the number of tourist visits surged from 26,000 to a peak of 2.2 million in 2019. Last year, with visitation reduced by the coronavirus, it welcomed 1.39 million visits. Now, it has about 20,000 foreign visits annually, mainly from Japan, the United States and South Korea.
The attraction offers guided services in six languages: Chinese, English, Japanese, French, Korean and German. All films, exhibitions and signboards have English translations.
In addition to sightseeing, tourists can view the restoration process, digital information collection, environment monitoring center and documents excavated from the caves, Li said.
Because the pandemic curbs travel, the grottoes have developed digital platforms, such as online museums, WeChat mini programs and livestreaming for whoever has an interest.
Immersive, interactive digital experiences are offered elsewhere in the city. Yangguan Pass, for example, invited tourists to experience the grand ceremony of sending off envoys and soldiers in ancient times, including the issuance of customs clearance documents, a farewell drink of alcohol and the gift of a willow branch. Giving willow branches was a tradition to say farewell to friends in ancient China.
Travel agencies provide two typical tourist tracks in Dunhuang: one day to visit the Mogao Grottoes, Echoing-Sand Mountain and Crescent Moon Spring — the most famous scenic spots near the downtown area; or a one-day drive to the western line — Dunhuang studio city, West Thousand Buddha Caves, Yangguan Pass, Yumen Pass and Yadan National Geological Park.
Direct flights are available from Chinese cities including Beijing, Shanghai and Lanzhou, capital of Gansu. Deep discounts for tickets and hotels are offered from December to the end of March to promote winter tourism.
(China Daily)