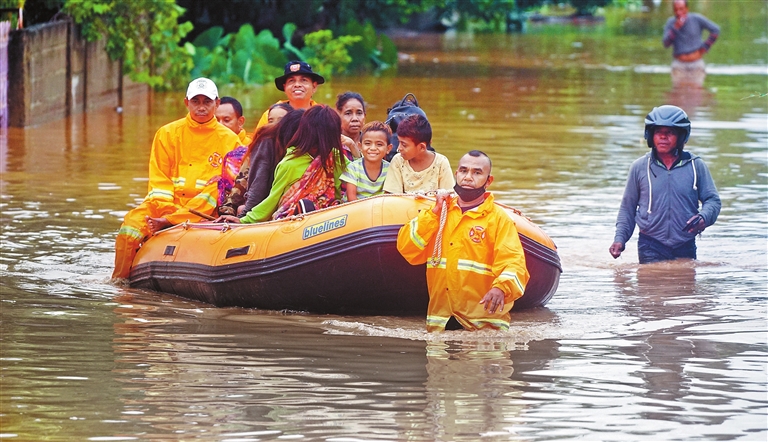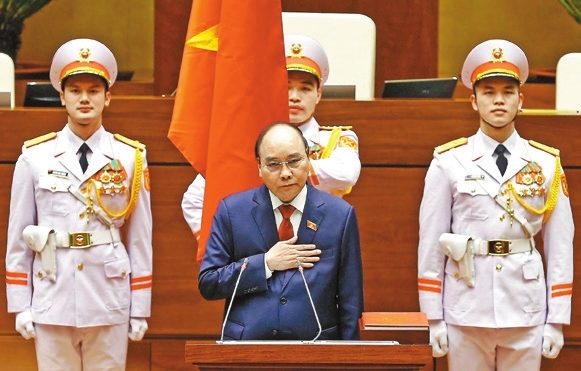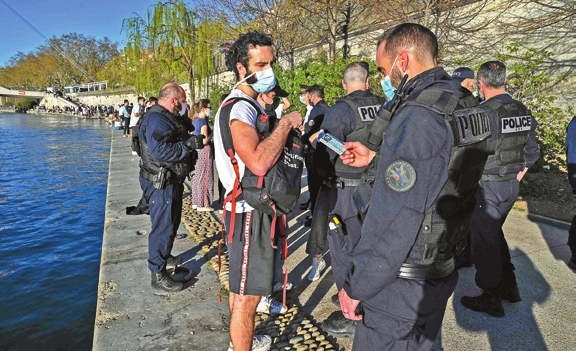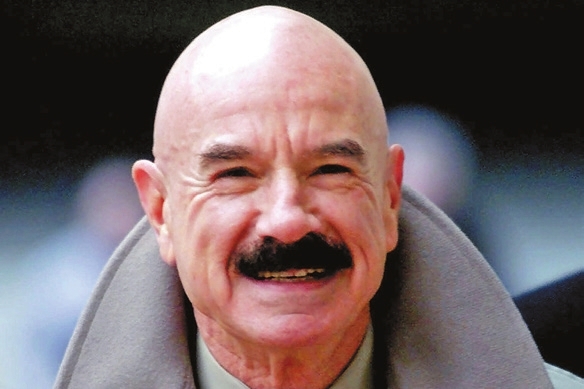 Floods, landslides in Indonesia and E. Timor kill 76
Rescue workers evacuate people through the water in an area affected by floods after heavy rains in Dili, East Timor, on Sunday. At least 76 people have died after flash floods and landslides hit Indonesia and East Timor on Sunday. Torrential rain sparked widespread destruction in the South East Asian neighbors, with water from overflowing dams submerging thousands of homes.Xinhua
Nguyen Xuan Phuc sworn in as Vietnam's president
Nguyen Xuan Phuc, the man behind Vietnam's successful handling of the coronavirus pandemic, was sworn in on Monday as president in the Vietnamese capital, Hanoi.
Phuc, 66, was Vietnam's prime minister for the last five years, a period in which the economy boomed and his government's COVID-19 response won plaudits at home and abroad.
Following secret voting on Monday, Phuc scored the maximum votes among the almost 500-member national assembly. Earlier, the National Assembly said this was "the first time ever a prime minister was nominated to the position of the president."
'Father of Euro' Mundell dies at the age of 88
Robert Mundell, winner of the 1999 Nobel Prize in Economics and "Father of the Euro," died of illness at his home in Italy on Sunday at the age of 88.
Li Daxi, chairman of the American International Chinese Technology Business Association who is very familiar with the Mundell family, confirmed the news.
Mundell's son Bill told Lee: "My father passed away a few hours ago. May he rest in peace. It is unbelievable that this is Easter. What's even more incredible is that I dreamed last night that he was regained and conscious. I witnessed his resurrection with my own eyes." Mundell was born in Ontario, Canada, in October 1932.
France enters four-week light lockdown
France's extension of a light COVID-19 lockdown from 19 areas to all of the mainland and the Mediterranean island Corsica came into effect on Sunday. It will last at least four weeks.
The French Government had been trying to stem COVID-19's resurgence with regional measures — but now across the country nonessential businesses are closed and people's trips are limited to a 10-kilometer radius around their homes.
The definition of essential businesses is far more expansive than it was during the strict first lockdown in spring 2020: Bookshops, hairdressers, florists chocolate shops, music shops and car dealerships can all remain open.
Liddy, Watergate mastermind, dead at 90
G. Gordon Liddy, a mastermind of the Watergate burglary and a radio talk show host after emerging from prison, died last week at age 90 at his daughter's home in Virginia.
His son, Thomas Liddy, confirmed the death, saying it was not related to COVID-19.
Liddy, a former FBI agent and army veteran, was convicted of conspiracy, burglary and illegal wiretapping for his role in the Watergate burglary, which led to the resignation of President Richard Nixon.
UN inquiry finds French raid killed Mali civilians
A French airstrike had killed 19 civilians and three armed men at a wedding in Mali on January 3, the U.N. peacekeeping mission in Mali said last week following an investigation.
"This is not a conclusive report. It calls for a more in-depth investigation," said Stephane Dujarric, a U.N. spokesman.
France's Defense Ministry said it had reservations about the report that failed to "distinguish credible sources from false testimonies of possible terrorist sympathizers or individuals under the influence of jihadist groups." (SD-Agencies)