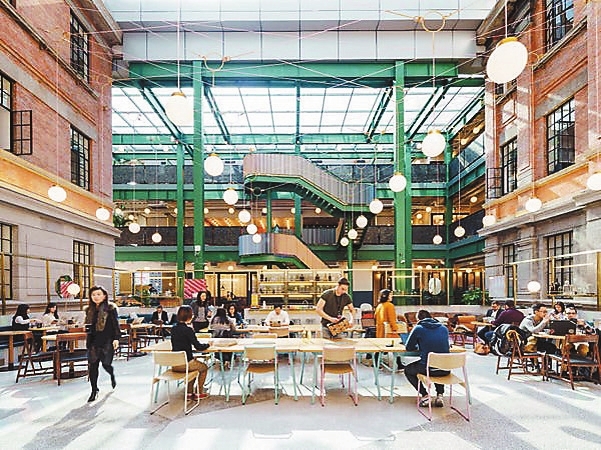 Jed Rothstein directs an overview of the rise and fall of WeWork and its megalomaniacal co-founder Adam Neumann.
WeWork, the office-share company, recently announced that it had lost US$3.2 billion in 2020. For WeWork, that was good news: Its losses were down from US$3.5 billion the previous year, when its megalomaniacal co-founder, Adam Neumann, was ousted as CEO. At his craziest, the entrepreneur had been spending US$100 million a week to attract a multibillion-dollar investment that would never come. As a newscaster says, Neumann's leadership took WeWork "from a US$47 billion valuation to near bankruptcy in just six weeks."
The Hulu documentary accounts Neumann's extravagant flameout. The film doesn't hold back on Neumann or his delusions of grandeur. In one excerpt from a company event, the Israel-born co-founder tells his employees that, were he to truly dedicate himself to the issue, he could solve global orphandom within two years.
Rothstein organizes his tale of WeWork's rise and fall around Neumann's promise of community.
Its origin story begins with Neumann and his co-founder Miguel McKelvey's childhoods growing up on communes on opposite sides of the globe. Neumann described his company as a "physical social network" and a "community that's transparent and accountable." That idea later extended to WeLive — an exquisitely designed dormitory mostly inhabited by single WeWork employees — and mutated into something grotesque with WeGrow, an educational institution that Neumann's wife Rebekah founded to "elevate the world's consciousness," but mostly because she didn't think any New York City private school measured up to her standards.
There's plenty of gawking at rich people's excesses to be had later in the doc. In a much-reported detail back in 2019, a company financial report decreed that, in the event of Neumann's death, his wife Rebekah — who had never worked at the company in an official capacity — would name his successor.
But the documentary lacks a cultural and social analysis for its contents. There's a conspicuous reluctance to observe the obvious elitism and extended adolescence that WeWork and WeLive cultivated, respectively — two aspects of the "co-workers as friends" paradigm that "cool" companies routinely exploit to wring more working hours from their employees. Also missing is any bewilderment at the wildly imprecise financial instruments that would deem a company almost US$50 billion one day and practically nothing less than two months later. Also missing is the outrage that the mega-rich keep giving conmen millions hoping to reap hundredfold their investments instead of paying their taxes and doing their part to ensure we live in a just and equitable society.(SD-Agencies)