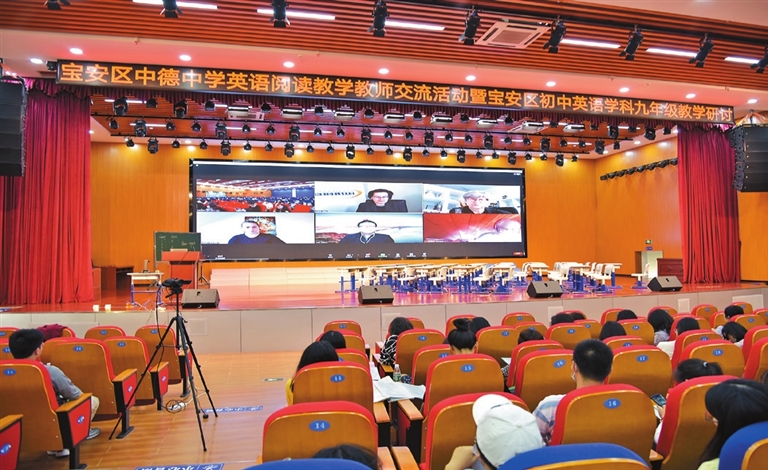 More than 300 junior high school English teachers from schools in Bao'an District gathered at Xixiang Middle School on the afternoon of March 30 for a Sino-German teacher seminar on the teaching of English reading.
Dr. Karin Vogt, professor of Teaching English as a Foreign Language and director of the Professional School at Germany's Heidelberg University of Education, and Dr. ElkeHeinicke, founder and head of HPC International School of German F+U Education Group, joined the seminar via cloud conferencing.
The seminar began with an English class on reading science and technology news reports; it was taught by Shou Yunqi, an English teacher at Xixiang Middle School, to the school's ninth graders.
Pan Jiali, another English teacher at the school, then shared with the audiences some of her experiences in how to better prepare the students for the upcoming senior high school entrance exam. Following the sharing session, the German experts made some observations about the class given by Shou, and compared and contrasted the teaching approaches used in the class with those in the German classroom. In the final part of the seminar, they answered questions from the Chinese teachers.
"Although the English curriculum in Chinese middle schools and German middle schools differ, some of the teaching methods the German teachers adopt still inspire us," a teacher told Shenzhen Daily after the seminar.
"For example, although the English reading proficiency of ninth graders in Germany are higher than that of ninth graders in China, their English teachers still complement the reading materials with a lot of audio and visual materials to help the students better understand what they're reading. Even though our ninth graders face the pressure of the senior high school exam, I think we can still use more of these materials to make the class more interesting so that the students can keep focused on the paper materials."
The seminar was the last of a trio of events hosted by the Education Bureau of Bao'an District on building students' interest in reading English materials, helping them to form the habit of reading English materials and improving their English reading ability. The two preceding lectures were open to students and parents, respectively.
(Yu Yuanfan)