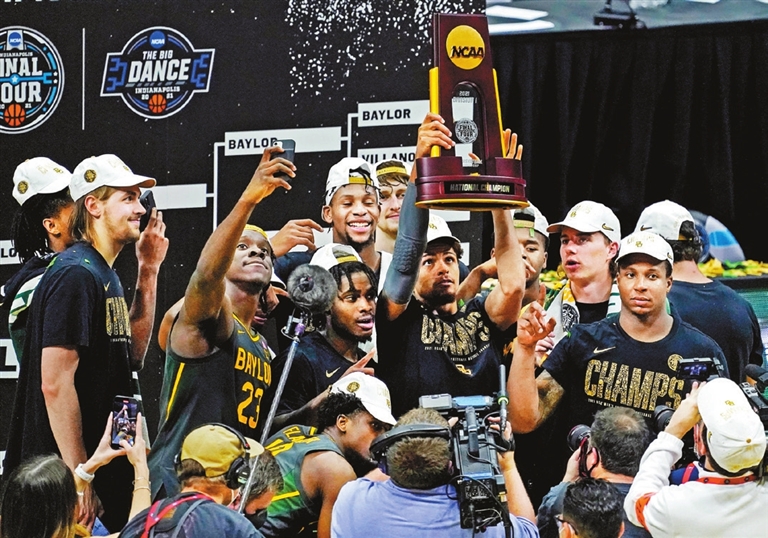 THE Baylor Bears won their first men's National Collegiate Athletic Association (NCAA) basketball title with an 86-70 win over the previously undefeated Gonzaga Bulldogs in the championship game Monday night in Indianapolis, the United States.
Baylor's win also ends Gonzaga's attempt to be the first team since Indiana in 1976 to finish the season undefeated.
Much like it did against Houston on Saturday night, Baylor (28-2) punished Gonzaga (31-1) in the first half. The Bears immediately started deflecting passes and making steals on defense and crashing the offensive glass. If Baylor wasn't making a shot in the opening minutes of the game, odds are it was getting the offensive rebound.
Just two of Baylor's possessions within the first eight minutes of the game ended without points thanks to five offensive rebounds. By the time the game hit its second television timeout Baylor had a 23-8 lead and Gonzaga star guard Jalen Suggs had been on the bench for five minutes after picking up his second foul just three minutes into the game.
"[Baylor] dominated both ends of the ball pretty much all night," Gonzaga coach Mark Few told CBS after the game.
Gonzaga made a run at the Bears to end the half but cut the deficit to only 10 at the break. A hot start to the second half never materialized either. Baylor started the final half with a three — after two offensive rebounds, of course — and never was seriously challenged the rest of the way.
Baylor held a double-digit lead over Gonzaga for over 20 minutes from after Gonzaga cut the lead to 13-4 in the first half and 58-49 in the second half.
After Gonzaga cut it to nine with 14:30 to go, Baylor asserted its dominance again. The Bears immediately outscored the Bulldogs 9-2 and capped off the run by a wide-open three from Adam Flagler.
Baylor entered the game as the best 3-point shooting team in the country at over 40 percent. And the Bears were unstoppable from behind the arc, even as Gonzaga even tried to switch to a zone defense to slow Baylor down.
Baylor finished the game 10-of-22 from three as Jared Butler had 20 points and MaCio Teague had 19. Flagler made his first three 3-pointers off the bench too.
Butler became the first player since Carmelo Anthony in 2003 to have 20 or more points and at least seven assists in a national title game. Mark Vital, meanwhile, finished with 11 rebounds. Eight of them came on the offensive end.
(SD-Agencies)