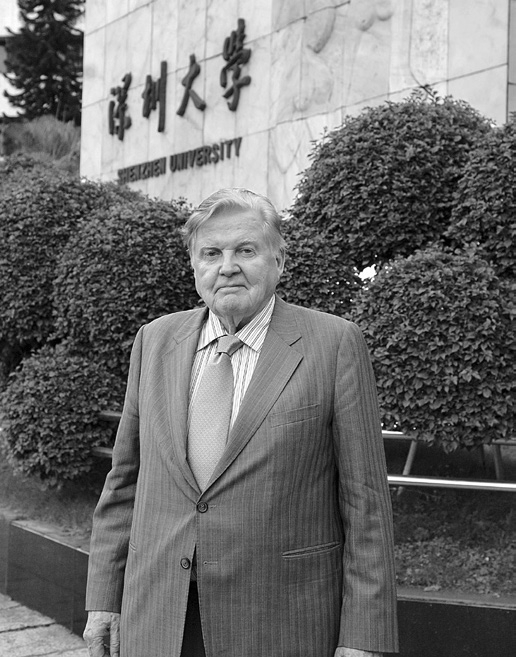 Xia Yuanjie
szrbgracexia@126.com
PROFESSOR Robert Mundell, regarded as "Father of the Euro," passed away at the age of 88 Sunday.
Professor Mundell's iconoclastic theories contributed greatly to the creation of the European Union and adoption of a common European currency. He won the Nobel Prize in Economics in 1999.
Throughout his life, he made several trips over to Shenzhen and formed close ties with the city.
"Shenzhen is a miracle. It is a wonderful, beautiful, and amazing city that can be seen as an urbanization model. I believe that the city will enter the world's top 10 high-tech cities via innovations and sustainable development," Mundell pronounced at the 2012 International Conference on Urban Development and Innovation in Shenzhen.
In an interview with Shenzhen Daily at that time, Mundell said: "With its young population and spirit of innovation, the city could do very well in high-tech industry." He also encouraged more cooperation between Hong Kong and Shenzhen.
Exactly as the Nobel Prize-winning economist predicted, Shenzhen has become an internationally renowned tech hub. By last year, the city's number of national high-tech enterprises exceeded 18,500.Shenzhen and the Guangdong-Hong Kong-Macao Greater Bay Area have been leading in terms of the volume of PCT (Patent Cooperation Treaty) international patent applications and the number of technological inventions recognized at the international level, according to a report of World Intellectual Property Organization.
The stories associating the "Father of the Euro" and Shenzhen can be traced back almost 20 years. As early as 2002, Mundell attended the International Think Tank Forum held in Shenzhen. At that time, the rising urban center in South China had already impressed him. In an interview with Shenzhen Economic Daily, he expressed admiration for the city and applauded its pioneering role in China's reform and opening up, adding that Shenzhen is a window for overseas economists to observe, understand and explore China.
In 2009, Shenzhen University (SZU) invited Mundell to lecture on the international exchange rate and global economic crisis and conferred him the title of honorary professor. Three years later after that, the economist, then 80 years old, visited Shenzhen Polytechnic, which then also appointed him as an honorary professor and senior school advisor. 
(Xia Yuanjie)