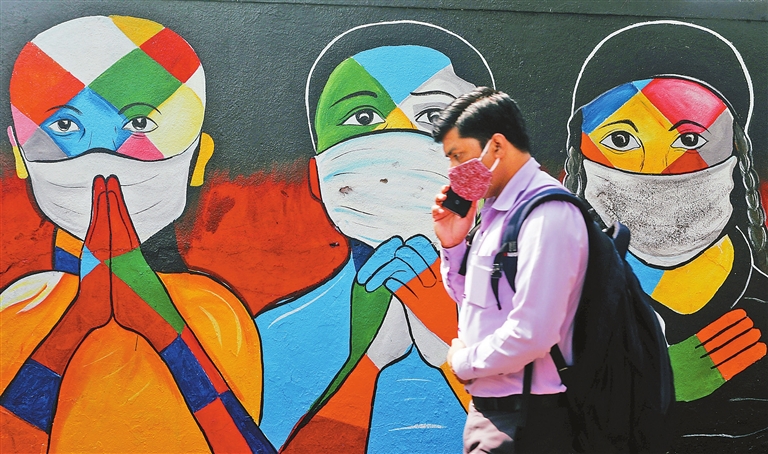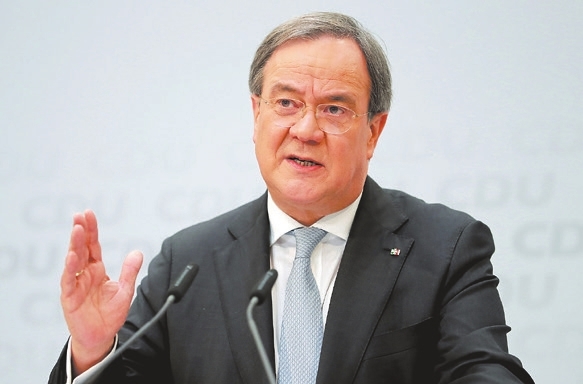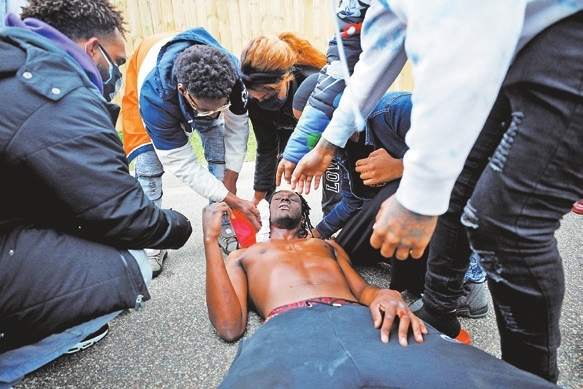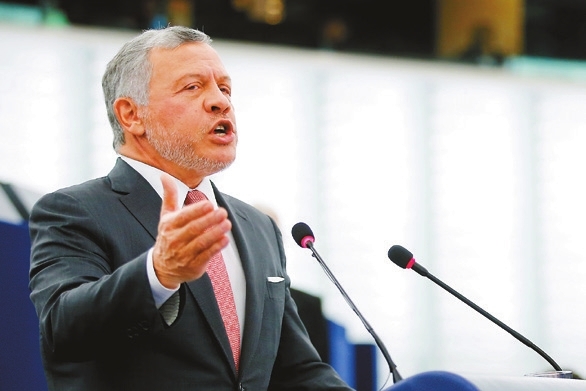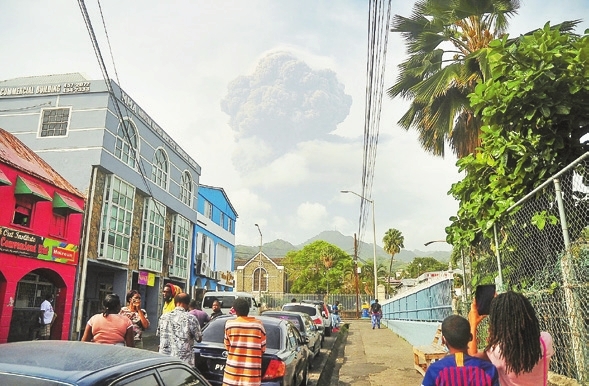 India's coronavirus tally overtakes Brazil
A man walks past a graffiti featuring people wearing protective masks in Navi Mumbai, India, in this file photo. India reported a record daily tally of 168,912 COVID-19 infections on Monday, the world's highest, while worries grew over a further spike, as hundreds of thousands of devotees gathered for a ritual bath in the Ganges river. Monday's new cases carried it past Brazil, for an overall tally of 13.53 million, data compiled by Reuters shows, placing it second after the United States, with 31.2 million.Xinhua
Laschet backed as candidate to succeed Merkel
The executive committee of Germany's Christian Democrats (CDU) backed party chairman Armin Laschet on Monday as the conservative bloc's candidate for chancellor at federal elections in September, party sources said.
Committee members attested to Laschet's "ability to bring opinions together, to develop a stance and to represent it consistently," the sources said.
The candidacy question came to a head on Sunday when Markus Soeder, leader of the CDU's Bavarian sister party, the CSU, put himself forward to run and said he would settle the question soon and amicably with Laschet, his rival.
Man shot by US officer in traffic stop crashes, dies
Crowds of mourners and protesters gathered on Sunday in a Minnesota city in the United States where the family of a 20-year-old man say he was shot by police before getting back into his car and driving away, then crashing several blocks away. The family of Daunte Wright said he was later pronounced dead.
The death sparked protests in Brooklyn Center late into Sunday night as Minneapolis was already on edge and midway through the trial of the first of four police officers in George Floyd's death.
Jordan king breaks silence after royal drama
Jordan's king has broken his silence about a royal family fallout that rattled the country, calling the episode the "most painful" of his 22-year reign.
The saga began a week ago, when Jordanian authorities detained around 15 people, including a high-profile political figure and at least one member of the royal family. A popular prince, Hamzah bin Al Hussein, claimed to have been placed under effective house arrest in a video sent to media.
Authorities alleged that Prince Hamzah was part of a plot backed by unnamed foreign entities to "destabilize" the kingdom — a claim that he has denied. Addressing speculation on the whereabouts of Prince Hamzah, the king said the popular royal was "with his family, at his palace, in my care."
Power cut after another volcanic eruption
There has been another "explosive event" at a volcano on the Caribbean island of St. Vincent, with power outages and water supplies cut off.
The La Soufriere volcano first erupted on Friday, blanketing the island in a layer of ash and forcing some 16,000 people to evacuate their homes.
Residents in Barbados, nearly 200 kilometers to the east, have also been urged to stay indoors. Scientists warn that eruptions could continue for days — or even weeks.
Mother detained after 3 children fatally stabbed
The mother of three young children found fatally stabbed in a Los Angeles apartment in the United States was in custody on Saturday in connection with the crime, police said.
Liliana Carrillo, 30, was described as the "sole suspect" in the attack, the Los Angeles Police Department (LAPD) tweeted. The LAPD said the ages of the children were 3 years old, 2 years old and 6 months old, the Los Angeles Times reported.
The LAPD said Carrillo had been detained in Ponderosa, California, a Sierra Nevada mountain community more than 320 kilometers from Los Angeles. (SD-Agencies)