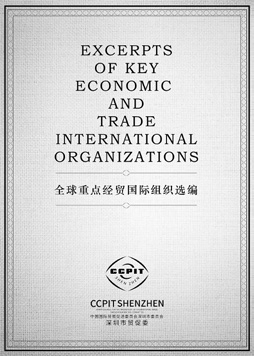 Xia Yuanjie
szrbgracexia@126.com
CHINA Council for the Promotion of International Trade Shenzhen Municipal Committee (CCPIT Shenzhen) recently released "Excerpts of Key Economic and Trade International Organizations" it compiled, in a bid to encourage more international organizations and institutions to settle in Shenzhen.
The book selected 193 of the world's major economic and trade international organizations (ETIOs) highly pertaining to Shenzhen. It aims to provide governmental departments, business associations and enterprises with convenient accesses to the basic information of these institutions and their operations and provide references for mutual exchange and cooperation and the future introduction of these organizations into the city.
The Excerpts has three prominent features. First, it has a high level of pertinence. The content covers comprehensive information about Shenzhen-related ETIOs involving name, history, objectives, structure, meetings, operation teams, working language, funding, membership and contact information.
Second, its degree of practicability is substantial. The chosen 193 institutions were categorized by location. There are 86 ETIOs in Europe, 46 in America, 40 in Asia, 16 in Africa, and five in Oceania. Both Chinese and English indexes are available.
The third characteristic is the book's authority. CCPIT Shenzhen has given full play to its resources of international trade to collect first-hand materials.
The main sources of the book include "Yearbook of International Organizations" edited by Union of International Associations, official websites of 193 ETIOs and data gathered by authoritative institutes.
A digital version of the book (Chinese & English) is expected to be accessible on the official website of CCPIT Shenzhen soon. For a printed version, anyone interested can contact CCPIT Shenzhen by calling 0755-33358105.