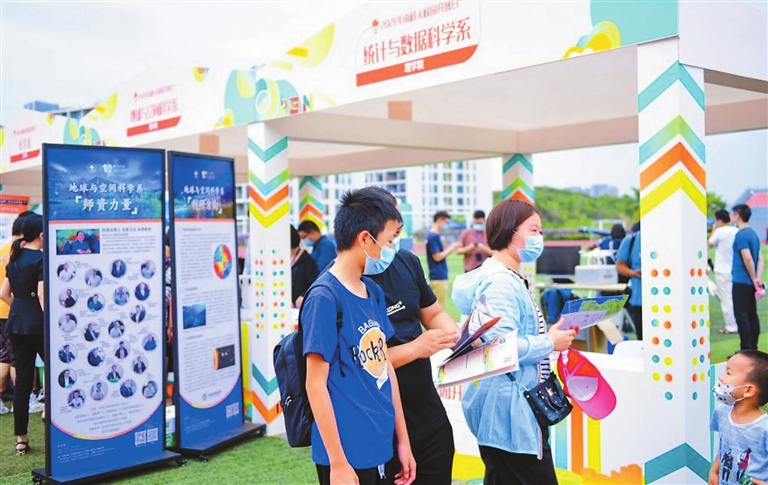 Wang Jingli
wangjingli0715@163.com
The Southern University of Science and Technology (SUSTech) held an Open Day on its campus in Nanshan District on Sunday, attracting more than 4,000 students and parents.
At the same time, nearly 1.6 million people joined the event's online session. According to SUSTech, this is the first time that the Open Day has been held both online and offline, which made it into a school event that had the largest number of visitors as well as the most colorful activities.
Epidemic prevention measures were in place to ensure the safety of students and parents visiting the campus.
Students and parents learned about SUSTech's ideas for running the school, teachers' qualifications, teaching facilities and campus life via the Open Day activities.
SUSTech also opened three libraries and several research labs for students and parents to visit.
Xue Qikun, president of SUSTech, delivered a speech during the Open Day and introduced the basic concepts of the school and its talent cultivation schemes.
Later, a dialogue session was held, in which different SUSTech college directors introduced the university from different aspects, including scientific research results, teaching concepts and goals.
A student representative named Liu Haoyu, who will be attending Yale University, shared stories on his four-year life in SUSTech.
Since 2012, SUSTech has adopted a comprehensive evaluation enrollment model under which the final score of students applying for the university is comprised of 60 percent of the college entrance examination (gaokao) result, 30 percent of SUSTech autonomous ability test score and 10 percent of the high school academic proficiency test score.
This year's SUSTech online application will end on April 30. SUSTech will offer its autonomous ability test in June after the college entrance examination dates.