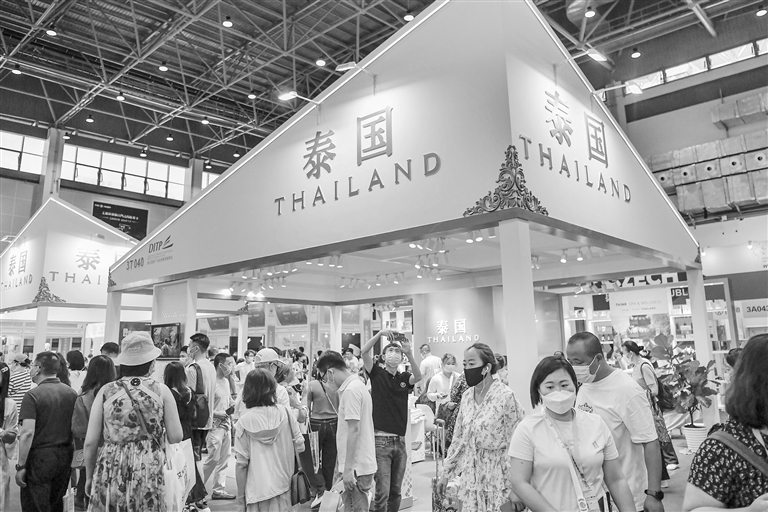 IN recent days, thousands of consumers and business people in Haikou, capital of China's southernmost Hainan Province, have witnessed the economic vitality at the first China International Consumer Products Expo (CICPE).
The expo running from Friday to today has attracted 648 foreign enterprises showcasing over 1,300 brands in Haikou and is expected to be the largest consumer goods expo in the Asia-Pacific region.
Striving for post-pandemic recovery, multinational giants came to the expo to debut their new products and showcase their top-notch goods and overseas small- and medium-sized enterprises (SMEs) also flocked here to observe the booming Chinese market.
Fabrice Megarbane, L'Oreal's president for North Asia Zone and chief executive officer (CEO) of L'Oreal China, told Xinhua that with the prevention and control measures of COVID-19 pandemic entering a regular basis, China continues to open up to the world with a positive and enterprising attitude, setting an example for other countries.
Expressing his belief that China's business environment will be more friendly as the opening-up measures will continue to deepen, Megarbane said by connecting China's domestic and international markets, multinational enterprises have the opportunity to obtain a wider range of resources.
U.S. luxury fashion company Tapestry ditto for. Yann Bozec, president of Tapestry Asia Pacific, said at the scene, "the expo is not only an innovative platform bringing together high-quality products and services from all over the world, but also an important opportunity to showcase our brand concepts, expand market channels and innovate consumer trends."
As the pandemic continues to batter world economy, the first trade fair in China's biggest free trade port has not only attracted global giants, but also groups of foreign SMEs.
Showing Xinhua reporters around the Irish pavilion, Gareth Hargadon, head of Economic Section with the Irish Embassy in China, proudly introduced products ranging from food and beverage to animal nutrition, luxury home wares and babycare products, calling them unique offerings of Ireland.
Though Ireland is a small country, its brands are active participants of physical expos in China, such as last year's China International Fair for Trade in Services in Beijing and China International Import Expo in Shanghai, he noted.
Suppara Seakacharn, commercial consul with Thai Consulate-General in Guangzhou, told Xinhua that many Thai companies interested in joining the CICPE failed to come to China due to the pandemic, so those companies were offered online channels to tap into the Chinese market.(Xinhua)