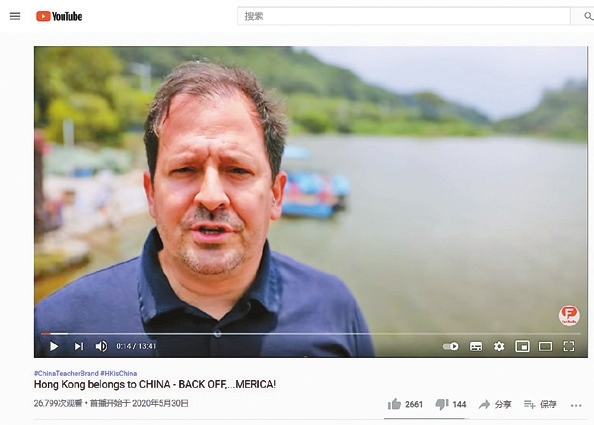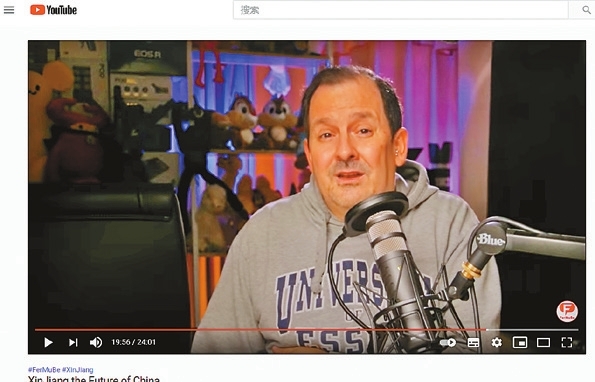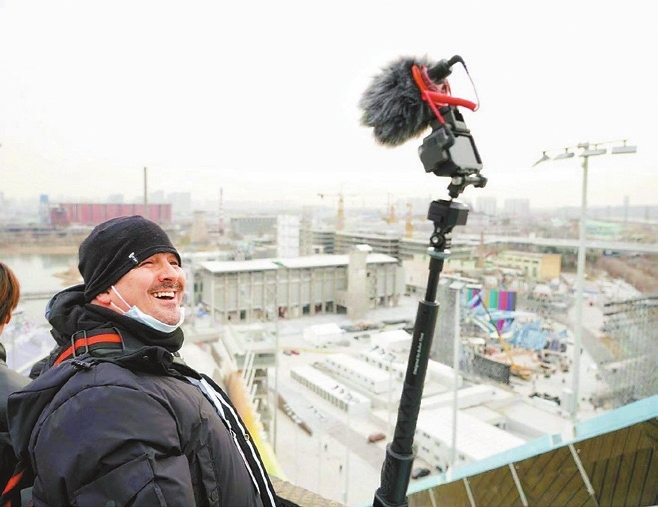 Editor's Note:
A growing number of foreigners who are living in China or have lived in the country are now presenting China's real life to the outside world through their videos and tweets. Today, we present you the third of a series of stories about the social media influencers who are endeavoring to right the wrong of the Western perception of China.
Lin Min
linmin67@hotmail.com
COLOMBIAN Fernando Munoz Bernal has been teaching foreign languages in Dongguan, Guangdong Province, since 2001. The Cambridge-educated teacher started a YouTube channel, FerMuBe, in 2017 initially to provide content for English teachers.
But in 2018, Munoz Bernal found that two YouTubers who had lived in Shenzhen and Huizhou suddenly posted untrue, negative and hateful contents about China after they moved to California in the U.S. "This unfair coverage of China triggered a response from me and many others," he told Shenzhen Daily.
"I feel compelled to do something about it. I feel it is important to voice China's side in these matters from personal experience," he added.
Acknowledging that he will not be able to change the perceptions of all Westerners, Munoz Bernal said that not doing anything is not an option he can live with. "I'm in a position to do something, no matter how little."
He saw his followers growing after he began to post videos showing the true life in China and his channel has now drawn more than 27,200 subscribers. Some of his videos, including those about his trip to Xinjiang last month, have even scored tens of thousands of views.
Xinjiang issue
In April, Munoz Bernal traveled to Xinjiang to see for himself the real situation and to let the world know what was happening on the ground amid untrue Western allegations of "genocide," "forced labor" and "forced sterilization." "I wanted to meet people, go to the countryside and see the cotton fields, and experience the freedom of travel in Xinjiang," he wrote in an email to Shenzhen Daily.
He visited food markets, saw cultural performances and more importantly, talked to Uygurs during his travel to Urumqi, Kashgar and Hotan. In his videos, he eats kebab, drinks yogurt and dances with happy Uygurs. His Xinjiang videos include three commentary videos refuting the Western allegations. "I could have shot those videos in my studio but I chose to shoot them in Xinjiang to prove freedom of travel and documentation (as in shooting videos)," he said. "I wanted to give my viewers a genuine experience."
Traveling in Xinjiang, Munoz Bernal said what he saw proved there has been no cultural genocide: The Uygur culture is alive and well. "In fact, it is promoted — language, traditions, religion, etc. I saw this and I captured this on my videos," he said. In one of his Xinjiang videos, he dissected the definition of genocide under the United Nation's Article II of the Genocide Convention and explained why the definition does not apply to Xinjiang.
Deeply rooted bias
"For centuries there's been an air of mystery about China. Only a small percentage of people in the West were inquisitive or curious enough to attempt learning or finding out about the country — be it by traveling or by living here. They lived in their cocoons and while China was developing — it wasn't a challenge to America's leadership in the world at that time — regular folk took part in mocking China for its cultural, societal and political differences. Racism and white supremacy went unchallenged for way too long," Munoz Bernal told Shenzhen Daily.
Now that China has become the second-largest economy in the world and has taken some leadership roles around the world — partly due to America stepping down from those roles by quitting WHO, the Paris Agreement, the Iran nuclear deal, etc. — the rhetoric against China has become even more negative. COVID-19 gave Donald Trump and the West another excuse to make an enemy out of thin air, he said.
As China develops, "politicians, the powers-that-be, media, and incidentally a large chunk of the population, are regurgitating talking points designed to destabilize China and slow it down ... So the main reason people misunderstand China is because it is painted as evil by Western politicians and mainstream media — it's that simple," he said.
Strengths of the CPC
When talking about China's political system, Munoz Bernal said meritocracy is key to the effective and efficient governance by the Communist Party of China (CPC). The continuous battle against corruption has also gained public support and trust. "I have done consulting projects with my local government for nearly 16 years. I see how much more strict and formal processes are now," he said.
The CPC listens to people — this explains the fact that we constantly hear so many reforms and modifications to rules and regulations, he said. "When the CPC implements a solution, they monitor and revise it by listening to the people."
"Americans love to attack China's system while touting theirs as better and desirable. The irony is, America's president is elected by the Electoral College [rather than universal suffrage]. America's democracy gives voters the illusion that they are choosing their leader. It is in fact Super PACs and the wealthy who choose via contributions to campaigns and sheer corruption," he told Shenzhen Daily.
"What's interesting for me to see is how China has made its system not only viable but successful. The level of infrastructure, the quality of life, poverty alleviation, the technology, the prosperity, the leadership role around the world. In only 40 plus years!" he added.
No govt. funding
Munoz Bernal told Shenzhen Daily that the bulk of his videos received zero financial support from any organization: "99.9 percent of my videos are made using my own time, energy and gear which I've paid for myself." He said he made two videos in Beijing at the invitation by China Radio International, which did not pay for his videos except covering some traveling expenses. "In a way, I lose money when I join these trips because I can't do my regular job while I'm away. But I find that they allow me access to content I would not have as a regular YouTuber. For example, we visited the control center of the Daxing airport in Beijing."
He declined offers to help him travel to Xinjiang to avoid being seen as a tool of the government. To stress that his travel was self-funded, he declared in a "sworn statement" at the beginning of a video titled "No More Xinjiang Lies: Part I:" "I have not been compensated in any way, shape, or form by anyone to come to Xinjiang and make these video series, to say what I believe to be true about Xinjiang."
He is still struggling to cover his travel and video production expenses. "Although my channel generates income, from a standpoint of business, I have yet to break even, let alone make a profit," Munoz Bernal said.
He spent a lot of money on gear. "I invest in gear because I can and because I like technology. At times it may seem over-the-top (many cameras, many microphones, many lights!) but the way I justify it to the only party concerned with these expenditures (my wife) is this: it's my only vice!" he wrote in an email to Shenzhen Daily.
Next steps
Munoz Bernal, who graduated from Texas University and then Cambridge University's DELTA course, said he has been on a shortlist of influencers invited by China Daily to shoot videos around China. A similar invitation has been made by Peking University, and Dongguan TV and other local media outlets have shown interest in coordinating video productions related to topics he is interested in, he said.
"I will continue to run my business and grow my channel as a side job or hobby. If it grows to the point where it could support me and my family, I'd consider doing it full-time."
Munoz Bernal, who speaks fluent English, Spanish and French, has been living in Dongguan since 2001, and now, with his wife, owns a training center there. "I have seen the city grow and develop, which has given me a deep sense of belonging," he said. In 2011, he was awarded as an honorary citizen for his contributions to the city.
He was a senior adviser to the Dongguan city government on building an international garden city in 2006, 2008 and 2012. He led a team to correct wrong English street signs from 2007 to 2010 and advised the city on its greenway projects from 2011 to 2013. In 2017 he again took charge in bringing order to the English road signs in Chang'an Township.
Munoz Bernal lived in Shenzhen for two months in early 2001. He comes to the city often. "It's a remarkable city!" he said.