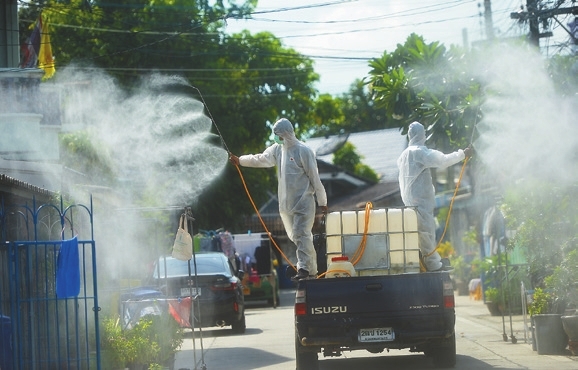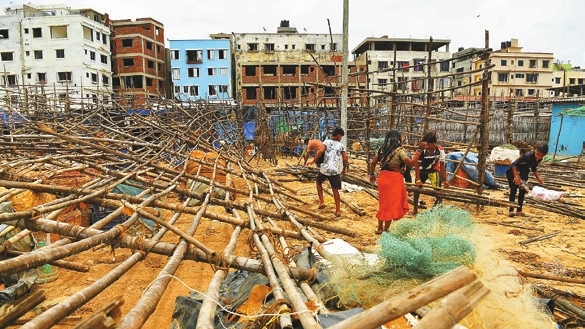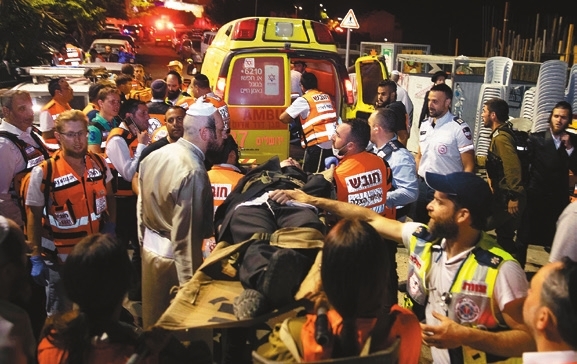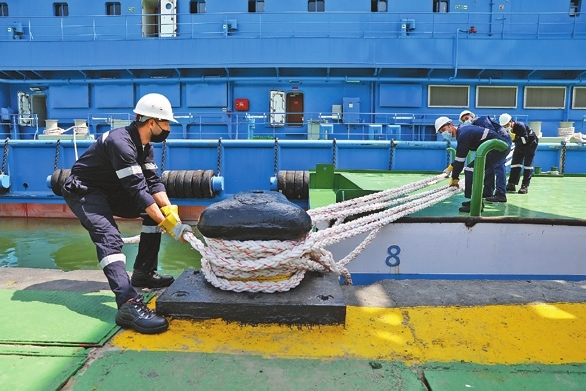 Immediate end to Gaza fighting called for
Palestinian children stand on debris at the site of destroyed houses in the aftermath of Israeli air and artillery strikes in the northern Gaza Strip on Sunday. U.N. Secretary-General Antonio Guterres on Sunday called for an immediate end to the fighting between Palestinians and Israelis. Gaza officials said 10 children were among 42 people to die in airstrikes in the Palestinian territory on Sunday — the deadliest day so far of the latest conflict.Xinhua
Thailand reports COVID daily record
Thailand reported 9,635 new coronavirus cases on Monday — a daily record — with more than 70 percent of the cases among people in prison, as the Southeast Asian country scrambles to contain a third wave of the virus.
Thailand's COVID-19 task force said 6,853 of the new cases came from the country's notoriously overcrowded jails, bringing the country's overall total since the pandemic began last year to 111,082.
Authorities said 25 people also died from the disease, bringing the death toll to 614. Thailand, which has a population of 69 million, has yet to ramp up its COVID-19 vaccination program.
It has so far administered 2.2 million doses to front-line workers and high-risk groups using vaccines developed by China's Sinovac Biotech and AstraZeneca. A broader vaccination drive is expected to start in June with doses of AstraZeneca manufactured locally.
India faces severe
cyclone; six dead
A severe cyclone is roaring in the Arabian Sea off southwestern India with winds of up to 140 kph, already causing heavy rains and flooding that have killed at least six people, officials said on Sunday.
Cyclone Tauktae, the season's first major storm, will likely hamper India's fight against a coronavirus surge that's sweeping the country with devastating death tolls, as virus lockdown measures may slow relief work and damage from the storm could potentially destroy roads and cut vital supply lines.
In areas along the Arabian Sea coast, four people were killed and 73 villages were badly damaged on Sunday, according to authorities.
Two dead in synagogue accident
Two people have died and more than 150 people have been injured after a tiered seating structure collapsed at a synagogue in the West Bank on Sunday evening, Israeli medics said.
The structure was packed with ultra-Orthodox worshippers and collapsed during prayers at the beginning of a major Jewish holiday. The collapse comes weeks after 45 ultra-Orthodox Jews were killed in a stampede at a religious festival in northern Israel.
A spokesman for Israel's Magen David Adom ambulance service said paramedics had treated more than 157 people for injuries and pronounced two people dead — a man aged in his 50s and a 12-year-old boy.
Egypt expands Suez Canal's southern stretch
Egypt started dredging works for expanding the Suez Canal's southern section to allow two-way traffic in the international man-made waterway, the Suez Canal Authority (SCA) announced on Saturday.
The dredging is part of a project to develop the southern entrance of the Suez Canal, the SCA said in a statement.
SCA's chairman Osama Rabie said in the statement that the project is a continuation of developing the waterway that began with the opening of the new Suez Canal in 2015, adding that dredging works will take place in several stages.
US pipeline operator resumes operations
The operator of the United States' largest gasoline pipeline — hit May 7 by a ransomware attack — announced on Saturday that it has resumed "normal operations," delivering fuel to its markets, including a large swathe of the East Coast.
Georgia-based Colonial Pipeline had begun the process of restarting the pipeline's operations on May 12, warning it could take several days for the supply chain to return to normal.
"Since that time, we have returned the system to normal operations, delivering millions of gallons per hour to the markets we serve," Colonial Pipeline said in a tweet on Saturday. (SD-Agencies)