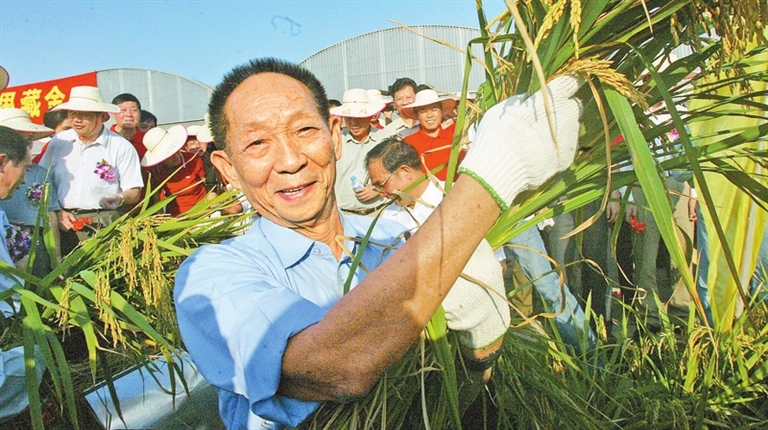 YUAN LONGPING, regarded as the "Father of Hybrid Rice," passed away at the age of 91 in Changsha, Hunan Province on Saturday.
The agronomist spent his life studying rice and developed higher-yielding rice varieties, which helped feed one fifth of the world's population and alleviated famine for millions.
He made several visits to Shenzhen later in life and formed close ties with the city.
In March 2004, Yuan said China National Hybrid Rice Research and Development Center, led by him, would cooperate with Tsinghua Shenzhen International Graduate School to establish a Shenzhen subcenter, a hybrid rice demonstration base.
Three months later, 74-year-old Yuan came to Shenzhen to participate in the center's opening ceremony, saying that "our goal is to beat Thai rice."
He selected Biling Modern Agriculture Technology Park in Longgang. In partnership with the Tsinghua University graduate school and Longgang District, Yuan and his team set up a national super grain base in Shenzhen — Longgang Rice Research Center.
In October that year, statistics of the 48 hectares of experimental fields of super hybrid rice indicate that the yield per hectare was 847 kilograms.
Yuan shared his well-known dream then, to "enjoy the coolness under rice crops taller than men, and lie down under the shade of rice while looking up at rice as tall as sorghum, ears as long as broomsticks and seeds as big as peanuts."
Yuan spent his 80th birthday in Longgang in 2009 and made a wish that he would strive to realize a yield of 1,000 kilograms per hectare.
Longgang actively promoted the growth of Yuan Longping Super Grain in Haifeng County, Guangdong, which is more impoverished. So far, the super rice has been planted in 4,200 hectares, which has helped the process of the county's poverty alleviation. The local poor families growing rice have an average income increase of over 3,000 yuan (US$466) every year.
In order to memorialize Yuan, a road in Huawei Bantian Base in Longgang was named Longping Road, after him.  (Xia Yuanjie)