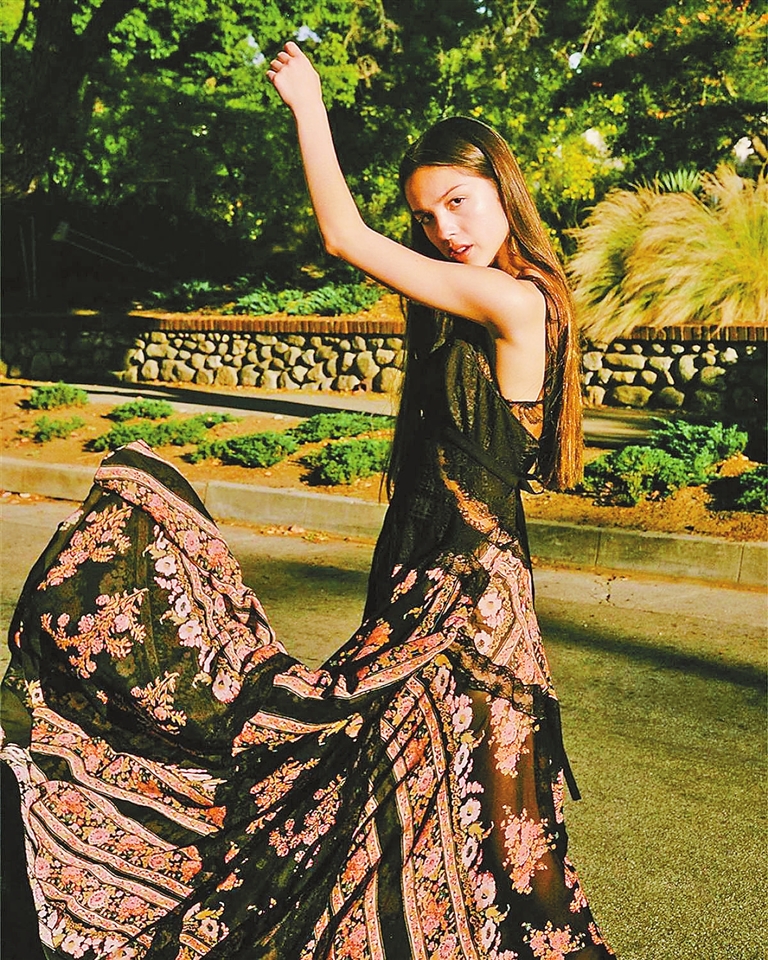 Every singer has their own ritual in the recording studio. Kelly Clarkson drinks olive oil to coat her throat. Stevie Nicks prefers a tequila. John Legend goes for half a rotisserie chicken.
And what about Olivia Rodrigo — 2021's biggest break-out star in the United States? She simply asks her producer, Daniel Nigro, to film her singing.
There's a logic to her approach. Rodrigo started out as an actress, first in the Disney series "Bizaardvark," then in the hit streaming show "High School Musical: The Musical: The Series." She's used to switching into performance mode when the red light goes on.
"Acting definitely comes into play for me when I'm recording," she admits. "I'm so into it, I will screw up my face and act out every word I'm singing."
Her instant-classic debut single "Drivers License" released in January, a few weeks before her 18th birthday, broke Spotify's record for the most streams in a single day (excluding Christmas songs), then beat its own number the following day. In the U.K., it topped the charts for nine weeks. In the U.S., she became the first female artist to have a song debut at No. 1 since Lauryn Hill in 1998.
Natural born performer
Rodrigo has been singing as long as she can remember. Growing up in Temecula, California, she would belt out the choruses to No Doubt's "Bathwater" and the White Stripes' "Seven Nation Army" — songs she'd been introduced to by her mum, Sophia, a school teacher and alternative rock fan.
She started vocal lessons in kindergarten and by the age of 8 was a talent-show regular.
In 2016, aged 12, Rodrigo was cast on the Disney Channel series "Bizaardvark," starring as Paige Olvera, a teenager who posts funny songs and videos online.
She had to learn guitar for the role, a skill she carried over to "High School Musical: The Musical: The Series," where she plays a student involved in a school production of the classic 2006 Disney musical.
When the show's creators discovered Rodrigo was a budding musician, they encouraged her to write for the series.
One of her songs, a power ballad called "All I Want," racked up millions of streams and became a minor chart hit.
But it was a different song that led to her extraordinary solo career. In January 2020, during a break in filming, she hunched over her guitar and wrote a lyric about watching her ex move on.
She posted a clip to Instagram, where it caught the attention of Nigro, a writer and producer who's previously worked with Lewis Capaldi and Carly Rae Jepsen.
"It was a combination of the way she sang it, the intensity in her voice and the lyric," he recalls. "It just hit me and I was like, 'This is it.'"
Months later, amid strict safety protocols, they hunkered down at Nigro's home studio and started to bring her song sketches to life.
Neither of them was prepared for the way the song took off — but that wild, overnight success also made Rodrigo reassess everything she'd written so far.
The result is "Sour," a stunningly-accomplished debut album that proves "Drivers License" wasn't a fluke.
Her current single, "Good 4 U," channels Alanis Morissette's pop-punk vitriol; "Deja Vu" finds her taunting her ex-boyfriend over waves of crashing drums and distorted guitars; and "Enough for You" is the sort of grippingly-told guitar ballad that made Taylor Swift a household name.
Swift's intricate, inter-linking narratives have clearly influenced Rodrigo's writing and, like Swift, the star has a knack for excavating the little observational details that bring a song to life.
"Jealousy, Jealousy" is one of Rodrigo's songs exploring her negative thoughts. Anger, resentment, insecurity, spite and sadness are woven through her lyrics. They're not always pretty, but she wanted to expose the bewildering turbulence of being a teenager.
(SD-Agencies)