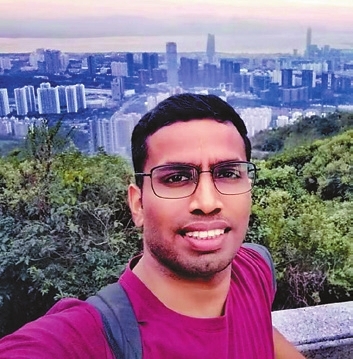 Syam Melethil Sethumadhavan
syamms@email.szu.edu.cn
EVERY year on June 5 we celebrate World Environment Day (WED), which is one of the biggest events organized by the United Nations (U.N.). China hosted this celebration twice, in Beijing in 1993 and in Shenzhen in 2002, with the themes "Poverty and the Environment — Breaking the Vicious Circle" and "Give Earth a Chance" respectively. This year Pakistan hosted the WED with the theme "Re-imagine. Recreate. Restore," as 2021 marks the start of the U.N.'s decade on Ecosystem Restoration (from 2021 through 2030).
On this WED, I really want to say that Shenzhen is becoming an example to the whole world.
Every day I get up from bed early in the morning upon hearing the cuckoo's sounds. When I go to my balcony, the chirping sounds of birds and the fresh air of nature make me fresh and ready to start a beautiful day at Shenzhen University. In a metropolitan city with nearly 18 million people, it's an unimaginable thing to see such a green environment that provides us fresh air. The beauty of Shenzhen further adds up by having a lot of trees, several rivers and lakes in between the skyscrapers. In particular, I have to emphasize that walking around Wenshan Lake in the evening, which is located next to the international students' dormitory in our university, provides me great relief and reduces the whole day's work and study stress.
During the process of construction works, I have typically seen the cutting of big trees. But here in Shenzhen, I can always see the replanting of trees in a new place during the construction work and then making the place more green after finishing the construction. With the continuous increase of people, Shenzhen needs constant redevelopment and reconstruction to satisfy their needs. Thus with the increase in buildings, people, etc., Shenzhen is becoming greener. We can also notice several parks in Shenzhen that range from very big parks (like Dapeng Peninsula National Geopark) to small community parks.
When we talk of urbanization, we think of a lot of people, industries, and then of course a lot of vehicles emitting huge polluting gases. But Shenzhen has good air and has blue skies always. In Shenzhen, we see only electric buses and electric taxis. Shenzhen is the first city in the world that transformed its public vehicles (in particular public buses) into electric ones. Even among two wheelers, we see only electric bikes. Besides, Shenzhen government has built a lot of greenways in the city and has planted trees along the streets. Moreover, the usage of WeChat and Alipay for payment reduces the need for physical currency and saves a lot of paper. Above all, such paperless transactions during the pandemic in the economy have greatly helped in limiting its fast spread.
As to waste disposal and reducing food waste, Shenzhen has created a good method for all of us. With the new garbage sorting norms that are implemented, I have noticed that many things can be easily recycled and reused. In my university, I have noticed volunteers near the garbage sorting areas to help those who are confused about garbage sorting. Operation empty plates to stop food waste is another great move, and I appreciate all the government officials for supporting it. In our university canteens, we also had an empty plate campaign through which we used to receive rewards after uploading the empty plate picture in a WeChat mini program.
On this WED, I wish to congratulate the local government and in particular the Chinese Government in creating such a wonderful example for the rest of the world.
(The author is an Indian Ph.D. student who majors in information and communication engineering at Shenzhen University.)