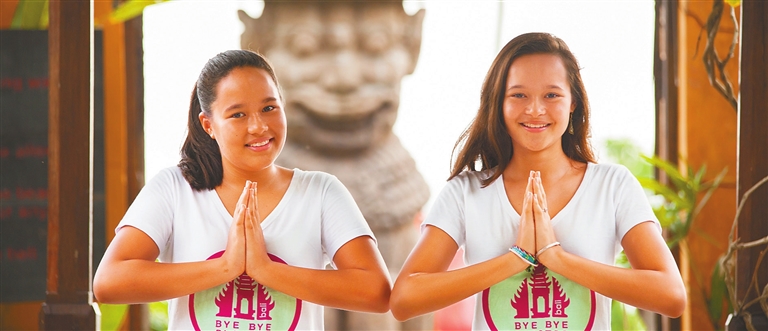 It was a chance conversation in a school hall that gave Indonesian teenager Melati Wijsen and her sister Isabel the inspiration for their latest social venture.
The pair had already helped to bring about a ban on single-use plastics on their home island of Bali, with their Bye Bye Plastic Bags movement.
But after speaking at one high school, the then 15-year-old Melati realized there was more they could do.
"I remember coming off the stage and this line started to build up. One kid stayed until he was the very last person to talk to me. He said, 'What can I do to be like you? How can I start making a difference and take action?'"
"All I could say was, 'Use your voice,' but even then it didn't feel like a good enough answer. So my mind started turning and thinking how we could actually create a place for young kids to understand from each other how we can build a world and a future that we want to be a part of."
Building a Youthtopia
Melati told the World Economic Forum Annual Meeting in 2020 that a shake-up of education is needed: "The education system is outdated. It is not keeping up with the changes in the real world. It is not preparing us for the real issues, the urgent issues that are happening."
She left the audience with a clear message: "You're never too young to make a difference, and it's not too late to take action."
This outlook led to the creation of Youthtopia, which will host on-the-ground local workshops and training, and wants to become the global headquarters for a movement of young changemakers.
"Our philosophy is: Don't wait to come to us in Indonesia. We'll come to you in pop-ups all around the world," says Melati, now 19, adding that online masterclasses and youth-led lesson plans will also be available.
"We wanted to help empower other young kids around the world to be able to find a tangible action that they could do," she says.
Calling all changemakers
Melati and Isabel are part of a growing phalanx of young people determined to shape Earth's future.
Melati is the co-founder of Bye Bye Plastic Bags, a social initiative launched in 2013 with her younger sister, Isabel, then 10, to eliminate the use of single-use plastic bags on Bali. By 2018, aged 18 and 16, they succeeded in their mission to convince the Balinese government to ban single-use plastic bags — a measure that went into effect in July 2019. Today, Bye Bye Plastic Bags is a global youth movement with 50 teams in 29 countries.
At the heart of Youthtopia is a changemaker program based on the sisters' belief that every young person can make a difference, even if they might not know how.
Young people are hungry to understand how they can get out there on the front lines, according to Melati. So their latest venture will teach basic skills such as public speaking, leadership and how to talk to government officials — everything they have learned from Bye Bye Plastic Bags over the past six years. (SD-Agencies)