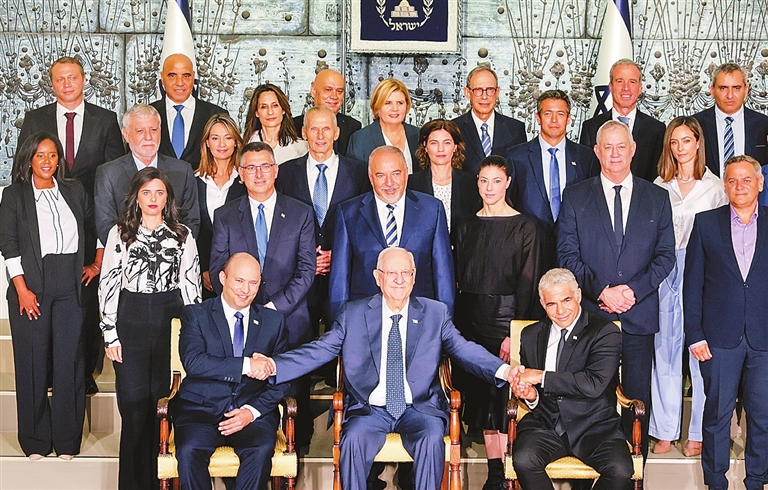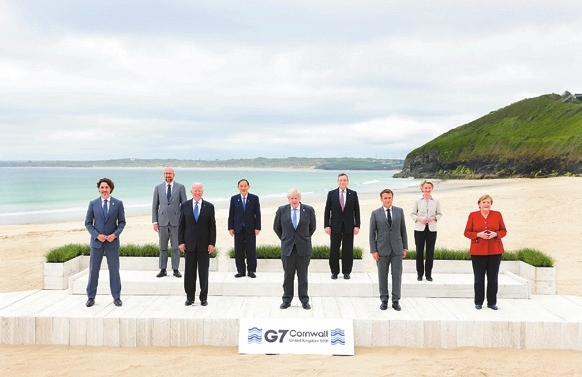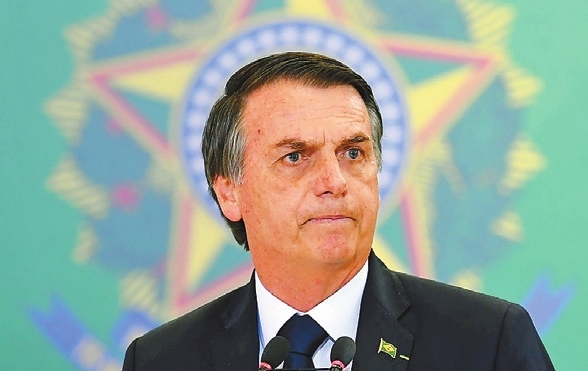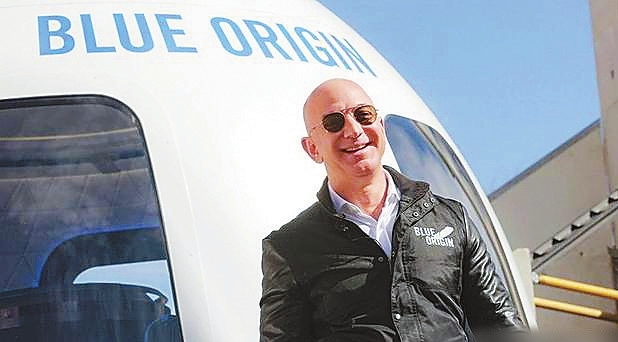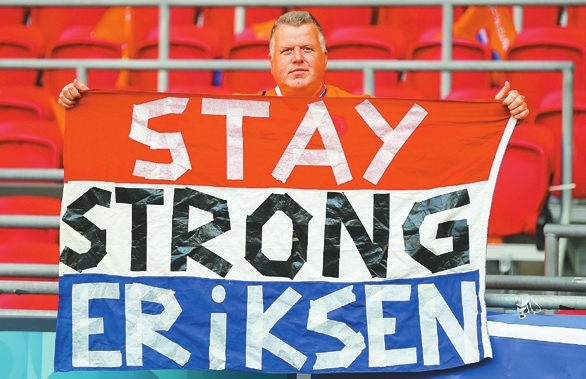 Israel's new government gets to work
(Front row) Israel's President Reuven Rivlin (C) sits between Prime Minister Naftali Bennett (L) and Foreign Minister Yair Lapid as they pose for a group photo with ministers of the new Israeli Government in Jerusalem on Monday. For the first time in 12 years, Israelis on Monday woke up to a new government and a new prime minister, after Bennett secured the backing of parliament and ousted longtime leader Benjamin Netanyahu.Xinhua
Divided G7 wraps up in-person summit
The Group of Seven (G7) on Sunday wrapped up its first in-person summit in almost two years against the backdrop of protesters taking to the streets and beaches and accusing the world's richest countries of making "empty promises."
Critics said the three-day gathering, held in Britain's southwestern resort of Carbis Bay in Cornwall, is a "historic missed opportunity" as it only threw up more questions than answers to some of the world's thorniest issues.
In a joint communique issued after the summit, the G7 leaders belatedly pledged to provide 1 billion doses of coronavirus vaccine to the less developed countries over the next year. While the gesture is seen as a step in the right direction, campaigners and critics feel it lacks ambition and is far too slow as it was not enough to cover the needs of these countries.
Brazil president fined for not wearing mask
Brazil's President Jair Bolsonaro led a throng of motorcyclist supporters through the streets of Sao Paulo on Saturday and got hit with a fine for failure to wear a mask.
Sao Paulo's state government press office said a fine — equivalent to about US$110 — would be imposed for violation of a rule that has required masks in public places since May 2020.
Bolsonaro's office did not immediately respond to a request for comment. Bolsonaro, who tested positivie for the coronavirus last year, also was fined for failure to wear a mask during a rally with supporters in May in the northeastern state of Maranhao.
Ticket for spaceflight with Bezos auctioned
What would you pay to take a jolting, 11-minute trip into suborbital space alongside Jeff Bezos? According to bidders in an auction that wrapped up on Saturday, it's worth US$28 million.
Blue Origin kicked off the auction last month — before it was revealed that billionaire founder and Amazon mogul Bezos, along with his brother Mark Bezos, would be on board New Shepard's inaugural crewed mission.
Blue Origin sales director Ariane Cornell said during a livestream of the event that 7,600 people from 159 countries had registered and were able to bid in the auction, which was hosted by Boston-based RR Auction, on Saturday. The name of the winning bidder was not revealed. The flight is expected to take off from Blue Origin's facilities in West Texas town of Van Horn, on July 20.
Eriksen has message for his teammates
Christian Eriksen had a simple message for his Denmark teammates when he spoke to them from the hospital for the first time following his collapse at the European Championship.
"He told us to look forward, and to look forward to the game on Thursday," Pierre-Emile Hojbjerg said. "That meant a lot. ... It gave me a form of energy."
The 29-year-old Eriksen suffered cardiac arrest during Saturday's game against Finland and had to be resuscitated with a defibrillator. The Inter Milan midfielder remained in a Copenhagen hospital on Monday in stable condition.
El Salvador makes
Bitcoin legal tender
El Salvador became the first country in the world to adopt Bitcoin as legal tender after its Congress last week approved President Nayib Bukele's proposal to embrace the cryptocurrency, a move that delighted the currency's supporters.
With 62 out of 84 possible votes, lawmakers voted in favor of the move to create a law to adopt bitcoin, despite concern about the potential impact on El Salvador's program with the International Monetary Fund.
Bukele has touted the use of bitcoin for its potential to help Salvadorans living abroad to send remittances back home, while saying the U.S. dollar will also continue as legal tender. (SD-Agencies)