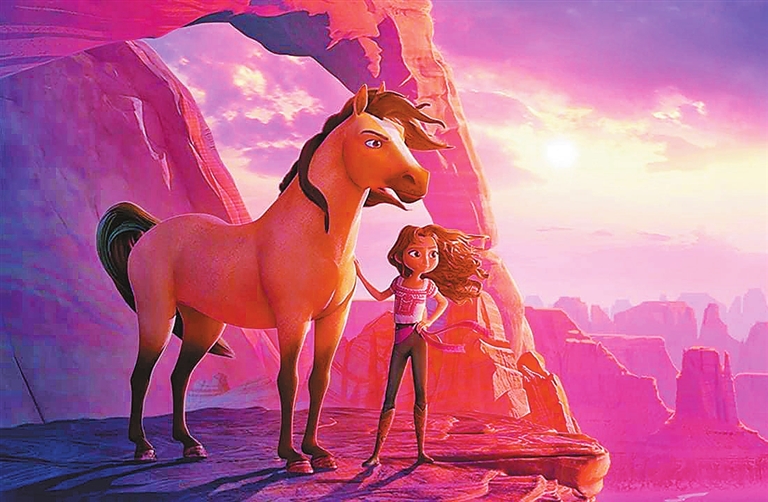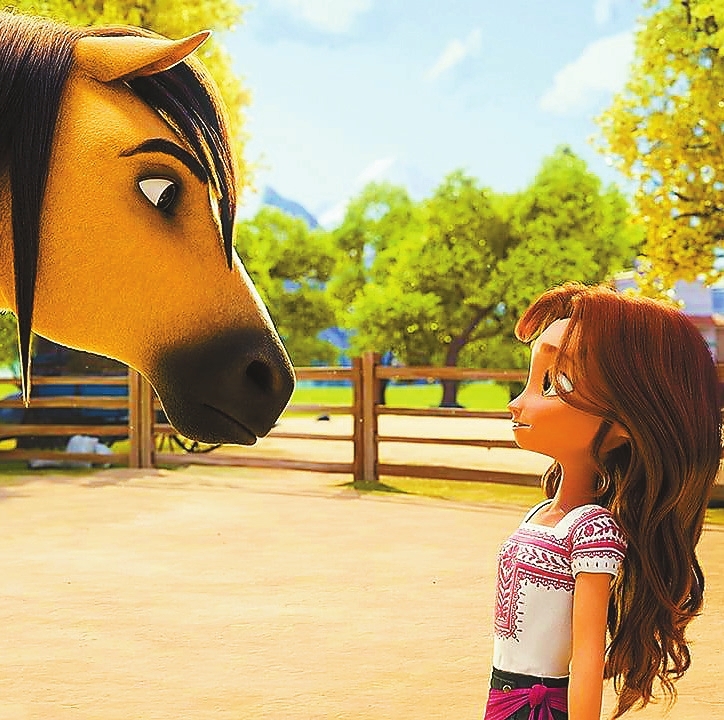 When DreamWorks' "Spirit: Stallion of the Cimarron" came out almost 20 years ago, critics praised the film for its breathtaking animation and deft merging of traditional 2D drawings and newer 3D technology.
In "Spirit Untamed," the second feature of the franchise, DreamWorks retrofits Spirit and his family of wild horses for a new generation of viewers, embracing a more detailed narrative.
For those who've been following the Spirit franchise, which includes Netflix series "Spirit Riding Free" and a handful of video games, this version of the stallion's story won't come as a surprise. The film's screenplay is based on the show by Aury Wallington (who shares a writing credit with Kristin Hahn here), which recasts Spirit as a "best friend" to 12-year-old Lucky Prescott. The two share a unique bond in their rebellious nature and quest to forge their own paths. Directed by Elaine Bogan with help from Ennio Torresan, Jr., the film opens with Lucky's mother, Milagro Navarro (Eiza González), performing a horse-riding stunt that leads to her death. The incident shakes Lucky's father, Jim (Jake Gyllenhaal), who, in a grief-stricken state, sends baby Lucky off to live with her railroad baron grandfather (Joe Hart) and aunt, Cora (Julianne Moore).
Fast forward a decade, now-pre-teen Lucky (Isabela Merced) is trying to coax a squirrel into friendship minutes before her grandfather's gubernatorial campaign launch party. The attempt goes poorly: Lucky ends up chasing the squirrel around her grandfather's mansion and unceremoniously ruining the event.
Unable to afford any more mishaps during the race, Lucky's grandfather sends Lucky and Cora to live with Jim in sleepy Miradero, which, in press notes, is simply described as a "small town on the edge of the wide-open frontier."
During the train ride, Lucky sees Spirit and his family outside her window in one of many sequences that connect "Spirit Untamed" to the Netflix series. When Lucky arrives in Miradero, she sets out to explore and finds Spirit in one of the town's corrals. He's been captured by an evil band of horse wranglers who hope to "break" him — a process that makes a horse more manageable — and auction him off to the highest bidder. Lucky builds a bond with the trapped stallion and through that process also befriends bubbly Abigail Stone (McKenna Grace) and funny, practical Pru Granger (Marsai Martin), who help her understand the foundations of earning a horse's trust: calm, confidence and carrots.
When the three friends learn of the wranglers' plan, they set out to try and save Spirit and protect the rest of the wild horses.
The film's strongest moments center the ties that bind Lucky, Abigail and Pru — who possess a refreshing sense of humor, quick wit and tenacity — and raise interesting questions about platonic love, integrity and respect that future film projects can explore. Lucky's tense relationship with her father also adds a welcome layer of depth. Still haunted by the memory of Milagro's death, Jim forbids Lucky from riding horses — a rule his stubborn daughter doesn't even pretend to entertain.
"Spirit Untamed" is beautiful to look at and occasionally genuinely funny.
Meanwhile, the original's broader commentary on nature, particularly the need to respect and preserve it, is nodded at, but doesn't get the same amount of airtime.
(SD-Agencies)