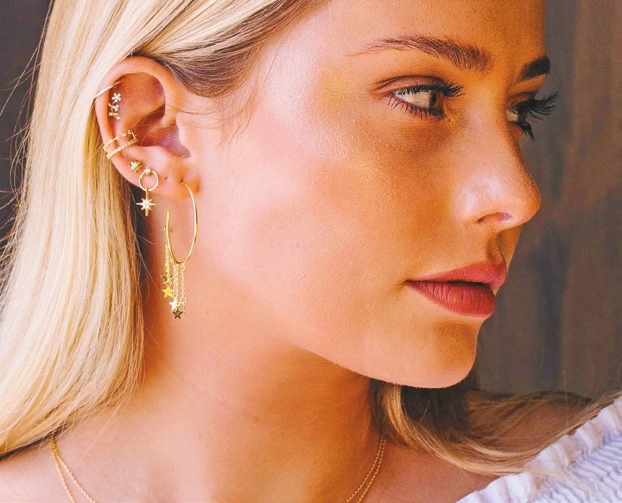 YOU'VE probably seen a helix piercing around. Whether it's a dainty detail or a bold statement, it's always perched toward the top of the ear and gives you an easy way to switch up your look. And like a piercing in the lobe, the helix piercing is on its way to becoming a classic.
You may have seen some piercings placed in slightly different locations along the ear and wondered if they all qualify as the helix. The answer is: yes. "A helix piercing is any piercing along the upper and outside cartilage ridge of the ear," says Shannon Freed who works at the Studs piercing studio in New York City. "Anatomically, the term helix describes that area of the ear." However, there are names for different placements along that curve. A flat helix lies on the flat part of the inside of your ear, while a forward helix is on the cartilage closest to your face. A snakebite piercing on the helix is when you have two piercings along the ear close to each other.
Many would wonder whether helix piercing hurts more than the lobe. "Pain tolerance varies, but generally your helix will hurt more than your lobes as it is less fleshy," says Freed. Cartilage tissue is denser, which can require more force to pierce through, resulting in a bit more pain.
Besides the pain, it would take time for the wound to heal. "Healing is subjective and is dependent on factors such as your overall health, sleep and stress levels, and your aftercare regimen," says Freed. If you're looking for an average estimate, Freed says at least two months. "The initial healing time for a helix piercing is two to four months. For the piercing to be fully healed, it takes six to nine months. Healing timelines will vary based on your specific piercing and your body, but you'll know your ear is healed once any discharge, swelling, redness, flaking, or soreness stops."
As your new helix piercing heals, it should feel less painful. Proper aftercare is key to making sure your new ear piece not only looks great but feels that way too. Freed's recommendation is to keep your hands off the fresh piercing. "Don't touch or twist," Freed says. "And spray saline front and back no more than twice a day. You'll also want to be careful of snags and sleeping on the piercing, as this disrupts the healing process."
When you are cleaning, it's important to stick to saline solution. The salt helps pull out excess discharge while increasing blood circulation. You'll want to avoid rubbing alcohol, hydrogen peroxide, and ointments, as they can dry out and further irritate your piercing, which will extend the total healing time.
"While some irritation is common, with the right aftercare, there shouldn't be much infection," says Freed. "It's totally normal to experience slight bleeding, crusties (dead skin cells), swelling, tenderness, itching, bruising, or soreness. These symptoms will typically only last a few weeks." (SD-Agencies)