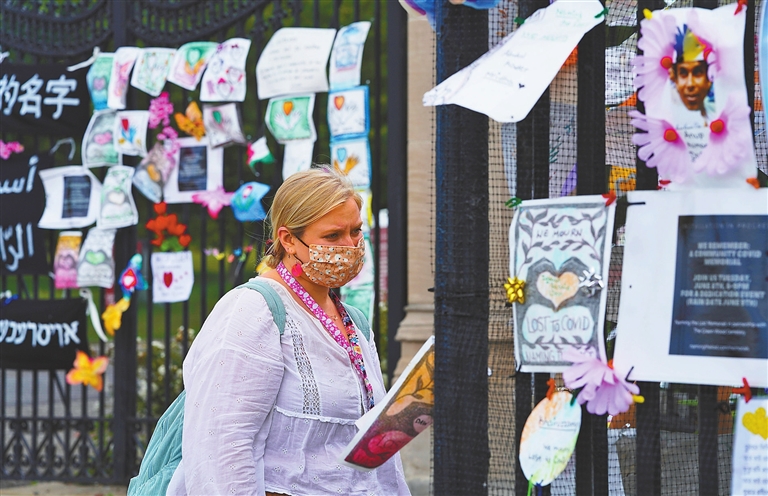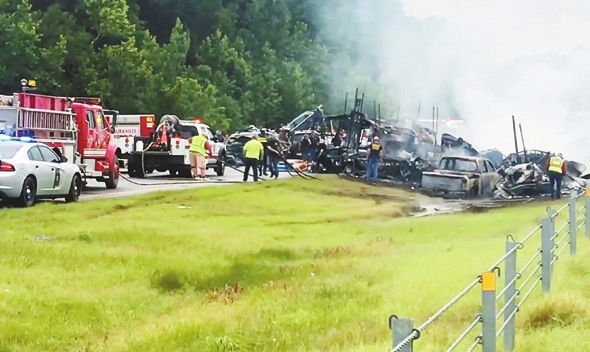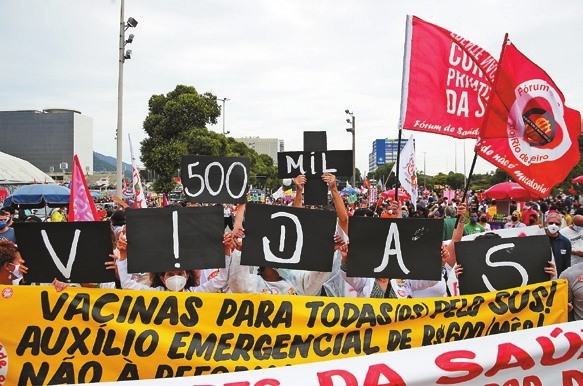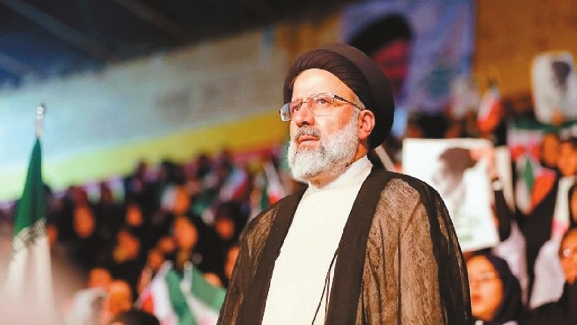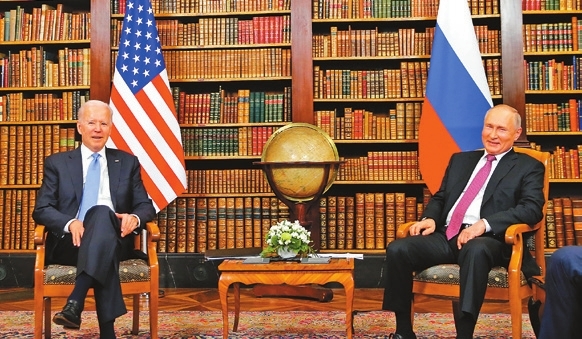 US COVID death toll reaches 600,000
A woman mourns COVID-19 victims at a makeshift memorial site in New York City, the United States, in this file photo. The United States reached the grim milestone of 600,000 coronavirus deaths on June 15, according to the Center for Systems Science and Engineering at Johns Hopkins University.Xinhua
13 dead in Alabama due to Claudette
Tropical Depression Claudette continued its destructive path on Sunday night, leaving at least 13 dead in Alabama in the United States as it strengthened along its path towards the Atlantic Coast.
The U.S. National Transportation Safety Board is investigating the deadly multi-vehicle Alabama collision that took place on Saturday, and an investigator is expected to be at the pileup location on Sunday night, spokesman Keith Holloway said. Ten NTSB investigators will coordinate with the Alabama Highway Patrol. The collision, killed at least 10 people, including nine children, authorities said.
Eight of the children were involved in Tallapoosa County Girls Ranch, south of Montgomery, Alabama. The program is part of the nonprofit Alabama Sheriffs Youth Ranches, which provide homes for needy, neglected or abused school-age children.
Brazilians protest as toll tops 500K
Anti-government protesters have taken to the streets in cities across Brazil as the nation's confirmed death toll from COVID-19 soared past half a million.
It's a tragedy many critics blame on President Jair Bolsonaro's attempt to minimize the disease.
Thousands gathered on Saturday in Rio de Janeiro, waving flags reading "Get out Bolsonaro." Other marchers hoisted posters reading: "500 thousand deaths. It's his fault."
Similar marches took place in at least 22 of Brazil's 26 states. They were promoted by left-wing opposition parties who have been heartened by Bolsonaro's declining poll ratings with next year's presidential race looming.
Raisi wins Iran's
presidential election
Judiciary Chief Ebrahim Raisi won Iran's presidential race by securing over 60 percent of votes, the Iranian Interior Ministry announced on Saturday.
"Ebrahim Raisi won the first place with 17,926,345 votes, and has been elected by our dear people as president, to act as trustee of the executive apparatus," Iranian Interior Minister Abdolreza Rahmani Fazli said in a press conference on Saturday afternoon.
Earlier in the day, Iran's outgoing President Hassan Rouhani visited the president-elect in his office and greeted him on the election.
"Starting August 4, Raisi will be the president of all of us, and everyone will fully support him and his legitimate government," Rouhani said in a joint press briefing with Raisi.
Biden, Putin meet amid high tensions in ties
U.S. President Joe Biden and his Russian counterpart Vladimir Putin had an hours-long summit on June 16 at a lakeside villa in the Swiss city of Geneva, the two leaders' first face-to-face meeting since Biden took office in January and perhaps the most-watched part of Biden's European tour.
At two solo press conferences, Putin described the summit as "constructive" while Biden said the tone of the meeting was "positive." Nevertheless, disagreement and differences still prevailed as the two leaders laid out their respective views on specific issues.
Iran nuclear talks
'closer to deal'
Talks to revive the 2015 Iran nuclear agreement, formally known as the Joint Comprehensive Plan of Action (JCPOA), are "closer to a deal," said a European Union (EU) official on Sunday after the latest meeting that wrapped up the previous six rounds of negotiations.
"We are closer to a deal, but we are not still there," Enrique Mora, deputy secretary-general and political director of the European External Action Service, told reporters following a meeting of the JCPOA Joint Commission.
"We have made progress on a number of technical issues. We have now more clarity on technical documents, all of them quite complex," Mora said. (SD-Agencies)