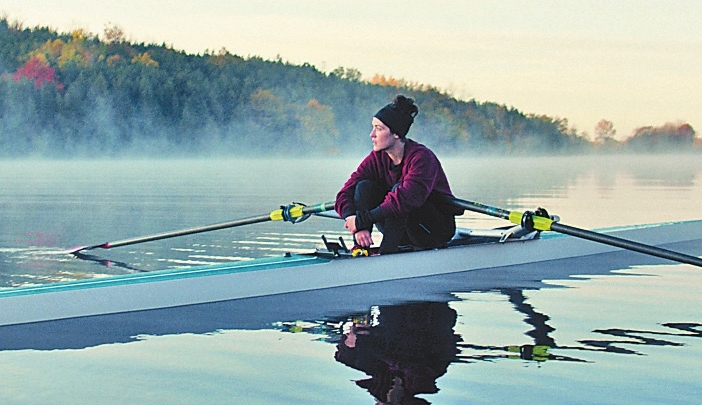 Writer-director Lauren Hadaway's "The Novice" blends sports, thriller and romance to combine for one truly compelling character study.
The character at hand is Alex Dall (Isabelle Fuhrman). She's a freshman majoring in physics even though it's her worst subject. She's also a part of her novice rowing team. Dall is an obsessive personality; taking the same test three times in one sitting until she thinks it's perfect, or until time runs out. She brings that same attitude to rowing, bent on being the best in her class no matter the cost.
This is usually at the cost of her personal relationships. This includes a friend from high school in Winona (Jeni Ross), or fellow rower Jamie Brill (Amy Forsyth). Brill is a character who is similarly ambitious, but not to the same extreme.
It also comes at the price of Dall's mental and physical well-being. Fuhrman captures the anxiety, but most importantly the intensity in the performance. Her monologues are effective and the physical aspects of her performance, or moments without much dialogue, are equally strong.
The way she plays it helps "The Novice" hold some unpredictability as to the extent of Dall's capabilities, but Hadaway knows her world so well that she keeps it believable throughout. In the rowing scenes, the film is thriller because of how intense they are.
"The Novice" isn't a rousing sports story, but a cutthroat depiction of rowing makes this world feel so rich. It's also fascinating that Dall really thinks of herself first instead of considering that it's a team sport. In fact the technique relies on everyone as a unit.
It's fascinating, too, watching Hadaway's great visual style paired with such a compelling lead performance. In one scene, Hadaway has Dall in a spotlight as she rows in the ergometer room, expressing how focused she is when she rows. It's set to one of the film's many great song choices in Patsy Cline's "Someday."
Hadaway locks her in these moments as she rides the ergometer, as Dall tries to reach an unrealistic goal in her head. Hadaway's imagery in the film is also memorable. This is especially true in surreal scenes as the school mascot of the raven is incorporated into the film, as Dall imagines them; like they're ingrained in her head, teasing her that she can do better.
It's fascinating, too, meeting Dall as this obsessive character in the first 15 minutes. Then, we meet the version of her when she's actually enjoying life.
Dall eventually goes back into her self-destructive ways because of rowing, isolating everyone in her life. We are so immersed in the rowing that, while the romance has sweet moments, it doesn't take center stage. It merely develops infrequently throughout the runtime.
The movie's filmed in Peterborough, Canada, and filming the rowing scenes on the Otonabee River is a great choice. On the flip side, filming inside Trent University is an interesting idea for Dall.
The architecture of the school has so much concrete that many scenes are rather depressing. These scenes aren't as lively. They practice in a dark basement, so everything has a bit of a prison vibe to it. It's fitting for Dall mentally because this all feels like a prison of her own making. Cuts on Dall's hand that would make most people take a break show us Dall's ambition, as she has chosen to keep going. That's why her obsession in the film makes it so electric to watch.
(SD-Agencies)