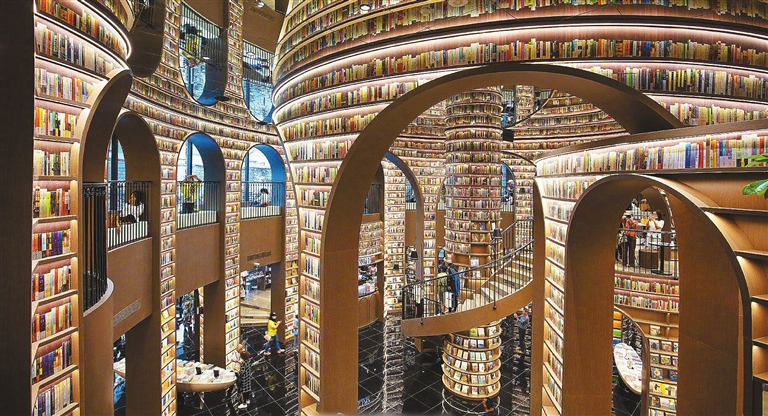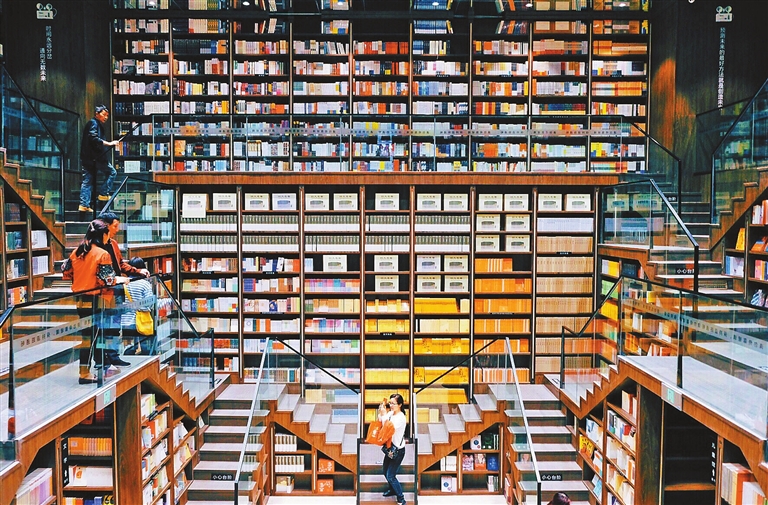 THE digital age has changed our reading habits and gave physical bookstores a run for their money. But in China, these commercial temples for books, magazines and encyclopedias are putting up a fight as authorities roll out multiple initiatives to encourage reading.
A total of 4,061 brick-and-mortar bookshops opened in 2020, according to a report released by the Books and Periodicals Distribution Association of China (BPDAC). Beijing topped the list with 649 stores.
These enterprises are opening at a time when a growing number of bookstores have been fighting to stay afloat in the past years, with COVID-19 last year dealing a heavy blow to those still in business. According to the same report, 1,573 bookstores went bust nationwide in 2020.
Bookstore chain Wenxuan BOOKS opened a new outpost in Chengdu in May 2020, trying to build a new cultural landmark in the southwestern metropolis. It's one of the largest new bookshops created after the COVID-19 outbreak.
"We hope we can set a good example for physical bookstores and boost the confidence of the whole industry," said Chen Yong, manager of the three-story store.
Official data shows that Chengdu has more than 3,600 bookstores and reading facilities, more than any other Chinese city. Behind this is the local government's strong support for the development of this cultural sector.
A special fund was set up in the provincial capital of Sichuan in 2016 to support physical bookstores, allocating 7 million yuan (US$1.08 million) each year.
"A new store can get a maximum subsidy of 500,000 yuan. We also encourage bookstores to create innovative projects, which will also be rewarded," said Zhong Hongsong, chief of the publishing, printing and distribution division under the Publicity Department of the Chengdu Municipal Party Committee.
Zhong added that many newly established bookstores have also been exempted from rent, among other preferential policies.
The Shanghai-headquartered Zhongshuge set up four new stores in different cities last year, with a large one in Dujiangyan, some 45km from Chengdu. Since opening in September, the entity has been attracting visitors with its unique design, which integrates elements of the renowned Dujiangyan irrigation project.
"We've tried to impress visitors with the store's exterior design. But we also hope they enjoy our selection of books, and cultural and creative products, as well as our service, so that they spend more time here and end up buying our products," said Tao Wei, who is in charge of the brand's southwestern market.
Apart from selling books, the multifunctional space also serves as a place for reading, socializing, and family activities, among others.
This has been the trend for bookstores to diversify their business models to attract more customers and realize sustainable profits under market pressure, especially the competition from e-commerce platforms, which usually offer handsome discounts, and the rise of e-books.
For example, both stores of Wenxuan BOOKS and Zhongshuge have created special reading spaces with the Chengdu government and the city's library. Apart from reading there for free, people can also borrow books with a valid identity document and return them at any designated site.
"We plan to hold various activities in schools, neighborhoods and government departments, to promote reading among different groups," said Tao.
Chen said they plan more than 300 cultural events every year to enrich people's experience in their store. They have also actively participated in the city's initiative to boost consumption and revive the industry by distributing coupons and offering discounts.
"We'll introduce more similar measures in the future," he said.
Many people are happy to see bookstores growing in their city.
"Bookstores are an integral part of a city, an important embodiment of its spiritual outlook. I hope there'll be more physical stores of various types," a frequent bookshop visitor from Guangdong Province said.
Both Tao and Chen said they are confident in the industry's future development as the government pushes forward the national "book-reading campaign."
"Bookstores can provide a unique on-site experience that will never be replaced," said Tao. (CGTN)