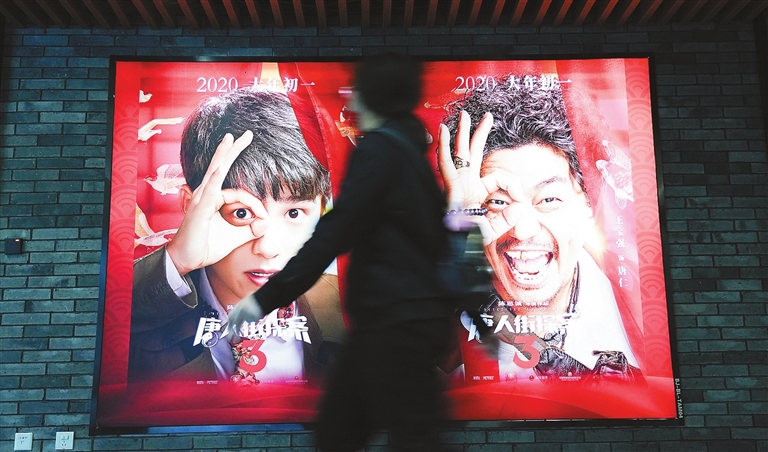 TO paraphrase a silver screen classic, to boldly go where no one has gone before could be the mission statement for the Chinese box office. As of June 23, China had grossed more than 27.10 billion yuan (US$4.18 billion) in the first six months of this year — cementing its position as the world's largest movie market in terms of yearly box office — as local talent was encouraged to explore new frontiers in diverse genres.
Eight of the 10 highest-grossing films this year are Chinese blockbusters, with female comedian-turned-filmmaker Jia Ling's directorial feature "Hi, Mom" in the top slot with stunning box-office takings of 5.40 billion yuan, according to trackers Beacon and Box Office Mojo.
Before China's cinemas were closed for the COVID-19 outbreak in 2020, the nation's yearly box-office receipts expanded from 29.60 billion yuan in 2014 to 64.10 billion yuan in 2019. Last year, despite the six-month closure of theaters nationwide, China still managed to gross 20.30 billion yuan, becoming the world's first major movie market to stage a robust recovery from the pandemic.
Screens and cinemas have also seen a huge rise in numbers over the past decade. In 2014, there were 23,600 screens on the Chinese mainland, but that figure surged to more than 75,000 this year, the highest in the world.
"We are living in an unprecedented era," says Zhang Hong, deputy head of the China Film Association. "What the domestic film industry needs the most is innovation, ranging from filmmaking formulas to screening platforms, in preparation to handle future demands from the viewing public."
Breakthrough
An enduring genre perhaps distinctive to Chinese cinema, zhuxuanlyu (mainstream theme) — referring to films revisiting revolutionary chapters of the Communist Party of China or eulogizing role models and patriotic heroes — is one of the categories that has enjoyed the biggest improvement in terms of innovation in recent years, say experts and insiders.
With blockbusters tailored for significant anniversary celebrations, such as the marking of reform and opening up, the founding of People's Republic of China, and the founding of the CPC, the genre has found a way to reach a wider viewership, says Yin Li, vice chairman of the China Film Directors' Guild.
"Nowadays, insiders and researchers are more willing to call such films 'new mainstream blockbusters,' as those tales not only convey the mainstream values of our society, but also achieve remarkable success in the market," adds Yin, an award-winning director.
Widely regarded as a watershed blockbuster to redefine such films, the movie "The Founding of a Republic" — which was produced to mark the 60th anniversary of New China's founding — gathers a cast unprecedented in star power, packed with more than 170 big names, including Jackie Chan and Jet Li in cameo roles. The movie grossed 450 million yuan, topping the country's box office in 2009.
Following the success, "The Founding of a Party," a second installment of "The Founding" trilogy to mark the 90th anniversary of the founding of the CPC, again employed a similar formula and earned critical acclaim and commercial success.
After Tsui Hark's "The Taking of the Tiger Mountain" became a hit in 2014, mainland studios realized that Hong Kong talent could help the country's zhuxuanlyu films adopt a more appealing perspective. Their profound knowledge and skill in dealing plot twists and action were honed in Hong Kong's fast-paced and prolific film industry.
A greater number of directors from Hong Kong have since joined projects retelling the tales of the country's heroes, exemplified by Andrew Lau's "The Founding of an Army" (2017), as well as Dante Lam's Chinese Navy-themed "Operation Red Sea" (2018) and "The Rescue" (2020).
Exemplifying the public's rising appetite for such films, Tsui and Lam have also joined hands with renowned director Chen Kaige to shoot the patriotic film, "The Battle at Lake Changjin." This focuses on the Chinese People's Volunteers who went to the Korean Peninsula to fight in the War to Resist U.S. Aggression and Aid Korea (1950-53). It is set to be released this year.
Lau has also been recruited to direct "Chinese Doctors," a movie about medical staff battling against the pandemic in Wuhan, the capital city of Hubei Province, the ity hardest hit by the COVID-19 outbreak earlier last year.
Another format that has proved successful for filmmakers on the Chinese mainland is the one employed in "My People, My Country" (2019) and "My People, My Homeland" (2020). These two blockbuster anthology films, comprising several stand-alone stories based around a single theme, have set a successful example for domestic filmmakers about assembling top talent and resources to tell zhuxuanlyu stories through the perspective of ordinary people.
Wang Changtian, president of the Beijing-based studio Enlight Media, predicts that, over the next five years, the film industry will shoot around 50 zhuxuanlyu films with a total budget up to 20 billion yuan. He made the prediction during a forum at the recently concluded 24th Shanghai International Film Festival.
A total of around 200 such films have been screened since 2007, drawing a box-office revenue of more than 52.5 billion yuan, according to the National Business Daily.
Game changers
In 2019, two Chinese smash hits — the animated feature "Ne Zha" and sci-fi epic "The Wandering Earth" — earned 5.04 and 4.69 billion yuan, respectively, to take both the No. 1 and No. 2 positions on that year's box-office charts. They were both hailed as game changers.
Unlike some Western sci-fi blockbusters that depict individual heroes single-handedly rescuing the world or defeating alien invaders, "The Wandering Earth" conveys values and emotions distinctive to Chinese people, thus resonating more with locals, according to critics.
In 2020, the China Film Administration and China Association for Science and Technology issued a joint guideline to boost the sci-fi film sector, with policy measures ranging from visual-effects enhancement to training. The move is seen as State-level support to encourage sci-fi filmmaking, according to insiders.
China's feats in space exploration, exemplified by the first Mars rover Zhurong and the country's recent deployment of three astronauts to the core module of what will become China's new space station, have laid the foundation for filmmakers to conceive their own sci-fi stories with a more localized perspective, explains Wang Hongwei, deputy head of China Film Directors' Guild.
"Ne Zha"'s unexpected success in 2019 has also given animators a boost, drawing more talent to portray the subjects inspired by Chinese myths and cultures. Films in the category include the likes of "Jiang Ziya: Legend of Deification" and "New Gods: Nezha Reborn." They are among the highest-grossing films of 2020 and 2021, respectively.
Currently working on a sequel to the folklore-based film "White Snake," director Amp Wong says the animation industry is struggling with a shortage of talent and he hopes that more youngsters will join the sector to help develop animation applications that will assist in producing scenes which reflect typical Chinese aesthetics. (China Daily)