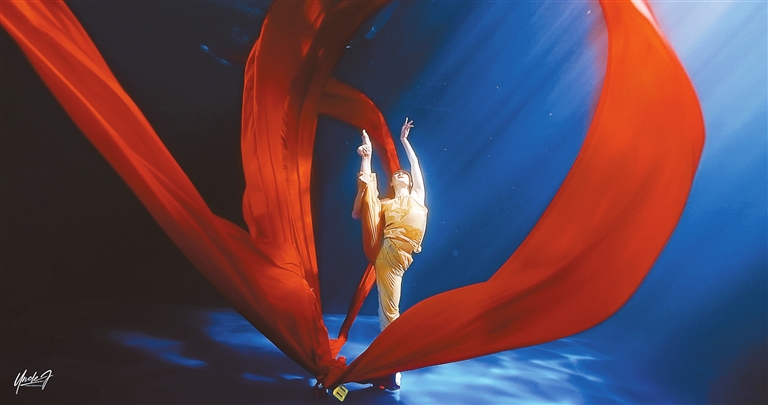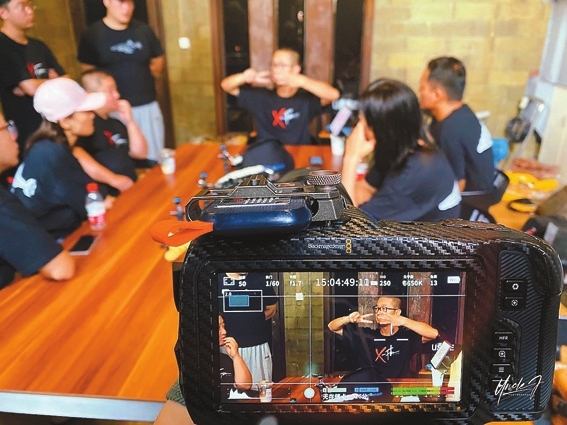 Yang Mei
yangmei_szdaily@163.com
WHEN the breathtaking underwater dance video "Rhapsody on the Luo River Goddess" was first aired on Henan TV on June 12 for a Dragon Boat Festival special, it became an instant sensation on the Internet, captivating audiences with dancer He Haohao's agile moves as well as the artistic and graceful execution of the Chinese legend "Ode to the Goddess of the Luo River."
The story is about a woman named Luo, who was believed to be the daughter of emperor Fu Xi of prehistoric legend. In the story, she drowned in a river and became a goddess.
As of June 25, the trending hashtag "River Goddess Underwater Flying Dance" on China's Twitter-like Weibo has been read 430 million times.
The hit underwater performance is the first of an underwater dance tetralogy presented and produced by the Shenzhen Sanrenxing Network Culture Media Company.
Xie Lei, founder and CEO of the company, believes that traditional Chinese culture can be stunning, fashionable and refreshing when interpreted through artistic forms such as underwater dances, which will better tell Chinese stories and boost cultural confidence.
"When thinking of traditional Chinese culture, most people might associate it with something out of fashion. But in my mind our traditional cultures, particularly ancient fairy tales, are very beautiful and celestial, which for most of the time are not introduced in a tangible and appealing way. So we came up with the idea of telling these ancient stories in new settings like beneath the water to help people understand and appreciate," Xie told Shenzhen Daily.
With the same idea, Xie's team produced their second underwater dance installment "Red" as a dedication to the 100th anniversary of the founding of the Communist Party of China (CPC), which also made the rounds on social media. The video portrays the journey of the CPC breaking through the dark times and hardships and ultimately leading the Chinese nation to brightness and victory.
Xie attributes the popularity of "Red" to the unprecedented patriotism shared by his fellow citizens. "I found during the pandemic that we the Chinese people are united. We have shown the most profound love for our country. I feel very proud and confident to be a Chinese," Xie said emotionally.
"Plus, young people are embracing chic Chinese brands and traditional Chinese styles. So when they see such beautiful and creative expressions of Chinese culture, they would not hesitate to share with others," Xie continued.
Xie revealed to Shenzhen Daily that his team will soon release the other two underwater performances named "Happiness" and "Inheritance" which are about traditional Chinese wedding ceremonies and Tai Chi respectively.
Xie added that the success of the latest two works proves his belief that Internet creations with good content go further than those only pursuing website traffic. "I had been in this industry for several years before I founded this company. However, I used to be so obsessed with website traffic that sometimes I would even convey misleading values to gain traffic, which I now loathe," Xie said.
Founded in 2018, Xie's company specializes in social media marketing and film and television production related to extreme sports such as diving, surfing, sailing, and motorcycling.
According to Xie, his company has signed 20 bloggers and 12 of them have gone online. Xie noted that when looking for artists, he will see whether they have top professional skills, positive life attitudes, commitment to excellence, and integrity of character.
When asked why his company choose to feature extreme sports in its production, the 32-year-old CEO told Shenzhen Daily that he is endeavoring to promote active and healthy lifestyles, especially to young audiences. "I hope after watching our videos, young people can embrace nature, learn sports like surfing, diving and skiing. So next time when they get together, they can go outdoors to play sports instead of sitting at home playing computer games," Xie said.
A native of China's eastern Anhui Province, Xie moved to Shenzhen with his parents in 1999. Xie started his own media business after he graduated with a bachelor's degree in international trade from a Macao university. After three years in Macao, he came back to Shenzhen to continue with his passion. Currently he is running his fourth company.
The entrepreneur sees Shenzhen as a place with magic vibes in which people are motivated to work hard and keep improving, adding that Shenzhen is very inclusive and tolerant of failures.
For young people who are eager to make a difference in their business, Xie encourages them to step out of comfort zone and push themselves to learn new things, and don't be afraid of failures; he was once told "Don't underestimate the resilience of young people who failed in their businesses, because you never know what they would achieve in the future."