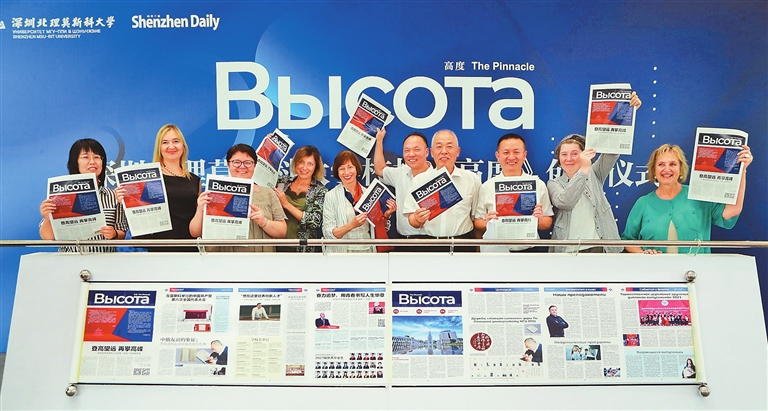 Han Ximin
ximhan@126.com
SHENZHEN MSU-BIT University (SMBU) on Thursday officially launched The Pinnacle, a bilingual campus newspaper, which aims to be a platform to promote cultural and educational exchanges between China and Russia.
"The launch of the newspaper is a gift to the Communist Party of China (CPC) on this special day when the CPC is commemorating its 100th anniversary," said Li Hezhang, rector of SMBU, at the launch ceremony.
Li hoped that through the eight-page campus newspaper, the university will provide the latest academic and campus information, introduce culture and traditions of China and Russia covering literature, music, films, paintings, museums, travel, tourism and sports, and major events in Russian and Chinese history.
As a special gift, the first issue dedicates one page introducing the CPC's history relating to Moscow such as the Sixth National Congress of the CPC that was held in a Moscow suburb between June 18 and July 11, 1928.
The site of the congress, under the care and support of President Xi Jinping and Russian President Vladimir Putin, was restored and opened to the public in July 2016, exhibiting valuable historical documents and materials that recorded that event.
"The name of The Pinnacle means the peak that encourages us to strive for academic achievements. It indicates the height and the level that our teachers and students should achieve and signifies the summit of friendship between China and Russia," said Li.
Professor Aleksandr Ledenev, dean of the Philological Department, participated in the editing of the first issue in partnership with Shenzhen Daily. He said the publishing of the first issue showed high efficiency and Shenzhen Speed.
He hoped the campus newspaper would be like a fully fledged bird that accompanies the voyage of SMBU and witnesses the friendship of the two countries by providing interesting stories to attract readers.
At the launch ceremony, the university signed a MOU with Shenzhen Daily for cooperation.
"The publishing of the bilingual newspaper is a great step for the university to implement President Xi Jinping's remarks on promoting and facilitating international communication. It will help improve the international communication capability of the university," said Dong Haitao, editor-in-chief of Shenzhen Daily, at the ceremony.
Xi pointed out earlier in May that global communication should be adapted to meet the requirements of different regions, countries and readerships. A newspaper in both Chinese and Russian will certainly help to bridge and enhance understanding of the two great nations and cultures, according to Dong.
SMBU, built on the consensus reached by the two heads of state, is tasked to deepen China-Russia education cooperation, cultivate top-notch talents and foster the friendship between peoples of the two countries. It strives to be a world-class, international and comprehensive research university with distinctive characteristics by leveraging the academic strength of both MSU and Beijing Institute of Technology.