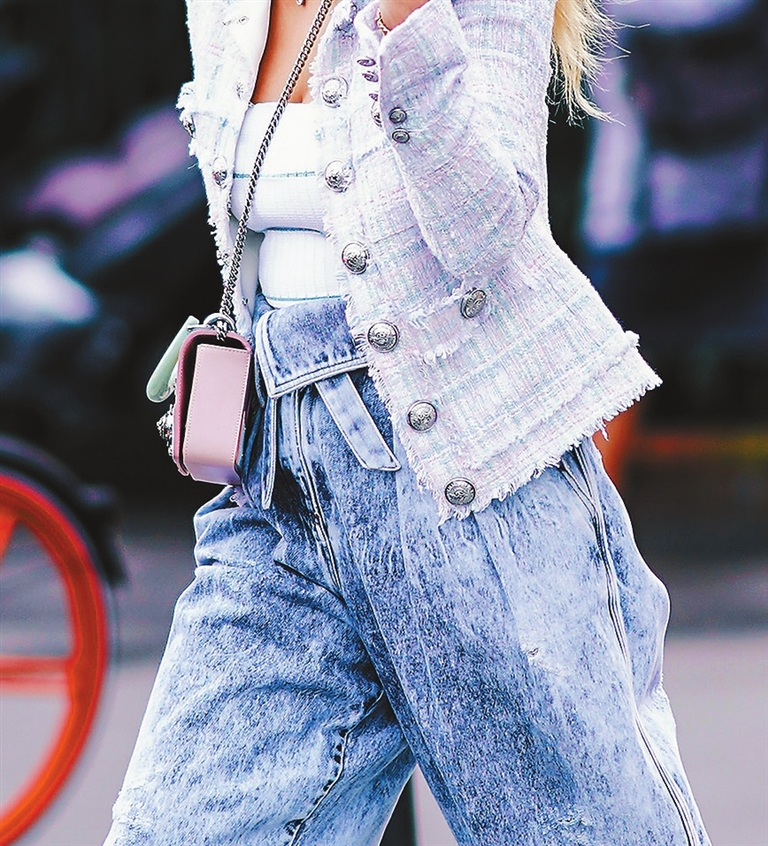 TIRED of your plain old denim and in need of a DIY project to spice up your everyday routine a little bit? Acid washing your jeans is a great idea to transform any denim clothes, and it's actually way easier than you might think.
This treatment hit its peak in the '80s, but, like most nostalgic trends, it's still very much around today. You can opt to buy designs that already come acid washed, but where's the fun in that? Plus, the process requires items you can usually find around the house like bleach and rubber bands.
You'll need: household bleach, rubber bands, an empty spray bottle, water, a bathtub or large bowl and gloves.
First things first
Gather the piece(s) you want to acid wash. While jeans are the most common, you can do this treatment with any denim clothes like a jacket, vest, jumpsuit, and more.
Start scrunching up the fabric
Using your rubber bands, gather the fabric randomly and wrap the bands around various areas of the item, starting from the bottom to the top. Don't forget about repeating this process on the back too. Basically, it should look like one large, lumpy bundle that's completely held together when you're finished.
Get the bleach
The strength of the bleach will affect how drastic the contrast is. It can turn out to look almost white with dark blue areas, or it can be more of a subtle acid wash if you dilute the bleach with more water. If you go the latter route and decide that it's not showing up enough, you can always go back over the item using more bleach to get the desired look.
Generally you'll mix three parts water with one part bleach, but you can also make the solution stronger or weaker depending on the aesthetic you're going for.
Mix the water and bleach in a clean bathtub or sink with the drain plugged or a large bowl or bucket. Use your gloves for protection and submerge the rubber banded item into the solution until you see the bubbles disappear.
For a splattered effect, you could fill an empty spray bottle with this solution and spray the item in your bathtub or somewhere safe outside. You can keep the rubber bands on it while doing so, or skip that step all together and spray directly on the piece while it's laying flat. Leave it for a couple hours for the bleach to take effect.
Let it sit and then rinse with cold water
Give it some time to absorb the bleach mix and a rule of thumb is that the longer you leave it to soak, the more discolored it'll look. So if you want more contrast you can soak it for more than two hours or you can opt to take it out earlier. Once you remove it, rinse off the solution by running the item under cold water.
Remove rubber bands and wash
Take off all the rubber bands and then throw the piece in the wash on a normal cycle with cold water. Then, put it in the dryer and voila! Your '80s dreams have come true with your new acid washed denim.(SD-Agencies)