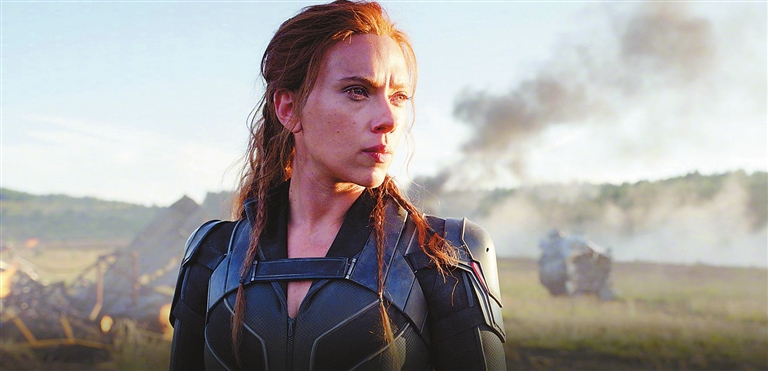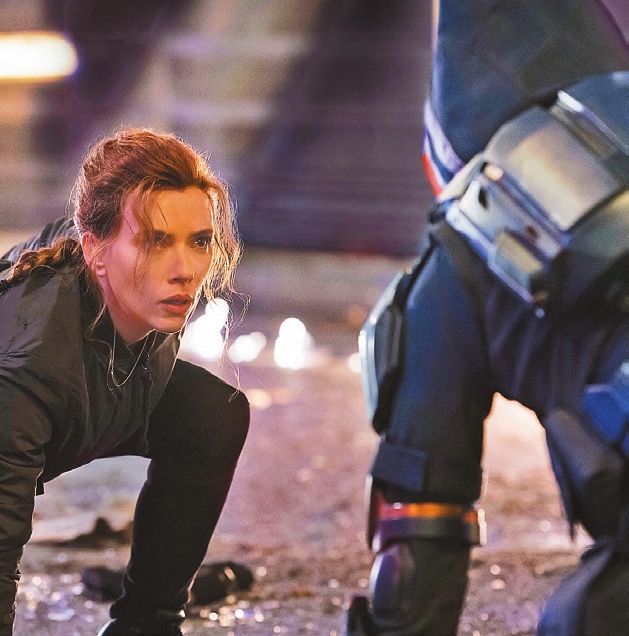 Directed by Cate Shortland, this stand-alone "Avengers" movie proves a stellar vehicle for Scarlett Johansson's Natasha Romanoff, given first-rate support by Florence Pugh, Rachel Weisz and David Harbour. It's a spy thriller rather than a superhero movie.
The plot is situated between the events of "Captain America: Civil War" and "Avengers: Infinity War."
In flashbacks, the young Natasha (Ever Anderson) is a tomboyish preteen with a mop of acid-blue dyed hair, tooling around on her bicycle in the Ohio town where she lives with her family in 1995. Her 6-year-old sister, Yelena (Violet McGraw) scrapes her knee and gets comforting kisses from their mother, Melina (Weisz), who reminds both girls, "Your pain only makes you stronger." But the tender family scene is shattered when father Alexei (Harbour) returns home with news that they need to make a hasty exit.
Narrowly evading authorities and a barrage of gunfire, they fly to Cuba, where their identities as Russian intelligence agents posing as an American family are revealed before they are separated. Alexei expresses relief that his three years of undercover life are over, finally allowing the "Red Guardian" to get back to the super-soldier duties for which he was trained. But his boss, General Dreykov (Ray Winstone), seems more interested in Natasha, who is fiercely protective of her kid sister.
Cut to 21 years later, when Natasha (Johansson) is a federal fugitive being hunted by a SWAT team under the direction of U.S. Secretary of State Thaddeus Ross (William Hurt), forcing her to leave the country and go into hiding in remote Norway.
Meanwhile, Yelena (Pugh), now a highly skilled assassin, is in Morocco, having defected from Dreykov's ranks and removed a tracking device planted under her skin. She outmaneuvers the female kill squad sent to eliminate her and gets away with a case of vials containing an antidote to Dreykov's chemical compound designed to inhibit free will.
The globe-hopping plot then shifts to Budapest, where Yelena is holed up in a safe house and has just enough time to get reacquainted with Natasha before an armored vehicle is chasing them through the city streets. The deadliest of Dreykov's soldiers on their heels is a microchip-enabled mimic, programmed to replicate any fight skills, including those of the now-disbanded Avengers.
It's a welcome rest from the almost nonstop action when Shortland pauses long enough to allow Natasha and Yelena to reestablish the bonds of their non-biological sisterhood with some scenes of good-natured teasing, banter and rivalry.
The personal stakes are heightened further still when Alexei and Melina reenter the picture, the first in a thrilling Russian prison breakout and the latter on an isolated farm where she's testing Dreykov's mind-control programs on hogs. Gradually, the pieces come together to reveal the evil puppet master's Red Room training camp, where orphaned or abandoned young women from around the globe are transformed into his "Widows," an army of blindly obedient killers. "I recycle trash and I give them a purpose," says Dreykov. "I give them a life."
Natasha and Yelena are determined to take down Dreykov and destroy the off-the-radar Red Room location in an epic battle, to liberate legions of others from inhumane exploitation.
On the craftsmanship side, "Black Widow" is top-notch, with muscular camerawork from Gabriel Beristain and a wonderful score by Lorne Balfe.(SD-Agencies)