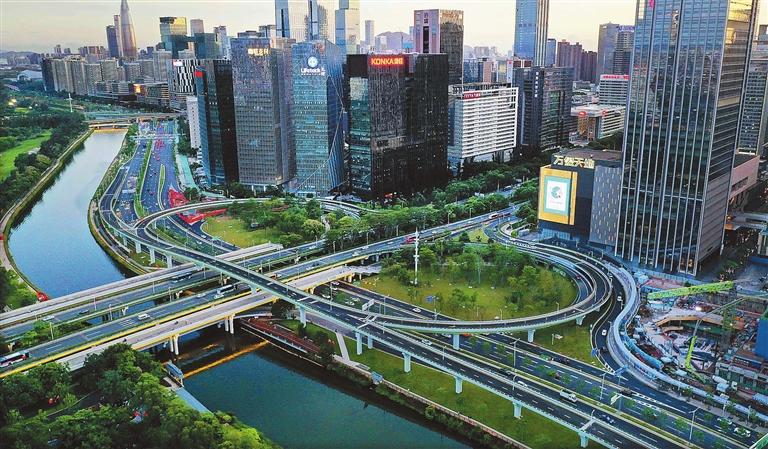 Han Ximin
1824295095@qq.com
THE renovated Shahe West Road and Phase II of Nanping Expressway were put into use Friday, the city's transport authority said.
The two major infrastructure projects are expected to greatly improve the traffic situation in Nanshan District and the Qianhai area.
The renovation project of Shahe West Road, a south-north trunk road, began four years ago. The 4.53-kilometer section of the road between Gaoxinnan No. 9 Road in Shenzhen Hi-Tech Industrial Park and Chaguang Road in Xili, northern Nanshan, faced a lot of problems like low efficiency, poor connections with other roads, disconnected auxiliary system and irrational distribution of entrances and exits.
The renovation project includes construction of three flyovers to enhance the connectivity for vehicles going between the high-tech park and Xili, the connectivity to Shennan Boulevard and traffic capacity in the Dachong area.
One footbridge was built, one footbridge was extended and a bicycle lane along the road was built.
After the renovation, the expected speed along Shahe West Raod is expected to reach 60 kilometers per hour.
Phase II of Nanping Expressway starts from Qilin Flyover and ends at Nantou Flyover, linking Nanhai Boulevard in the east. A 1.8-kilometer flyover, a section of the expressway, runs an aerial parallel of the Pingnan Railway. The opening of the expressway will greatly increase the connectivity between the Qianhai area and Bao'an District.
Nanping Expressway, which will be built in three stages, starts at Qianhai in Nanshan and ends in Pingshan.
Phase I runs 19 kilometers between Tanglang Flyover in Nanshan and ends at Longjing Flyover in Buji, Longgang District, passing through the Fulong and Meiguan roads. It was put into use in June 2006.
Phase II is the western part of the expressway, which starts at Qianhai Flyover of Guangzhou-Shenzhen Riverside Expressway and ends at Tanglang Flyover, running 15 kilometers. Phase II is connected with Guiwan No. 1 Road in Qianhai, Guangzhou-Shenzhen Riverside Expressway and Xinghai Boulevard through the tunnel in Linhai Boulevard. Phase III that runs 22 kilometers will link Hengping Flyover with Shuiguan Expressway and Julong Road in Pingshan District.
The expressway will be connected with the city's major roads through 15 interchanges.