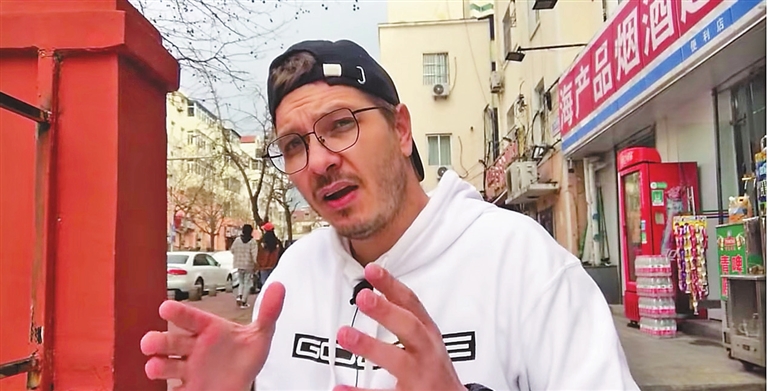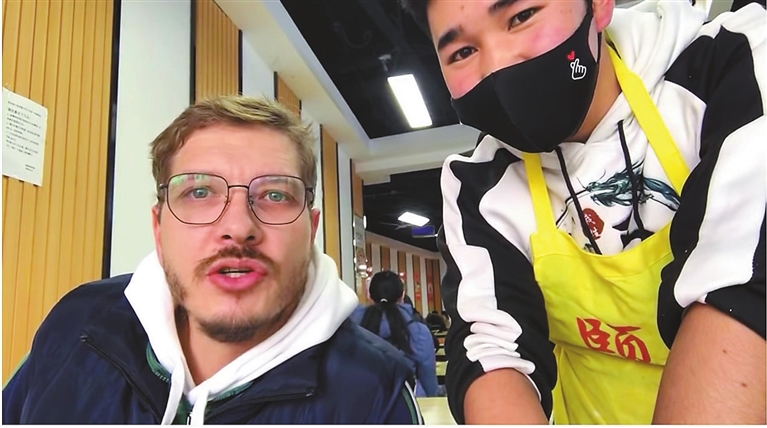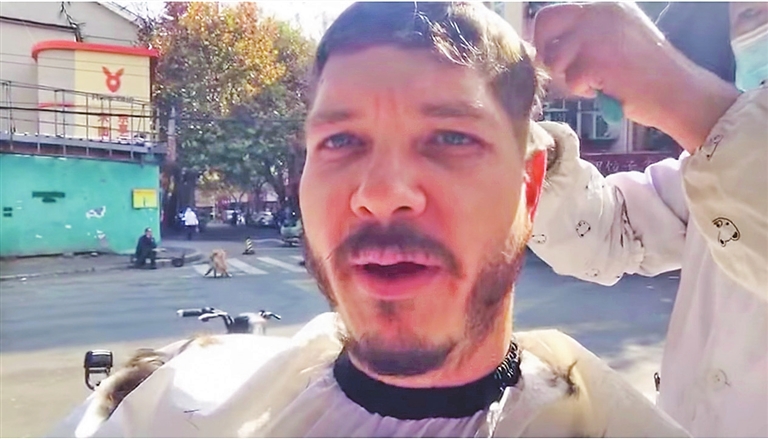 Editor's Note:
A growing number of foreigners who are living or have lived in China are now presenting the country's real life to the outside world through their videos and tweets. Today, we present you the eighth of a series of stories about the social media influencers who are endeavoring to right the wrong of the Western perception of China.
Yang Mei
yangmei_szdaily@163.com
EIGHT years ago, a random job offer dropping in his email inbox brought Jerry Goode from Thailand to China. Without too much knowledge about China and no clues about what his future life would be like in the country, Goode decided to trust the man from the email by jumping onto a plane with some clothes and a little money. "This is something you see in movies or read in books, but now I'm experiencing it in real life. From that day, I decided to stay in China and check out what's going on in the country," Goode said.
Now that mutual trust has turned out to be worthy — the man, hailing from South Africa, is having a promising career in Qingdao, Shandong Province, as a manager and a part-time YouTuber, with the love and support from his Chinese wife and two children.
Goode told Shenzhen Daily that he enjoys living in China so much that during his eight years here he only went back home once to renew his passport.
In 2016 Goode opened his YouTube channel "JERRY GOODE" to show his families back home about his life in China. When he saw China was attacked by the U.S. media during the 2016 U.S. presidential election, he decided to speak out against the bias. "My wife and daughters are Chinese citizens, when I saw my family's country was treated unfairly, I have the right to defend for them," he explained. "My videos went against the narratives the West media are pushing out. For example, if they said China's air quality was not good, then I would shoot the clean air video to prove they were wrong."
Goode's "weapon" to refute fake news about China is to deliver truths and reality about China in his everyday life videos, covering such topics as travel and food, family life, visiting different venues, encounters with locals, and political opinions.
Compared to other YouTubers' sophisticatedly edited videos with fancy effects, Goode's videos are more of casual, unprocessed livestreaming vlogs even with no subtitles, and he serves as a "tour guide" to introduce his audience into a real world as it is. "Haters in the West are so scared or ignorant to see China personally, so I'd like to take them onto virtual tours around China without a visa or a passport and show them the reality and let them feel what I feel," he said.
Goode said videos of a livestreaming style are not easy, but that works well in terms of dispelling stereotypes about China. "One of the biggest stereotypes about China in the West is that Chinese people are suffering. However, when my audience walked with me on the streets in a 40-minute live video, they saw with their own eyes that many Chinese people drive luxury cars and wear luxury clothes, with hamburgers and iPhones in their hands," he said.
Goode told Shenzhen Daily that he is happy to see the fake news about China is being defeated and that China is winning the hearts of the Western people. "My audience left messages thanking me for sharing the truth about China and saying they had been fooled all the time," he said.
To bring the livestreaming project into a new level, Goode announced July 1 through a video that he is turning his "JERRY GOODE" channel into a "100 percent livestreaming channel" which will present 20- to 30- minute videos, allowing audience to interact and talk with him in real time. In addition, he also unveiled his second new YouTube channel under the name of "Daily Jerry" with a focus on his personal life experiences. "This channel will have hotels, daily life, encounters, a bit of comedy, food, pampering, random thoughts and much much more!" reads the introduction.
The YouTuber told Shenzhen Daily that he never run out of topics for his videos because "China offers me topics for contents." "When I walk on the streets, the topics are there. China develops so rapidly that me as a YouTuber cannot keep up with the technology and other developments," he said.
Goode said he was amazed by the infrastructure when he landed in Beijing eight years ago. "When I walked through the airport in Beijing, I was shocked by the fantastic structure. I had never seen such a big airport in my life. As I went out of the airport, I was even more shocked by the skyscrapers, lights, cars on the road and highways," he recalled. "Chinese infrastructure is not just the story people are telling. It's exploding into an empire."
In June, Goode was invited by Chinese media to join other foreign YouTubers for a Beijing trip. During the one-week trip, he visited venues for the Beijing Winter Olympics 2022 and JD.com's factory, watched the flag raising ceremony in Tiananmen Square and appreciated Beijing opera on a boat ride.
In response to West media's accusations that foreign YouTubers "are paid to travel around and produce pro-China propaganda videos," Goode said he is very proud about such trips.
"I have no clear answer to what propaganda is. I just openly support the Chinese Government and its system," he said.
When asked about his future goal for exploring the country, Goode said that he plans to visit the cities and towns along the Yellow River and become the first expat to document these places. "Yellow River is the cradle of Chinese civilization. I want to explain to the outside world the Chinese civilization and history, meet locals and try food there," he said.
He added that he will always fight for fair treatment to China. "China is my country essentially. The West should accept a successful China and congratulate the Chinese people. Stop making lies!" he said.
Calling himself a "proud expat of China," Goode believes the Chinese people enjoy the most freedom in the world. "The No.1 fundamental human rights for every single person in the world should be the safety for life, which is what I'm experiencing in China," he said. "Chinese are hard-working people with innocent hearts. Chinese cities are clean and futuristic."
Having been living in Qingdao with his family for two years, Goode works for a company as a manager who help newcomer foreigners to Qingdao ease into their work and life in the city. Goode explains that he acts as a bridge or a "problem solver" between expats and Chinese companies to assist foreigners to find the perfect area to start their work, understand contracts and explain rules and regulations in China.
In his childhood, Goode's impression about China was that it is "the most mysterious country in the world," and he was intrigued by Shaolin Temple in Henan Province which is well-known for Shaolin Kung Fu. Now, the man believes it's his destiny to have come to China and met these awesome friends. "I just understand Chinese culture so well that I think I was Chinese back to my previous life," he said.