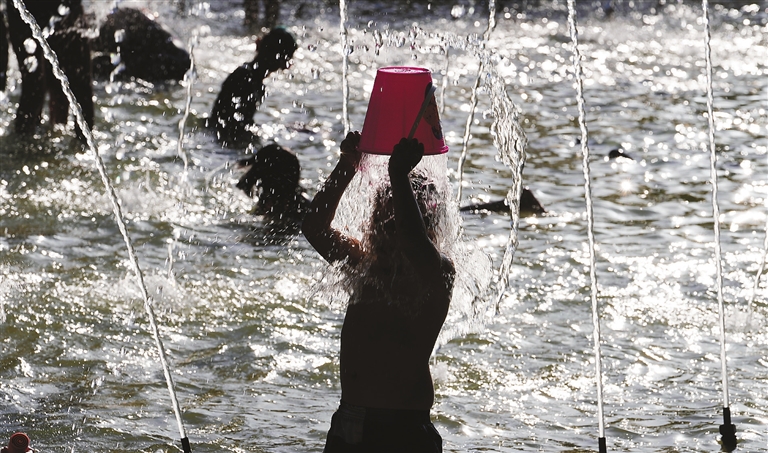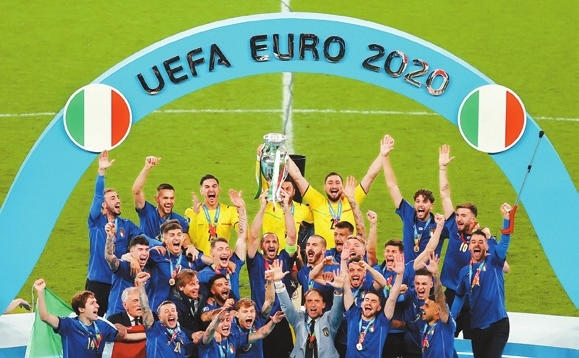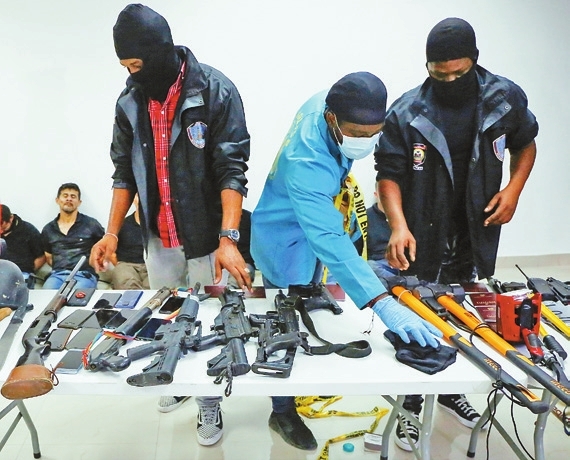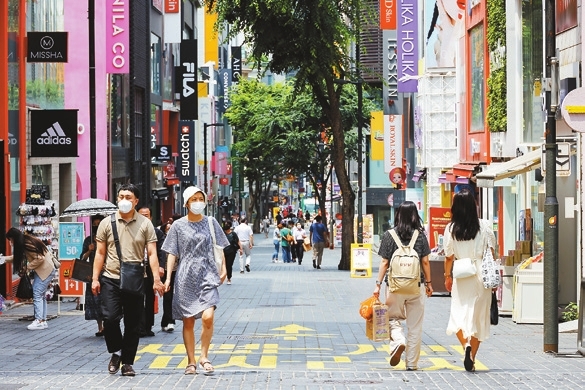 Record-breaking heat wave grips Spain
A woman cools off with a fountain's water during a heat wave, in Madrid on Sunday. A heat wave enveloped much of Spain on Sunday, driving temperatures to extreme levels and sending people scurrying for shade and cooling waters. The national weather office issued heat warnings for most of the country, with the thermometer forecasted to rise above 40 degrees Celsius in Madrid and the southern city of Seville for the second day running. Xinhua
Italy wins Euro 2020
Italy claimed the European Championship for the first time since 1968 as penalties came back to haunt England at Wembley Stadium on Sunday, Gianluigi Donnarumma saving twice as the Azzurri won a 3-2 shootout after the game finished 1-1 following extra time.
The Italian goalkeeper saved from Jadon Sancho and, decisively, Bukayo Saka after Marcus Rashford hit the post, as Federico Bernardeschi, Leonardo Bonucci and Domenico Berardi all scored for the Italians in the shootout.
Luke Shaw had given England a dream start with a superb goal after two minutes, but Italy gradually took command and deservedly leveled through Bonucci after 67 minutes.
Meanwhile, Portuguese superstar Cristiano Ronaldo won the Golden Boot for the most number of goals scored in Euro 2020.
Haiti president's widow
speaks for 1st time
The injured widow of Haiti's president has described the moment assassins "riddled" her husband with bullets after bursting into their home in the middle of the night.
Martine Moise said on July 10 that the attack happened so quickly, her husband Jovenel was unable to "say a single word."
President Moise was killed on July 7, allegedly by 28 foreign mercenaries. Mrs. Moise was also injured in the attack, and was flown to Miami for treatment.
She suggested her husband was targeted because of political reasons — in particular, mentioning a referendum on changes to the constitution, which could have given the president more power.
At least 17 suspects have been arrested in connection with the assassination, including two U.S. citizens.
Lightning strikes in
India kill 38 in 24 hours
Lightening has killed at least 38 people across two Indian states over the past 24 hours, officials said on Monday.
A majority of the deaths occurred in the western state of Rajasthan, where 11 people died after being struck by lightning near a watchtower at the 12th century Amber Fort, police said.
Senior police officer Anand Srivastava said some of the victims were taking selfies near the watchtower when lightning struck late Sunday.
Lightning strikes are common during India's monsoon season, which runs from June to September.
Illinois requires Asian American history
In the midst of a right-wing attack on creating a more inclusive education in the United States, Illinois just became the first state to require Asian American history to be taught in public schools.
Illinois Gov. JB Pritzker signed the Teaching Equitable Asian American History Act on Sunday, set to go into effect January 1.
Beginning with the 2022-2023 school year, every public elementary school and high school will be required to include a unit of instruction studying the events of Asian American History, including the history of Asian Americans in Illinois and the Midwest.
S. Korea recognized as developed nation
South Korean President Moon Jae-in said on July 7 his country's being recognized as an advanced nation is a feat that should be attributed to the blood and sweat of the Korean people.
This follows the previous week's decision by the U.N. Conference on Trade and Development to categorize South Korea as a "developed" economy. It's the first time it has upgraded the status of a member nation from "developing" to developed since its establishment in 1964.
(SD-Agencies)