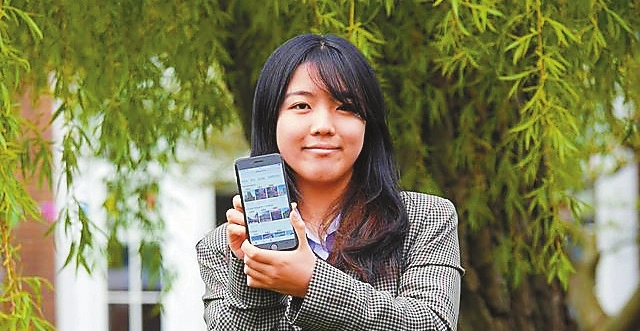 A Year-12 student has won the top prize in a U.K. engineering competition after her grandparents inspired her to create an ingenious holiday website.
Kaede Sugano, a Japanese student studying at Rugby School in England, was crowned GSK U.K. Young Engineer of the Year for her project "RIHLA."
Inspired by her grandparents trying to find a perfect holiday for their 50th wedding anniversary, Sugano developed a website, which compares package holidays and suggests the one that best meets a traveler's needs, using an algorithm she created.
Users rate tourist spots using three different criteria — sentiment, novelty and physical ability — and the app takes the traveler's preference and package holiday profile using the algorithm to measure the similarity between them.
With this service, travelers would be able to easily find a tour with which they are satisfied without having to compare tours themselves.
Sugano said: "Currently, people all over the world are unable to travel due to the COVID-19 pandemic but, hopefully soon, we will be free to travel again. My dream is that my website will be helpful for people when this happens.
"I am very happy to receive this award, and it gives me the courage to continue my efforts to solve social problems with technology.
"I would also like to thank my teachers at school for teaching me the fun of mathematics, physics, and computing."
Sugano's project was one of 200 submitted to this year's Big Bang Competition, an annual contest in the U.K. designed to recognize and reward young people's achievements in all areas of science, technology, engineering and maths (STEM), as well as helping them build skills and confidence in project-based work.
The awards were announced at Big Bang Digital: Redefine the Future, a three-day digital event aimed at 11 to 14 year olds, packed full of inspiring and interactive sessions designed to open young people's eyes to future developments they could be part of.
Previous winners have gone on to enjoy a range of other achievements on the back of their successes —including getting backing from businesses for their projects, setting up their own businesses, taking part in conference presentations to industry professionals as well as appearing on the television and radio shows to talk about their projects. (SD-Agencies)