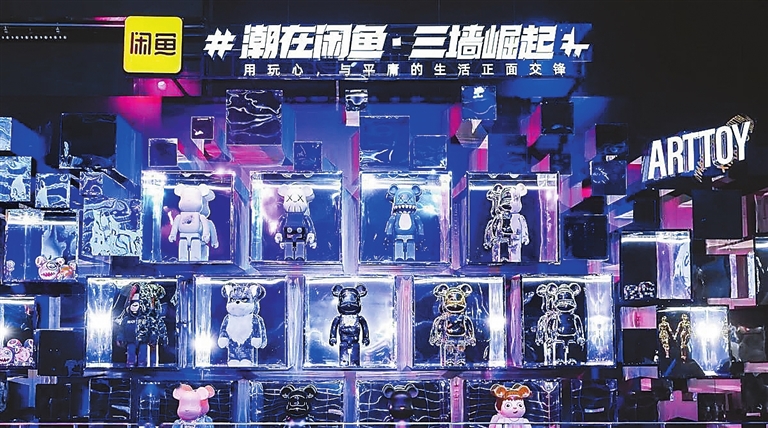 FOR the first time since its launch, Xianyu, the online secondhand marketplace of Alibaba Group, has rolled out a business that goes beyond its positioning as an online bazaar for used items.
At a press conference held in Shanghai on July 5, Xianyu announced the launch of "Xianyu Chaoshe," a channel featuring the sales of trendy items, and its plan to recruit 1,000 "trend brokers" worldwide. Against the backdrop of China's burgeoning trend shopping market, the move is an epitome of how the country's e-commerce giants are trying to woo the fast-growing domestic trend shopper community. Young shoppers, especially those of Generation Z (Gen Zers), have been their main target.
From streetwear, sneakers to designer toys and up-to-date digital products, the scope of what counts as "chao," or trendy, keeps expanding in China. Not unexpectedly, the major decisive force of the trends is Gen Zers, those who were born between the late 1990s and the early 2010s. According to a report released by Alimama, Alibaba Group's big data marketing platform, Gen Zers' spending on trendy items accounts for around 30 percent of China's trillion-yuan trend shopping market, and the figure keeps climbing at an astounding speed.
"Gen Zers as digital natives have brand-new aesthetic ideas," remarked Liu Binxin, vice president of Bilibili, China's leading video sharing website, during the press conference.
Aesthetic ideas, however, are not their only difference. Gen Zers' attitude towards being trendy also contrasts with their previous generations. For them, being trendy means much more than wearing streetwear and sneakers; it's a matter of personality, self-expression and a sense of belonging and cultural identity. They have also abandoned most of the traditional channels their predecessors resorted to for new trends. Instead, they are turning to social media outlets to follow influencers.
The shift in access to new trends is exactly why Xianyu is launching its new channel and recruiting trend brokers, which consist of trendy brand founders, authorized trendy brand distributors, trendy item collectors and the like. Official statistics released by the company show that among the app's nearly 300 million users, more than 35 percent are the post-1995 generation. The trend brokers are expected to play the influencer roles of bloggers, vloggers and key opinion leaders to cement these young users' loyalty to the platform, while the trendy brand resources they have with them will help to offer more varied buying options for shoppers.
Xia Jiahuan is among the first batch of trend brokers recruited. One of the co-founders of Solestage, a North America-based sneaker and streetwear marketplace featuring exclusive and hard-to-find items, Xia is dubbed as the "Chinese king of sneakers in North America."
"There are many streetwear brands that are currently on sale only in North America," Xia told reporters. "What we would like to do is to bring them to Xianyu to give Chinese consumers more choices."
Xianyu's competitors include familiar behemoths such as Pinduoduo and Tmall, as well as some rising stars typified by POIZON. Positioned as a social networking and trading platform for trend chasers, the POIZON app allows its members to share views and show off their items in categories including clothing, sneakers, fashion toys, watches, cars and even art pieces. The monthly active user of POIZON reached 40 million in early 2020; the company's valuation also grew fast and reached US$1 billion.
"Whether trendy brands and e-commerce platforms can win the heart of Gen Zers in the years 2021 and 2022 will be critical for their longer-term development," Liu concluded during the press conference. Who will be the final winners? Let's wait and see.
(Yu Yuanfan)