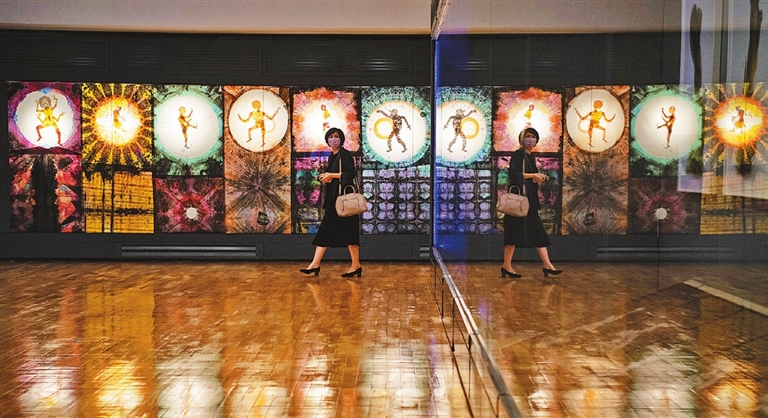 ART Macao: Macao International Art Biennale 2021, a mega international cultural and artistic event, opened last week at the Macao Museum of Art.
By gathering creative ideas from around the world, Art Macao aims to promote the reputation of Macao as a world heritage city and reshape the humanistic spirit in the post-epidemic era. Thirty art exhibitions in 25 locations are being presented through October, bringing an immersive cultural atmosphere to the entire city as a gallery and as an art garden, allowing the public to enjoy the beauty and vividness of art. This year's edition is curated by Qiu Zhijie, one of the most influential contemporary artists in China and dean of the School of Experimental Art of the Central Academy of Fine Arts in Beijing, which focuses on contemporary visual arts.
Themed "Advance and Retreat of Globalization," the main exhibition at the Macao Museum of Art is divided into three parts: "The Dream of Mazu," "Matteo Ricci's Labyrinth of Memory" and "Advance and Retreat of Globalization," providing a space for reflection and discussion on issues such as globalization and individuality, life and dreams, remoteness and proximity, security and happiness, among others. The three thematic exhibitions feature over 40 artists from nearly 20 countries and regions, presenting more than 100 pieces and sets of artworks.
"The Dream of Mazu" brings together export porcelain transshipped through Macao in the Ming (1368-1644) and Qing (1644-1911) dynasties, the combination of traditional and contemporary creations of azulejo tiles by artists from Portugal and the brand-new blue-and-white porcelain works by artists from China and the Middle East. "Matteo Ricci's Labyrinth of Memory" describes the Western world's view of China over the past 500 years. Both parts of the exhibition are held until Aug. 15. "Advance and Retreat of Globalization," running until Oct. 17, shows that artists around the world have been continuously working on creation, striving to open a new spiritual path that leads the world from despair.
"The Awakening Lion Exhibition" takes place at MGM Macao and MGM Cotai and features numerous works by such preeminent artists as Cai Guoqiang, Wang Huangsheng, Liu Jianhua, Yu Yang and Chloe Ho, as well as the imperial Qing Dynasty carpet titled "Five Lions." These grandiose exhibits all explore the old and new artistic traditions and broaden visitors' minds and sights for the future.
"Juxtapose" is exhibited at Galaxy Macao. The sculptures there depict Macao's important architecture, icons, trades of the past and festivals, defining what Macao is today: juxtaposing East with West, new with old, traditional with modern, serious with humorous.
Art Macao will also be heading to Wynn Macao and Wynn Palace, where art aficionados will be amazed by "Illusions and Reflections — Through the Eyes of the Masters." It showcases a wide range of world-renowned masterpieces of Chinese modern art, with a total of around 400 artistic treasures.
In 2017, Macao was honored as a UNESCO Creative City of Gastronomy. Since then, Art Macao has not only hosted international masters and local celebrities but also attracted contributors and participants from prestigious cities. (SD-Agencies)