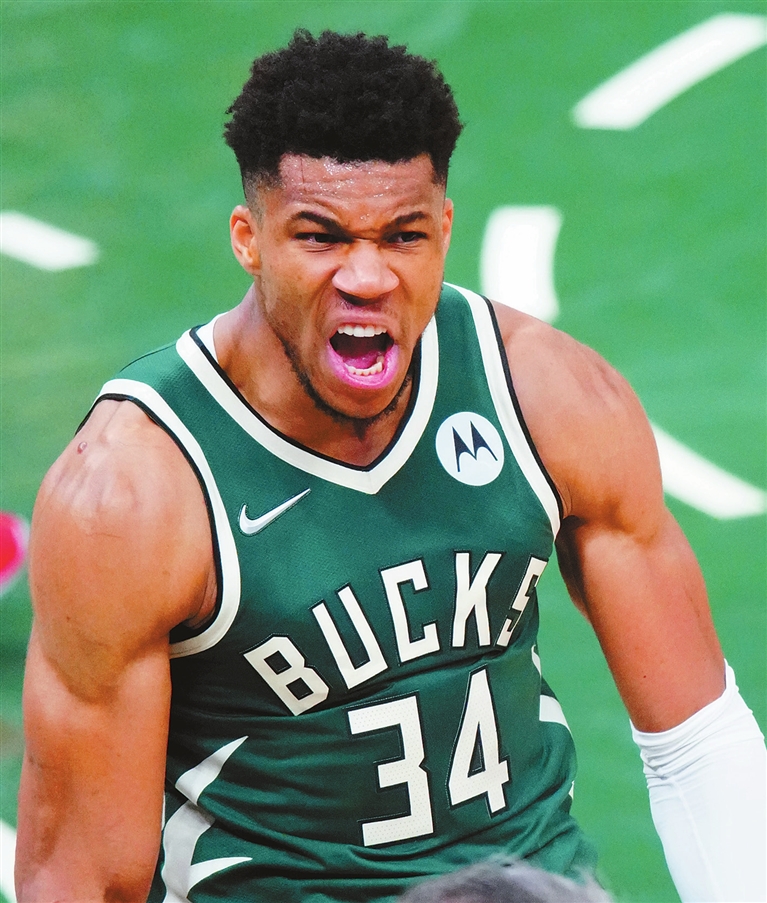 THE Milwaukee Bucks won their first NBA championship in 50 years Tuesday and a nation is cheering their success.
In Greece, home of forward Giannis Antetokounmpo, who scored 50 points to carry the Bucks to the 2021 NBA title, the news dominated social media Wednesday.
Giannis is NBA's first foreign-born Finals MVP since Dirk Nowitzki in 2011. He also joins Michael Jordan as the only players to ever win NBA MVP, Finals MVP, All-Star Game MVP and Defensive Player of the Year in their career. Unlike Jordan, Giannis has earned all four awards in the span of two seasons.
He is also the second player in NBA history with three 40-point, 10-rebound games in a single NBA Finals, joining Shaquille O'Neal in 2000.
"Incredible @Giannis_An34!," Greek Prime Minister Kyriakos Mitsotakis tweeted. "Greeks everywhere celebrate!"
Born in Greece to Nigerian parents, Giannis and his brothers sold trinkets on the street of Athens to survive. They grew up fearing deportation and Giannis was not granted Greek citizenship until age 19.
His incredible rags-to-riches story has moved Greeks who give Giannis roaring cheers whenever he plays in Greece.
Fans had created a giant mural of Giannis in his Milwaukee Bucks jersey across the court where he and his brothers practiced in their old neighborhood of Sepolia.
The 26-year-old, whose phenomenal rise from a lanky boy in Athens to the NBA has earned him the nickname "Greek Freak," received the Bill Russell NBA Finals MVP award after averaging 35.2 points and 13.2 rebounds against the Phoenix Suns.
The feat produced a rare show of unity across Greece's fractious political scene.
"Children of immigrants who lived through injustice and racism ... it is our honor that you are Greeks," leftist Syriza leader and former Prime Minister Alexis Tsipras said, congratulating Giannis and his brother Thanasis, who also plays for the Bucks.
"From Sepolia and the hard life of an immigrant family to the top of world basketball, always with the same clear & modest look in their eyes," Greece's communist KKE party said.
"If there aren't 100,000 people at the airport waiting for me and my family, I'm not flying," Giannis joked in comments to Greek website sport24.
Giannis joined the NBA from Greece in 2013 and in just a few years rose to become one of the league's biggest names, signing a five-year, US$228 million extension with the Bucks in December.
Most NBA stars are bouncing a basketball from the time they can walk.
The same cannot be said for Giannis, who experienced his first taste of the game as a 13-year-old.
The Milwaukee Buck's unlikely route to stardom began over 8,000 kilometers away from the U.S.' high-performance colleges, in the comparatively unglamorous Greek second division.
But the most special talents are simply impossible to ignore.
And so it was that in 2020, the 2.11-meter forward signed the most lucrative contract in NBA history.
It has been an astonishing rise for Giannis, who not so long ago was surviving by selling goods on the streets of his native Athens, Greece.
He was born in 1994 in Athens, as were three of his four brothers: Thanasis, Kostas and Alex.
But as the children of Nigerian immigrants, they were never officially recognized as Greek citizens, meaning they were stateless.
Their mother Veronica was a babysitter while his father, Charles, worked as a handyman. Giannis and Thanasis contributed to the family's meager income by selling bags and sunglasses on the city's streets.
"Sometimes I would go to school, no breakfast," Giannis said.
"Sometimes, not every time. I would come back, sometimes no food. Now I have to go to practice. I would come back from practice at 11 p.m. and that is when I would have my first meal of the day."
They suffered multiple housing evictions, while xenophobic attitudes further segregated the young family from Greek society.
Despite their challenging surroundings, Giannis and his brothers were able to find some happiness through sport, but initially that was playing football, another popular sport in Greece.
All that changed in 2007, when a local basketball coach by the name of Spiros Velliniatis spotted 13-year-old Giannis' physical potential. He persuaded Veronica that his sport could give them a new life, and she agreed to let the boys start playing.
Progress was quick, and three years later Giannis and Thanasis were both playing for Greek second-division side Filathlitikos.
Giannis' performances attracted attention from scouts across Europe and America. In April 2013, he officially made himself available for the NBA Draft, but his stateless status meant that he couldn't travel, which threatened to derail his dreams.
You can imagine the deep sigh of relief when Giannis and Thanasis received their Greek papers a month later.
At long last, the family felt like they had a real home, and decided to Hellenize their original surname of Adetokunbo, to Antetokounmpo.
Coach Velliniatis was right: Basketball was the family's ticket both to security in Greece, and a new life abroad.
At the 2013 NBA Draft in New York, Thanasis excitedly unfurled a Greek flag after his brother's No. 15 selection.
The Antekokounmpo family would never again wonder where their next meal would come from.
Despite being relatively unknown, with only five years of basketball under his belt, the Milwaukee Bucks took a punt on Giannis' physical potential, just as Velliniatis had in Athens.
The new recruit's 2.11-meter frame, combined with unusually good speed and dexterity for such a large unit earned him the nickname "Greek Freak."
The Bucks' gamble paid off, and by his third season Giannis was scoring an average of 16.9 points per game.
It's no coincidence that the team reached the playoffs three times in Giannis' first five seasons there.
In 2018-19, the forward became the first Bucks player since Kareem Abdul-Jabbar to be named league MVP. In an emotional acceptance speech, he paid tribute to the role of his father, who passed away in 2017.
Family was never far from Giannis' heart, and in 2019, he was reunited with his brother Thanasis, who signed a contract with the Bucks.
Kostas, meanwhile, was playing with the Los Angeles Lakers and won an NBA Championship ring for his efforts in their historic title win in October 2020.
The U.S.-based trio regularly post content together on their YouTube channel, which also features videos from youngest brother Alex, now playing basketball for Murcia in Spain, and their eldest brother Francis' music career, where he goes by his middle name, Ofili.
One of the secrets to Giannis' success is to keep improving.
"It's simple. You've got to be better than what you were last year. If you did not win the whole thing, you've got to get better," he told reporters after winning the 2018-19 MVP trophy. "If you win the whole thing, you've got to get better and do it again."
Accolades lead to rewards, and in December 2020, Giannis signed the most lucrative supermax contract in NBA history.
For those that don't know, supermax contracts were brought in three years ago and were designed to allow small-market teams to retain their top talent.
To be eligible, players have to have recently won MVP, Defensive Player of the Year, or made an All-NBA team. The "Greek Freak" was the perfect candidate, and the Bucks took full advantage.
The fact that a non-American player is regarded by many as the best player in the NBA speaks volumes of Giannis' impact in a relatively short space of time.
Naturally, the league has also embraced him as a true symbol of its globalization.
His story of triumph in the face of adversity is inspirational, relatable, and empowering for those around him.
While the man-mountain demands the highest standards of himself and his teammates on the court, his relaxed attitude with fans only serves to endear him further to them off it.
Typically, the humble Giannis once stated that he has no great desire to be seen as the face of the league.
But his loyalty to Milwaukee has already entrenched his position as their favorite son for generations.
(SD-Agencies)