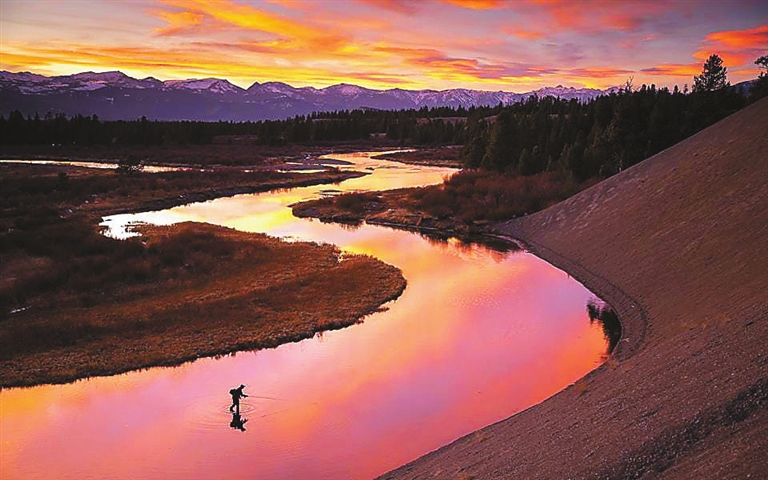 DURING the summer vacation, millions and millions of photos are being taken outdoors. Whether the photographers are trying to capture the perfect sunset, the classic landscape shot or simply a great picture of their kid kayaking, hiking or boating, they all encounter the same challenges of composition and light.
Taking great outdoor shots takes planning, strategy and a bit of daring. Just ask Adam Barker, one of the best young outdoor American photographers in the business. The Salt Lake City native specializes in active lifestyle, outdoor and travel photography and has traveled the globe capturing extraordinary imagery. Barker originally made his mark photographing the wilder mountain regions of his home state of Utah, but then branched out to other parts of the American West and eventually took off for other parts of the world, including Southeast Asia and Antarctica. Here he gives five tips on how anyone can take better outdoor photographs.
Timing
Shoot early or late in the day. You've likely heard of "golden hour." It's a real thing. Avoid the harsh contrast and general ugliness of midday light and soak in the sultriness of sunrise and sunset. Your photos will instantly look better bathed in golden light.
Shoot low
The great majority of shutterbugs out there choose standard eye level framing, given it is the simplest and most straightforward approach to capturing an image. Instead, mix it up and put your camera on or close to the ground. This new perspective will capture viewers in a much more engaging manner than a standard eye level shot.
Shoot high
There's a reason people love to stare out the airplane window — everything looks so much more unique and different from an aerial angle. Grab yourself a drone. There are so many options for portable, affordable drones out there now. Then revel in a new way of seeing and capturing imagery.
Employ the rule of thirds
There are many rules to photography, but perhaps none more life-changing than the rule of thirds. Broken down simply, you divide your frame into thirds, both vertically and horizontally.
Avoid placing the horizon in the middle of your frame and put it in either the upper or lower third of the frame. Additionally, when shooting people or wildlife, consider placing them in the thirds intersects — or more simply the lower/upper right and left hand sections of your frame.
Have fun
Forget about what you might be doing wrong, or how good your photos look compared to what you see on Instagram. The only sure way to produce more keepers is by clicking the shutter. Seek out the places and subject matter that interest you creatively, and then click away. You'll notice exponential improvement as you become more comfortable with both the technical function of your camera and your own creative vision. (SD-Agencies)