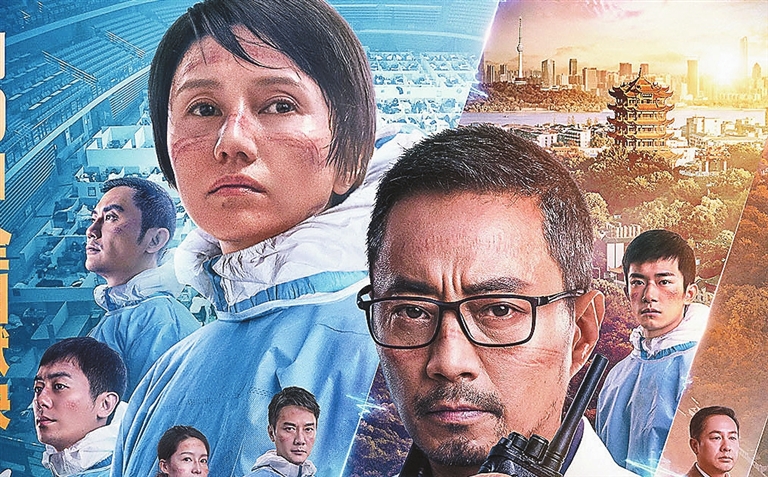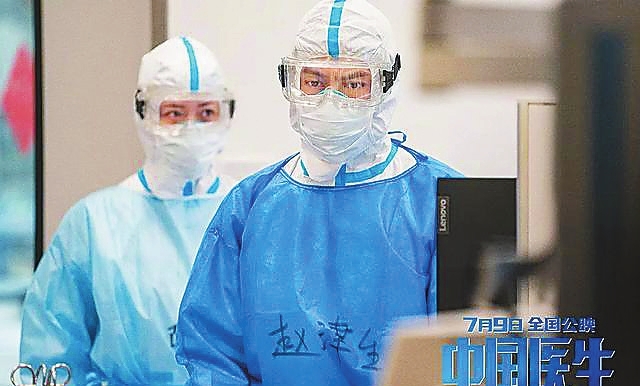 AS the latest cinematic retelling of China's battle against the COVID-19 outbreak in Wuhan, the city hit hardest by the pandemic earlier last year, Andrew Lau's directorial effort "Chinese Doctors"has topped the Chinese box-office chart for almost two weeks since its release July 9, according to the MaoyanPro app.
With a panoramic look on the medical staff members and patients in the capital city of Hubei Province during the crisis, the tale centers on a hospital president played by actor Zhang Hanyu, and two doctors sent respectively from Shanghai and Guangdong Province, starring actors Li Chen and Zhu Yawen.
The movie features many breathtaking moments, such as an infected woman undergoing a cesarean section and the use of ECMO for severely infected patients with respiratory failure.
"China is really amazing. We made it through the epidemic and won," director Lau said at a screening event earlier this month.
The director, best known for "Infernal Affairs" and "The Captain," described how the crew hired more than 30 experts as consultants to train actors to re-enact the actual events captured in the film. After each day of filming, the actors, selected medical workers and experts would check the footage for any errors.
"If things went wrong, we would re-shoot it all over again," Lau said.
Medical workers who attended the movie's screenings earlier this month recognized the efforts of the production to remain true to the real-life events, saying that they found the scenes very realistic.
Dr. Zhang Wenhong, head of the Center for Infectious Diseases at Huashan Hospital of Fudan University in Shanghai who has been one of the most authoritative figures on COVID-19 since the outbreak, said he went into the film's screening in Shanghai ready to nitpick. "But it went beyond my expectations. ... I basically didn't find any errors during its running time."
A significant portion of the film takes place in Wuhan's Jinyintan Hospital, with actor Zhang Hanyu basing his character on Zhang Dingyu, president of the hospital. Zhang Dingyu was the recipient of the honorary title of "People's Hero" for treating and saving more than 2,800 coronavirus patients with his colleagues.
"This is a true tearjerker," Zhang Dingyu commented. "The temper and some habits of the character in the film were based off of me, but those heroic, courageous and resolute characteristics epitomize all medical workers."
To capture his personality and observe and learn how he behaves in real life, actor Zhang Hanyu traveled to Wuhan to live and work with Zhang Dingyu. "I'm so impressed by his passion and compassion during critical moments. He is a real hero, a leader, a tough guy, and he's pragmatic, down-to-earth and optimistic," the actor said.
The creative team entered Wuhan soon after the city's 76-day lockdown ended in early April 2020. They then set out to document valuable firsthand information and conduct in-depth interviews with hundreds of front-line workers. Executive producer Peggy Lee Kam-Man said the whole crew overcame many difficulties during that time and implemented strict epidemic prevention measures.
Li Chen, the actor who plays a Shanghai doctor who travels to Wuhan during the epidemic, recounted how in one scene, he was on the top of a riverside building shouting, "Go Wuhan!" He then noticed that many nearby residents echoed his call and spontaneously shouted, "Go Wuhan! Go China!" back at him.
"I was deeply touched by this," Li said. (SD News)