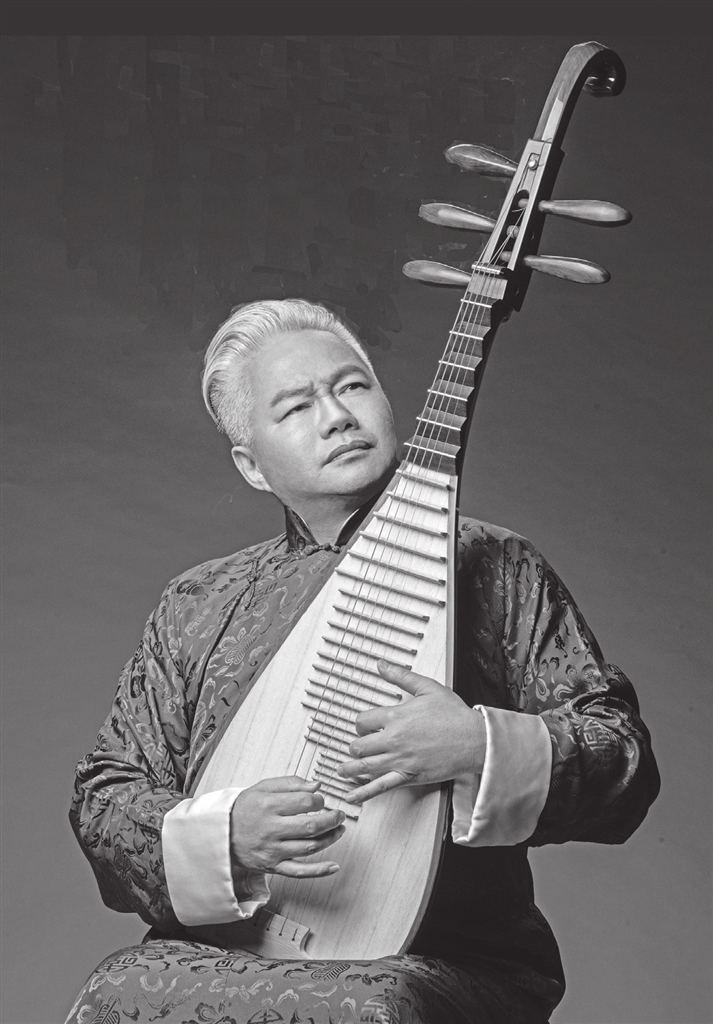 In his 50s, pipa (a pluck-string Chinese instrument) master Fang Jinlong became a viral star after he gave a 12-minute performance at the New Year's Eve concert Dec. 31, 2019, livestreamed on the video-sharing site Bilibili.
The performance, "Rhythm World," saw Fang play an array of traditional musical instruments from China, India, Italy and Japan accompanied by a 100-strong orchestra. To appeal to young fans, he incorporated elements from Chinese martial arts culture, American folk music and Japanese anime. The performance ended with a rendition of the theme song from the classic movie "The Godfather" by the orchestra, accompanied by Fang on the high-pitched pipa.
In fact, Fang has been well-known among Chinese music fans for years. A versatile Chinese instrument player, he created a five-stringed pipa (typically four-stringed) based on historical documents and founded a popular Chinese music troupe by the title of "Fang Hua Shi Ba" ("Prime 18") in 2001.
This week, Fang will bring two shows to Shenzhen Concert Hall featuring Chinese instruments and classical poetry.
Neoclassical Chinese music
On Friday evening, Fang and his musician friends will present a concert of familiar tunes and original pieces, featuring such instruments as the pipa, suona (a double-reed wind instrument), zheng (pluck board zither), horsehead fiddle, bamboo flute, xiao (end-blown bamboo flute), xun (an egg-shaped, holed wind instrument), tambur (a long-necked string instrument) and erhu (two-stringed fiddle).
The concert is a live gala paying homage to the popular variety show "Classical Chinese Music" that started broadcasting in 2018 on Guangdong TV. The program includes the Uygur folk song "Alamuhan," folk music "A Hundred Birds Paying Tribute to the Phoenix," songs "Jasmine Flower" and "Let Us Row the Oars," as well as a medley of patriotic songs and an original composition "Revels." There are also rearranged versions of classical Chinese music pieces with lyrics from the "Book of Songs."
The performers include wind instrument player Xue Tianlong who graduated from the Shanghai Conservatory of Music, Xu Xun who plays the flute, xiao and xun, percussionist Fu Shaobo, pipa player Guo Cong, erhu player Liu Yongjia, composer and keyboardist Hu Xiaoyang and others.
Time: 8 p.m., July 30
Tickets: 80-680 yuan
Music and poetry
On Saturday evening, Fang and his friends will bring the popular music and poetry show "Next-door Poetry Club." Started in June 2019, the show is broadcast on Hubei TV and streamed on v.qq.com. In addition to Fang, Saturday's live performance will feature Niu Mo, director of the original show, music director Fang Songping, history researcher Yu Gengzhe, versatile singer and instrument player Liu Feng and actress Li Yijuan.
With singing, dancing and discussion accompanied by Chinese instruments, the show will take audience members on a tour of the best of Chinese ancient poems. The program will feature poems from the "Book of Songs" and famous pieces by Tang Dynasty (618-907) poets Li Bai and Bai Juyi, Song Dynasty (960-1279) poets Yan Shu, Xin Qiji and others. Also performing will be Shenzhen Concert Hall's Flying Over the Rainbow Children's Choir.
On Saturday morning, the team behind the show will share with fans behind-the-scenes stories of their show at a seminar at the concert hall.
Time: 8 p.m., July 31
Tickets: 180-880 yuan
Venue: Shenzhen Concert Hall, Futian District (福田区深圳音乐厅)
Metro: Line 3 or 4 to Children's Palace Station (少年宫站), Exit D
(Li Dan)