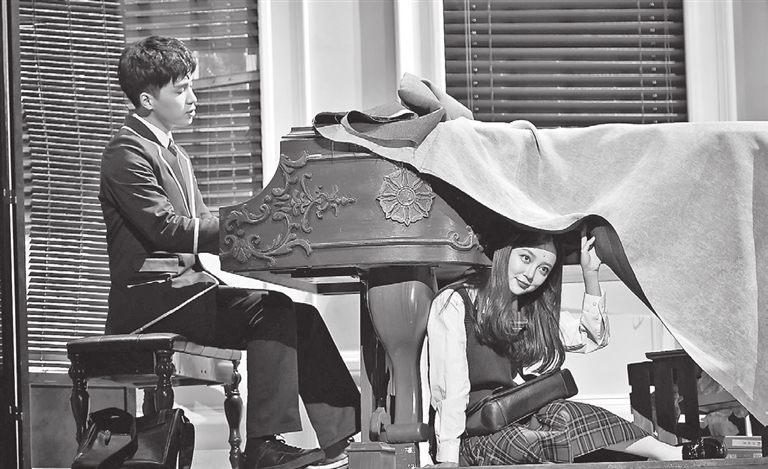 The stage version of "The Secret," a 2007 romance film directed and written by and starring singer-songwriter Jay Chou, will be shown in Shenzhen.
John Rando, winner of the Tony Award for Best Direction of the 2002 musical "Urinetown," is the director of the jukebox musical "The Secret," while Zach Woodlee, choreographer and co-producer of the TV series "Glee," is its choreographer and Beowulf Boritt, who designed the Tony Award-winning set for "Act One," is the stage designer.
"The Secret" revolves around a romance between two high school students in a time-travel setting. According to the producers, the romance remains the core of the musical, but other themes such as adolescence, friendship and familial bonds are also highlighted on stage. The original film version is considered subdued and reserved, but when told on stage as a musical, it has to introduce more lively elements in order to captivate a live audience.
In the play, Chou's 25 songs are integrated into the performance. With his debut album "Jay" released in 2000, Chou is one of the best-selling artists in China. He rose to fame with the release of his second studio album, "Fantasy" (2001), which combines Western and Eastern music styles. He has since further released more studio albums, spawning a string of hit singles and gaining significant prominence in Asian communities worldwide.
While many of his works fall into contemporary R&B, rap, and rock genres, the term "Chou Style" has been popularized to describe his trademark cross-cultural music and insistence on singing with slurred enunciation.
As an actor, Chou made his acting debut in the film "Initial D" (2005). He has since starred in a number of movies, becoming known to Western audience members when he made his Hollywood debut in 2011 with "The Green Hornet," starring alongside Seth Rogen and Christoph Waltz.
Chou's directorial debut "The Secret" received six nominations at the 44th Golden Horse Awards and won Outstanding Taiwanese Film of the Year, Best Original Song and Best Visual Effects in 2008 and was also nominated for Best Asian Film at the 27th Hong Kong Film Awards in 2008.
Time: 8 p.m., Sept. 15-20 (Sept. 20 also at 2:30 p.m.)
Tickets: 180-880 yuan
Booking: WeChat account "SZpolytheatre"
Venue: Shenzhen Poly Theater, Nanshan District (南山区深圳保利剧院)
Metro: Line 2 or 11 to Houhai Station (后海站), Exit E
(SD News)