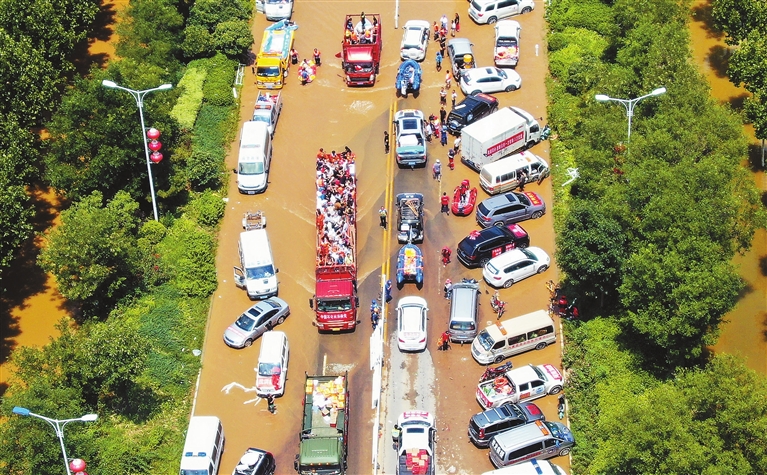 Zhang Yu
JeniZhang13@163.com
A NUMBER of Shenzhen companies and individuals have pledged to contribute in cash and supplies to keep the donations rolling in to support disaster relief operations in Central China's Henan Province, where torrential rain has caused casualties and property losses.
A ceremony, which witnessed donations including 70,000 yuan (US$10,791) in cash and supplies worth over 730,000 yuan, was held at Shenzhen Charity Innovation Space in Luohu District yesterday.
The materials donated by the participating Shenzhen enterprises include clothes, portable lamps, emergency lights, bottled mineral water and food. The cash donation was made by members of Shenzhen Virtue Love Association.
Shenzhen Youliang Culture Communication Co. Ltd., for instance, announced a donation of supplies worth 377,500 yuan yesterday, while Shenzhen Yiyuanhui Trading Co. Ltd. donated 2,000 pieces of clothing worth 150,000 yuan.
On July 22, Shenzhen Youliang Culture Communication Co. Ltd. and its artists donated 11,465 boxes of bottled mineral water, rice, instant noodles, raincoats and rain shoes, with a value of about 180,000 yuan, to the flood-hit province.
The batch of supplies was assembled in the warehouse of the city's donation center overnight and was sent to the flood victims in the city of Pingdingshan, Henan.
Shenzhen enterprises, social organizations and citizens have been acting swiftly in helping people in Henan affected by the floods.
According to partial statistics, as of 2:30 p.m. Friday, Shenzhen enterprises and entrepreneurs had donated more than 420 million yuan in cash and supplies.
Tencent Foundation announced an initial donation of 100 million yuan July 21, while Vanke Foundation, Logan Charitable Foundation and BYD Charity Foundation had pledged to donated 50 million yuan, 10 million yuan, and 20 million yuan, respectively.
Foxconn Industrial Internet Co. Ltd., which has facilities in Henan with an iPhone factory in the city of Zhengzhou and an industrial park in Zhoukou, promised to donate 100 million yuan.
The funds donated by enterprises are mainly used to ensure the personal safety of local people, purchase disaster relief goods and support post-disaster reconstruction.
SF Foundation also announced a donation of 20 million yuan. Meanwhile, branch offices of SF Express across the country have urgently contacted manufacturers of flood relief supplies to transport 30,000 woven bags to flood-hit areas.
Huawei donated 30 million yuan to Henan Charity General Federation and sent over 1,100 engineers to restore the region's communication services.
Apart from providing an emergency rescue service for car owners, BYD has also opened all 4S stores in Zhengzhou as emergency shelters so that locals can go to the nearest stores they can find for assistance.