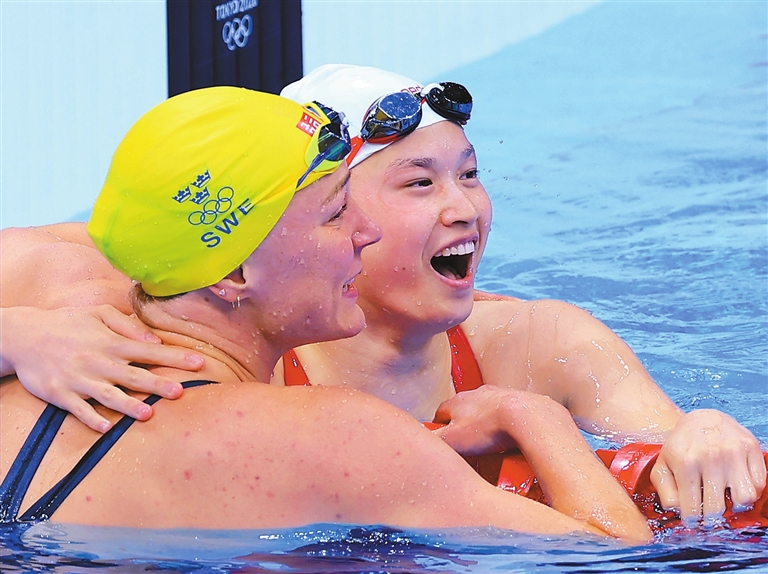 CANADIAN swimmer Margaret MacNeil, who won the women's 100-meter butterfly gold medal yesterday at the 2020 Tokyo Olympics, was born in East China's Jiangxi Province and adopted by a Canadian couple when she was a year old, www.shine.cn, reported.
Now a student at Michigan University in the United States, MacNeil, 21, walked away with the gold in 55.59 seconds, 0.05 seconds ahead of China's Zhang Yufei.
It was the first gold for Canada in Tokyo. MacNeil also swam in the women's 4×100m freestyle relay and helped Canada win a silver.
The Tokyo Games are MacNeil's first time competing in an Olympics. She also won the women's 100-meter butterfly at the 18th FINA World Championships in 2019.
MacNeil, also known as Maggie MacNeil, was born Feb. 26, 2000. Based on her date of birth, she holds the zodiac sign of Pisces.
MacNeil is an adopted child of Susan MacNeil and Edward MacNeil. Her mother is a physician on staff at St. Joseph Family Medical Center in London, Ontario. She is also the medical director of the hospital's Regional Sexual Assault and Domestic Violence Treatment Center.
Her father, according to the swimmer, is a morning person who is very supportive and encourages her to be disciplined in every way.
She enjoys baking, sewing, and traveling.
In the women's 100-meter butterfly event, Margaret is the current world champion and holds the American record (55.83).
Although she represented Canada as a 15-year-old at world juniors in Singapore, she missed making the team in 2017. At the world championships in Gwangju, she's on the senior national team for the first time and is already cementing herself as a crucial member.
Part of MacNeil's success likely has to do with her tenacity. She isn't someone who backs down from achieving a goal.
She recalled her first swim meet as an 8-year-old. The day before, her school held a skating event where she fell and sprained her wrist.
Still, she refused to withdraw from the meet.
"It hurt like heck, but I knew I wanted to do it," she said.
That drive has helped MacNeil blossom into a well-rounded athlete. She balances her passion in the pool with outside pursuits like playing the violin and clarinet, crediting her parents, who are more artistic than athletic.
MacNeil's athletic career was new for her parents but they've supported her by attending almost every meet. Her dad, she says, cries after her races.
According to a FINA Magazine report earlier, MacNeil would soon impress others, both with her training tenacity and her personality.
"I was intimidated by her after the first week we had. I was like, 'Oh my God, no one goes that fast mid-season. It was just crazy to me," recalls Alexis Margett, a California native a year ahead of MacNeil who represented Bolivia at Worlds.
Margett remembers her fellow butterflyer being quiet and keeping to herself in the early going. Midway through the season though, she first heard MacNeil break into her trademark laugh at the world's busiest airport in Atlanta, Georgia. Some swimmers were playing the card game "Spoons," where players pass cards rapidly as they try to collect four-of-a-kind. Once someone does, a mad grab ensues to snatch the spoons in the middle. Only they had substituted fork/spoon hybrids.
"We were using 'sporks' and when I went to grab it I accidentally stabbed myself with it. Maggie started laughing and the whole airport echoed," Margett says. "Everyone stopped what they were doing and stared at us, like, 'Oh my God is that coming from her?' It was the first time I heard her laugh. I found it hilarious. It was probably like a solid eight-minute laugh. I was like, 'How are you breathing?' She inhales the whole time. I'm going to start calling her Canada Goose."
Margett says: "She's the type of person who pushes you through the workout even though it's really hard."
MacNeil felt her program at the London Aquatic Club with coach Andrew Craven had given her a great base. She credits increased weight training and the overall fit with Mike Bottom's program at Michigan with helping her take the next step.
"We do tons of power, focus more on underwater kicking, and a bunch of stuff dedicated to what I swim," MacNeil says.
MacNeil turned that hard work into four Big Ten titles, helping Michigan to a second-place finish overall in the conference and earning Freshman of the Year honors in the process.
MacNeil plans to pursue law or medicine after completing her undergraduate degree, FINA Magazine reported.
(SD News)