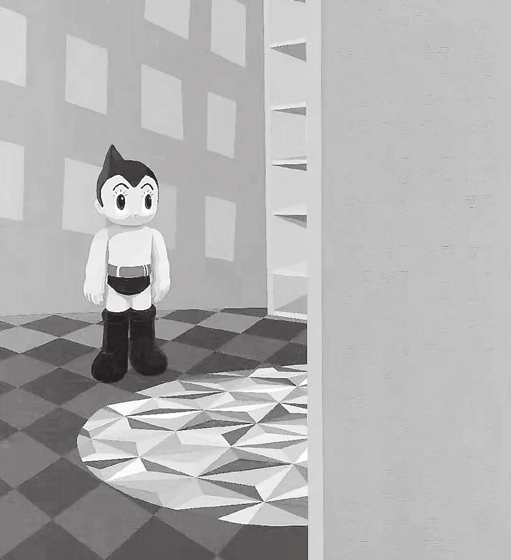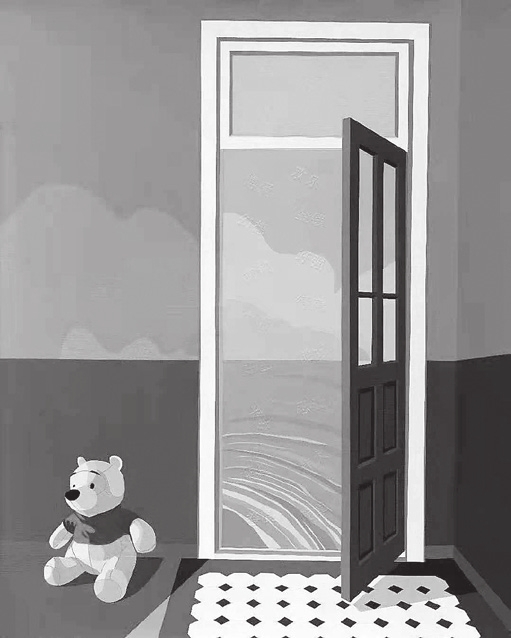 Shi Yanliang, a graduate from the Central Academy of Fine Arts in Beijing, is exhibiting his cartoon-like paintings at the "Cartoon Bubble" exhibition at Pengs Space in Nanshan District.
Shi's style is clean and crisp and he is famous for his straightforward and vibrant paintings. His paintings tell stories and he uses intensive colors and precise lines to depict overwhelming and sometimes not too positive emotions.
"My works are culminated from an intersection between art and life. There are associative relationships present in my works between colors, emotion, spirituality, society and life. Each element is carefully thought out and added to the work because of its association with a particular sentiment or idea," he said.
Born in 1981, the artist often tries to make sense of the influence of Western capitalism on his generation through his distinctive visual language. "My paintings focus on some of the struggles that my generation has been through in this society. Using a vibrant color palette is my way of saying that hope is not yet lost. I do believe that there is a great future lying ahead of us," he added.
Shi said that in terms of his vibrant color palette and bold compositions, the works of celebrated pop artists like Andy Warhol and Roy Lichtenstein have inspired him a great deal. "My paintings have multiple layers, not just in terms of concepts but also with symbolic elements. On the canvas, I am the director and every object and character plays the role of an actor. I have complete control over them."
Symbolism is one of the main aspects of Shi's paintings and the artist admits that there are a number of aspects of Chinese culture ranging from poetry to traditional paintings that have inspired the usage of metaphors and symbols in his paintings.
For example, his painting "The Goose" derives from a very popular Tang Dynasty (618-907) poem. The painting represents the loss of innocence and naivety of a child as opposed to the hustle and bustle of a city. The birds and elements of nature are derived from the traditional art of Chinese paintings. They represent people struggling to keep up with the continuous development within society as well as in the world. The presence of nature also symbolizes the very fundamentals of society, equality and harmony.
Dates: Until Aug. 29
Venue: Pengs Space, 2/F, Top Grade, 1 Songpingshan Road, Nanshan District (南山区松坪山路1号上品鸟屋咖啡二楼彭空间)
Metro: Line 1 to Hi-tech Park Station (高新园站), Exit B and then take a taxi(SD News)