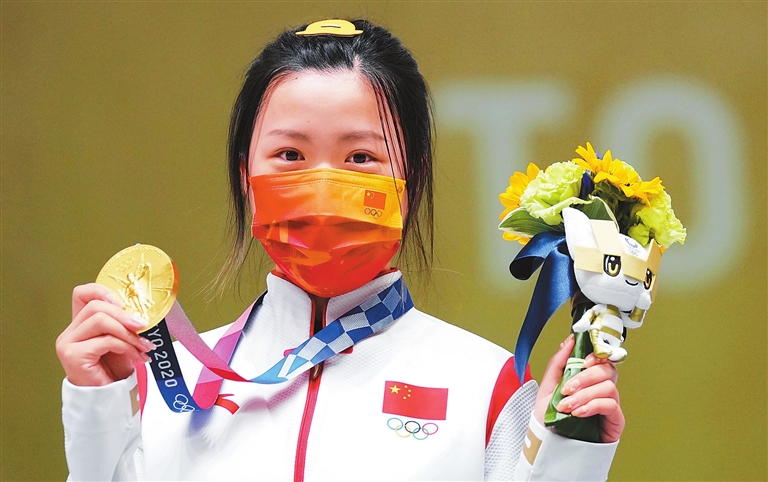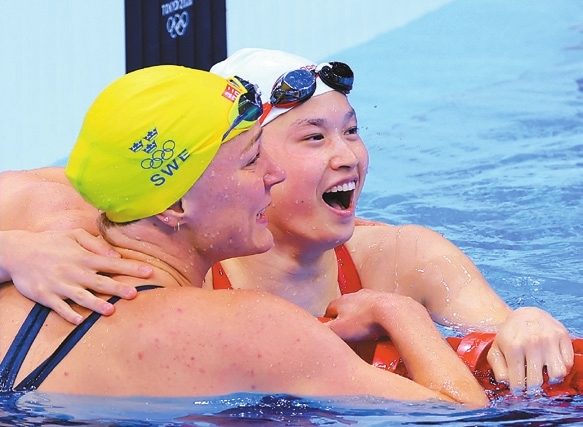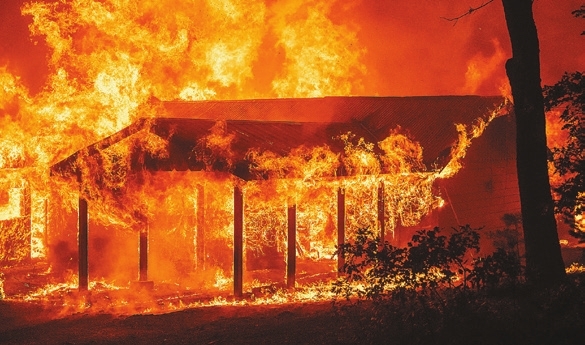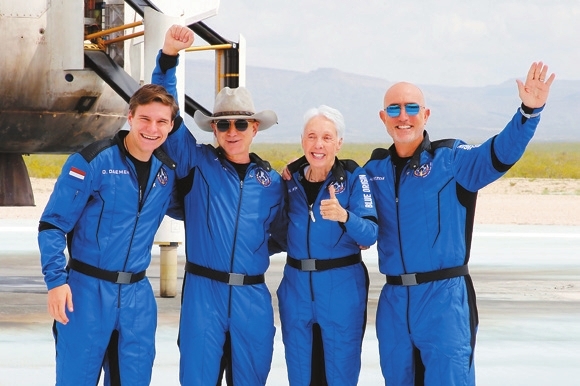 China dominates Day 1 of Tokyo Olympics with 3 golds
Chinese shooter Yang Qian celebrates after claiming the first gold of the Tokyo Olympics with a thrilling victory in the women's 10m air rifle on Saturday. China got off to a flying start at the Tokyo Olympics on Saturday by winning three gold medals in shooting, fencing and weightlifting. China's second gold came when Hou Zhihui won the women's weightlifting 49kg event. Sun Yiwen edged Ana Maria Popescu of Romania to win China's first women's epee individual Olympic gold medal, also the country's third gold of the day.Xinhua
Canada's gold medalist an adoptee from China
Canadian swimmer Margaret MacNeil, who won the women's 100-meter butterfly gold medal on Monday at the 2020 Tokyo Olympics, was born in East China's Jiangxi Province and adopted by a Canadian couple when she was a year old, www.shine.cn reported.
Now a student at Michigan University in the United States, MacNeil, 21, walked away with the gold in 55.59 seconds, 0.05 seconds ahead of China's Zhang Yufei.
It was the first gold for Canada in Tokyo. MacNeil also swam in the women's 4×100m freestyle relay and helped Canada win a silver. The Tokyo Games are MacNeil's first time competing in an Olympics. She also won the women's 100-meter butterfly at the 18th FINA World Championships in 2019. MacNeil, also known as Maggie MacNeil, was born on February 26, 2000.
California's fire torches homes
Flames racing through rugged terrain in Northern California destroyed multiple homes on Saturday as the state's largest wildfire intensified and numerous other blazes battered the U.S. West.
The Dixie fire, which started on July 14, had already leveled over a dozen houses and other structures when it tore through the tiny community of Indian Falls after dark.
An updated damage estimate was not immediately available, though fire officials said the blaze has charred more than 73,200 hectares in Plumas and Butte counties and was 20 percent contained.
The fire was burning in a remote area with limited access, hampering firefighters' efforts as it charged eastward, fire officials said.
Jeff Bezos travels to space for 11 minutes
Jeff Bezos, the world's richest man, went to space and back on July 20 on an 11-minute, supersonic joy ride aboard the rocket and capsule system developed by his space company, Blue Origin.
Riding alongside the multibillionaire were Bezos' brother, Mark Bezos; Wally Funk, an 82-year-old pilot and one of the "Mercury 13" women who trained to go to space in the 20th century but never got to fly; and an 18-year old recent high school graduate named Oliver Daemen who was Blue Origin's first paying customer and whose father, an investor, purchased his ticket.
Funk and Daemen became the oldest and youngest people, respectively, ever to travel to space.
Nearly 68% of Indians have COVID antibodies
The fourth round of the national sero survey report puts the overall sero-prevalence in India at 67.6 percent, leaving some 400 million or a third of the population still susceptible to the COVID-19 infection, the Indian government said last week.
Children were included in the national survey for the first time and while those between 6 and 9 years of age showed a 57.2 sero-prevalence, for those between 10 and 17 years, this was 61.6 percent, according to the Indian Council of Medical Research.
The government said 85 percent of the surveyed health-care workers had antibodies against SARS-CoV-2 while a 10th remains unvaccinated.
.
Unvaccinated may face restrictions in Germany
German Chancellor Angela Merkel's chief of staff has warned that restrictions for unvaccinated people may be necessary if case numbers reach new heights in the coming months.
But Helge Braun said in an interview with the newspaper Bild am Sonntag that he doesn't expect another coronavirus-related lockdown in Germany.
Braun said that unvaccinated people may be barred from entering venues like restaurants, movie theaters and stadiums "because the residual risk is too high." Braun said getting vaccinated is important to protect against severe disease.
(SD-Agencies)