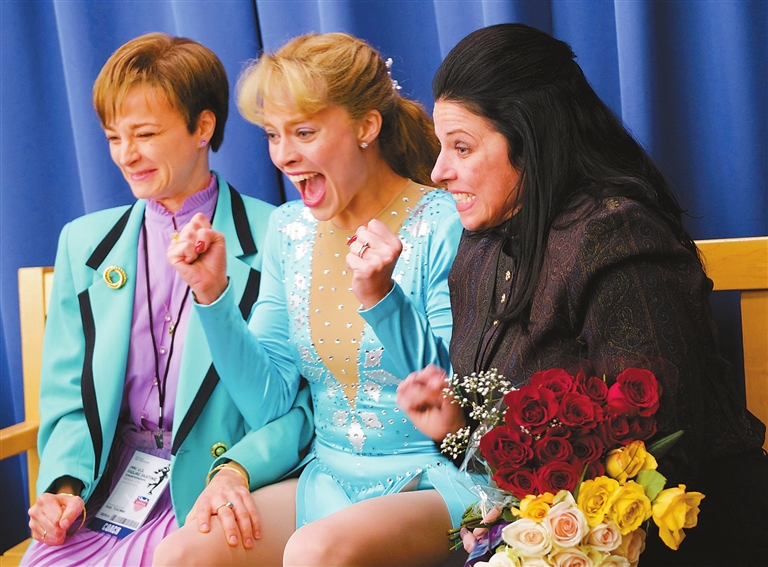 The Olympic figure skater Tonya Harding reached the height of her fame years ago for something that didn't even happen on the ice: the notorious attack on rival Nancy Kerrigan, orchestrated by Harding's then-husband, Jeff Gillooly, just before the 1994 U.S. Figure Skating Championships in Detroit.
Even though Harding wasn't personally involved in the infamous, injurious leg-whacking, she may as well have been, her reputation and career were so damaged.
"I, Tonya" will make you feel sorry for her, for the abuse and pain she's suffered for so much of her life. Director Craig Gillespie pulls off what would seem to be an impossible high-wire act: He's made a movie that's affectionately mocking — of this theatrical sport, of the idiots who surrounded Harding, of this hideous moment in fashion and pop culture — without actually mocking Harding herself.
Steven Rogers' script shows great kindness and emotional charity for this wounded figure, even as it tells her story through a whirlwind of unreliable narrators.
Despite the colorful glitz and cheese of the figure-skating setting, "I, Tonya" has an unmistakably tumultuous air from the very start. And at the center of the storm is Margot Robbie in the performance of a lifetime as Harding.
She's got the requisite swagger of an athlete at the top of her sport, but it's tinged with sadness as we see the low sense of self-worth buried underneath — the result of years of physical and verbal abuse at the hands of her cruel mother.
Allison Janney is convincing as the profane, chain-smoking LaVona Harding, constantly insulting Tonya and messing with her mind in the name of making her a champion.
Tonya was doomed never to receive an enthusiastic embrace from the figure skating elite because she and her mother didn't fit their superficial, socioeconomic ideals. It's one of the key components to her tragic downfall, but it also makes her story relatable beyond the world of figure skating.
Growing up poor in Portland, Oregon, with her frizzy ponytail and poofy, homemade costumes, Harding struggled to look the part of the new ice queen — something Kerrigan achieved effortlessly. Even though Harding was an extraordinarily athletic female skater — one of a rare few to this day to land a triple axel cleanly in competition — U.S. judges often didn't give her the scores she deserved because she didn't adhere to the image they wanted to project.
When Harding married the first man who was nice to her, she went from one abusive situation to another because it felt familiar. Jeff Gillooly (Sebastian Stan) is a sleaze ball in a turtleneck and a mustache. As his violent side emerges and his emotional hold on Tonya strengthens, your heart breaks for Tonya, because you know that no matter where she goes, she's trapped.
Under those circumstances, it's a miracle she could get out on the ice to practice, and compete at the highest level of the sport. And the more we learn about her life, the more it becomes clear that the odds were always stacked against her.
In interviews both recreated and imagined, Gillespie depicts her rise and fall from a variety of competing perspectives and contradictory voices.
Taken together, they create a picture that isn't exactly the truth, the whole truth and nothing but. What "I, Tonya" does provide honestly, though, is a vivid slice of pop culture history — a mix of jealousy, competition and class warfare.(SD-Agencies)