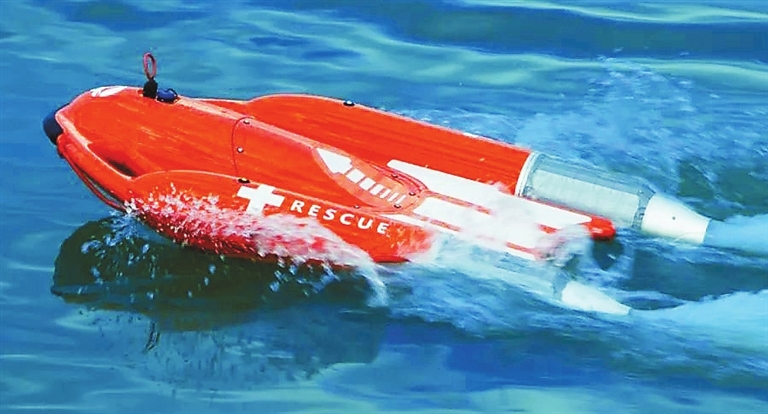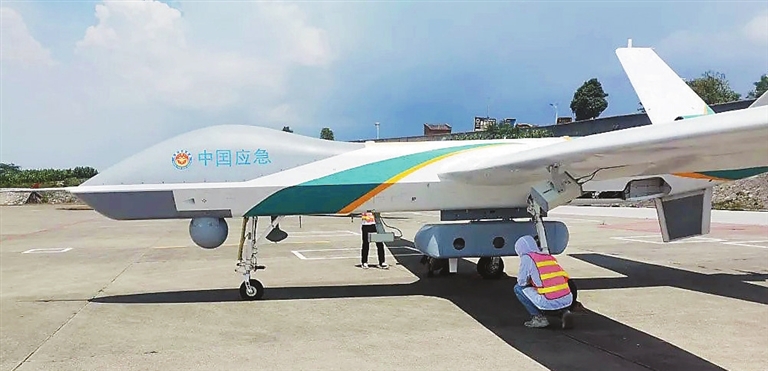 Chinese technology companies are supporting flood rescue efforts in Central China's Henan Province, with drones, unmanned boats, remote water supply systems and cloud-logging services functioning as a much-needed, life-saving force to minimize the damage of the deadly natural disaster.
Responding to an emergency dispatch by the Ministry of Emergency Management, China Mobile, the world's largest telecom operator by subscribers, arranged the Wing Loong 2 to fly from Southwest China's Guizhou Province to Gongyi, one of the most battered areas in Henan, last Wednesday.
The drone, using the operator's wireless telecommunications base stations and stable communications signal with coverage of over 50 square kilometers, is capable of providing long-term, stable and continuous mobile network coverage for 24 hours without pausing, according to China Mobile. In addition, the manufacturing cost of Wing Loong 2 is tantamount to a Starlink satellite and several of them would be enough for a nationwide coverage.
Smart lifesavers made by Yunzhou Tech in Zhuhai, Guangdong Province, were also sighted assisting with rescue work. In total, 118 smart lifesavers have been allocated by the company to support Henan rescue teams. Huang Wenting, director of Yunzhou Tech's marketing department, said the company had also dispatched a batch of rescue drones and professional operators to Henan to assist with local rescue work and provide training courses for using the lifesavers.
The smart lifesavers can bear at most three adults and can take tasks at 800 meters at most of remote distance. They can complete rescue missions with operators' remote control, said Huang.
Shenzhen-based drone maker DJI is also organizing local drone operators and resources to support quarantine and disinfection works. The drones have become a vital force in rescue efforts.
China Aerospace Science and Technology Corporation also announced that their weather monitoring, communication and navigation satellites provided related information for local rescue works.
Rescue equipment and remote water supply systems produced by Weihai Guangtai Airport Equipment Company in Shandong Province were also deployed into flood-affected areas. Weihai Guangtai's remote water supply system enables water supply from more than six kilometers away, as well as water drainage, and it can run 24/7, the firm said.
Another example of the power of tech-aided rescue efforts was the sharing of valuable rescue information via cloud logging from the Chinese rival to Google Docs. A widely circulated online Tencent Docs, named "Information about People Waiting for Rescue," created by a university student named Manto, quickly spread. It has become a life-saving document for people stranded in the flood. The shared document, which can be updated by several people at the same time, also became an information distribution center for both organizations and individuals who are willing to provide temporary shelter, medical assistance and other help.
(Global Times)