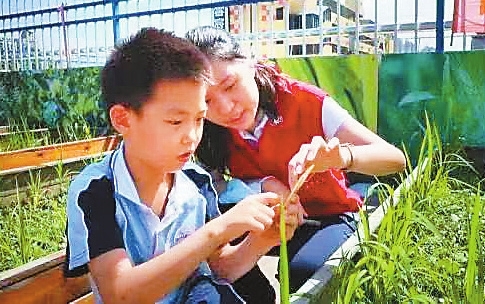 While summer camps, commercial training centers and grandparents traditionally help to take care of kids during the two hot months of summer vacation, those parents who are not well off enough to send their young to commercial programs or don't have trusted family members to give a hand fret over their kids' summer plans.
Shenzhen's schools have provided a way out with better options starting this year.
Summer school services are now being offered on a trial basis in designated schools in all 10 districts of the city, in what the parents happily call an "official nanny program."
The No. 2 Primary School Attached to the Shenzhen Education Research Institute in Futian District is on the list of the pilot schools.
One of the feature courses at the school is working at a roof-top garden on campus. The 1,000-square-meter garden is planted with rice, vegetables and herbs, helping children to learn about plants and to do some manual labor.
As most teachers have other arrangements for their summer vacation, university students have been hired as supplemental staff to assist the school's teachers.
Qiu Liya, a freshman from Shenzhen University, is happy to be able to help. "Since the students come from different schools, it takes some time for them to get familiar with each other," she said. "It's also our primary task to help them to bond so that they can enjoy the experience."
The first 10-day program at the school takes in 70 students, divided into two classes. The school also arranges for the kids to take a nap at noon in three classrooms, with simple mattresses and sheets prepared by the parents themselves.
Wang Zekai, a kid of the program, said he was very satisfied with the program. "I had little to do and no friends to play with in past summer vacations, when I stayed at home by myself," he said. "This is like a summer camp for me."
Zhou Guangshun, an official at the school, said he and colleagues will keep improving by learning from the experience of other schools and listening to the suggestions of parents.
Liannan Primary School in Luohu District expects to take in 200 students over two programs, school official Chen Zhihong said.
Chen Xuemei, deputy headmistress of Xinsha Primary School, said her school arranges a daily reading course for the students. The library and sport facilities are free to use on campus. In addition, psychological tutoring and handicraft making sessions are provided for those who need and want them.
Parents are charged 70 yuan (US$10.7) per day per kid for the summer service citywide, with lunch included. Those from migrant workers' and medium-and low-income families, and kids whose both parents have to go to work have the priority to enjoy the service. Some schools also agree to take in students from low-income families for free.
So far, 25 schools have offered the service, launched on July 19.
Chen Wulin, a professor of education with Shenzhen University, praised the "official nanny program."
"With professional teachers and university volunteers taking care of their kids, local parents are reassured that their young are in good hands and provided with quality care and tutoring during the summer," he said.
(Li Dan)