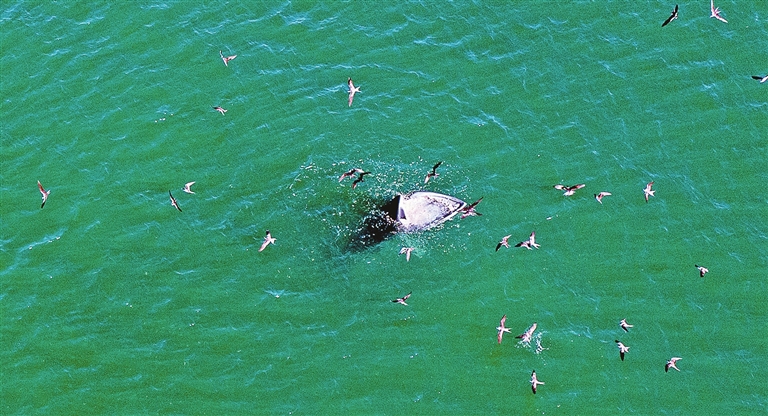 THE whale affectionately nicknamed "Xiaobu" by Shenzhen residents, which was first spotted in the waters in Dapeng Bay on June 29, has been identified as an Eden's whale, with scientific name Balaenoptera edeni, Shenzhen Economic Daily reported yesterday.
Researchers at BGI Marine performed genetic sequencing on the whale's environmental DNA (eDNA) with high-throughput sequencing technology.
Eden's whale is under the genus of Balaenoptera which consists of nine species: Bryde's whale, Eden's whale, Omura's whale, Rice's whale, common minke whale, Antarctic minke whale, fin whale, sei whale and blue whale, the world's largest creature on record.
Among the nine species, Bryde's whale, Eden's whale, Omura's whale and Rice's whale used to be generally called Bryde's whale.
The researchers obtained four sets of genetic sequences of "Xiaobu" through high-throughput sequencing and eDNA technology from water samples. The four sets of genetic sequences were compared with those of an Eden's whale preserved at the National Museum of Nature and Science in Tokyo, Japan. The comparison yielded similarities of 99 percent, 100 percent, 100 percent and 100 percent, respectively, while the similarities of the genetic reads between "Xiaobu" and the other three species of the general Bryde's whale species only reached 95 percent to 97 percent, leading to the conclusion that "Xiaobu" is an Eden's whale.
It is the first time in the world that eDNA technology and high-throughput sequencing have been used to identify an Eden's whale, which is especially difficult to be distinguished by morphology and acoustics from a class of closely related species.
Environmental DNA, or eDNA, is DNA that is collected from a variety of environmental samples such as soil, seawater, snow or even air rather than directly sampled from an individual organism. Such samples can be analyzed by high-throughput DNA sequencing methods for rapid monitoring and measurement of biodiversity.  (Ruan Tongxin)