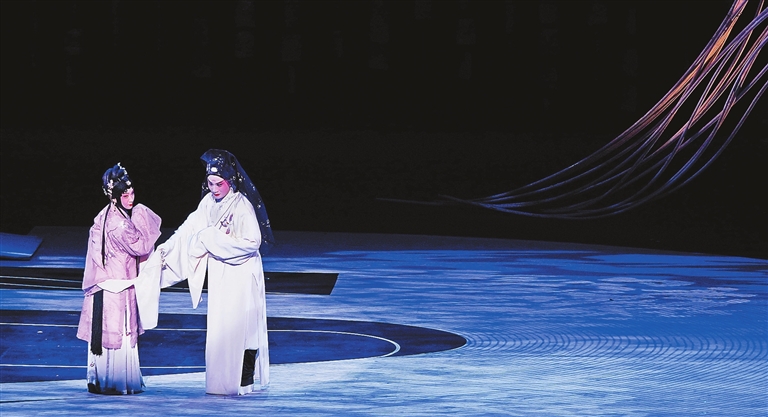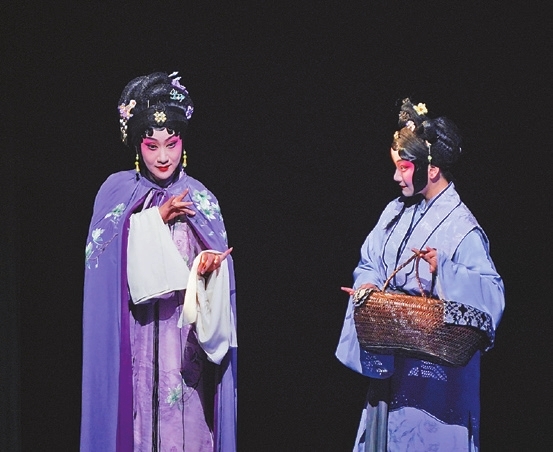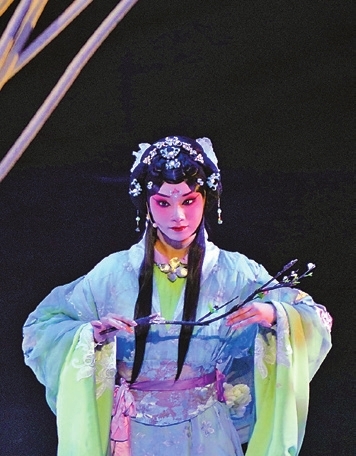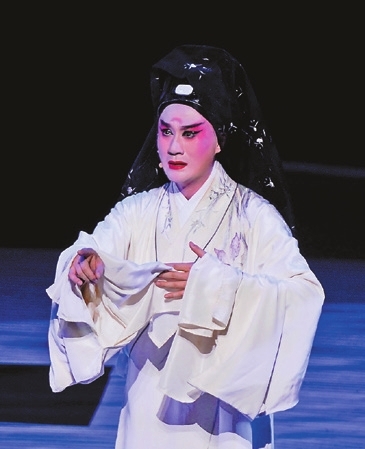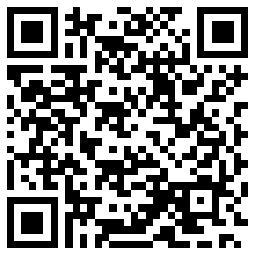 Lin Lin
linlin_szdaily@126.com
IF you love musicals, you'll most likely be enchanted by the Kunqu opera "Blossoms on a Spring Moonlit Night," a stage performance of exquisite, melodious music, graceful dance movements, simple, elegant set designs, and a heart-rendering story that you can't help being carried away by.
Last Sunday evening, Chinese Kunqu opera star Zhang Jun and his fellow artists put on a three-hour show at Guangming Culture and Art Center in Guangming District, bringing a true delight to local fans.
Inspired by Tang Dynasty (618-907) poet Zhang Ruoxu's signature poem of the same name, "Blossoms on a Spring Moonlit Night"was written by contemporary Chinese writer Luo Zhou, a two-time winner of the Cao Yu Prize for Playwriting, China's top prize for playwrights, and directed by Li Xiaoping, a Taiwan traditional opera director best known for his innovative work in combining traditional and modern artistic forms.
Set in the Tang Dynasty, "Blossoms on a Spring Moonlit Night" tells a fantasy story of how the dead soul of a young poet struggles for 50 years between the worlds of men, ghosts and deities in order to reunite with his love. Though a love story, the opera has gone beyond the theme of romantic love into exploring the philosophical issue of how an individual, with a limited lifespan, should position himself amidst the eternal universe.
When the young 27-year-old poet Zhang Ruoxu (played by Zhang Jun)meets the 16-year-old girl Xinyi on a lively Lantern Festival night, it is love at first sight. Before he could reveal his feelings, a messenger ghost, who works for the lord of the underworld, takes his life and sends his soul to the underworld. While it's soon discovered that the careless ghost has taken the wrong man, Zhang also learns that he has only three more days to live even if he goes back to the human world.
"I have always compared the play with 'Romeo and Juliet.' When the young lovers die, their love ends and the curtain falls. But in a Kunqu opera, death is often the beginning of a story and where the meaning of life gets revealed," Zhang Jun told Shenzhen Daily.
To save the trouble of sending Zhang Ruoxu back to the human world, the gods of the underworld promise to give him talent, wealth and power in his next life as long as he gives up the idea of going back to the real world. Desperate to see Xinyi again, Zhang rejects all the offers.
As the story evolves, Zhang becomes alive again with the help of a goddess, but it is 50 years later. He returns to where he meets Xinyi as a 27-year-old, and finds that his love, now a 66-year-old woman, has been mourning for his death for five decades.
Though a tear-jerking scene, the reunion is nothing mushy. Zhang doesn't tell the woman who he is. Instead, he says that he has left his hometown for years and now returns to meet a fair lady. He offers to play a song for Xinyi and invites her to sing along. That's where the theme song comes in. The lines of the ancient poem that inspired the creation of the play were performed in the mild, exquisite and sentimental musical style known as shuimodiao, or water-polished music, to present the audience a comparison of the transience of human life with the eternity of the moon, an image often touched upon in ancient Chinese literature.
Zhang Jun, lead actor and producer of the opera, has been devoted to the 600-year-old art of Kunqu opera for over 30 years. In 2011, he received the UNESCO Artist of Peace award for his long-term commitment to promoting the ancient Chinese art. In 2015, he presented "Blossoms on a Spring Moonlit Night" for the first time in Shanghai and has received acclaims from both critics and fans.
"The play is much more than a continuing test of my performing skills," said Zhang Jun. "Every time I perform in 'Blossoms on a Spring Moonlit Night,' I somehow manage to bring out the best of me and find within myself the sincerest love. I seem to be able to break the boundary of time."
"I hope that in the future, there will be more opportunities for modern Kunqu operas to be staged in an open city such as Shenzhen. It will be my great pleasure to bring more shows to audiences here," he said.