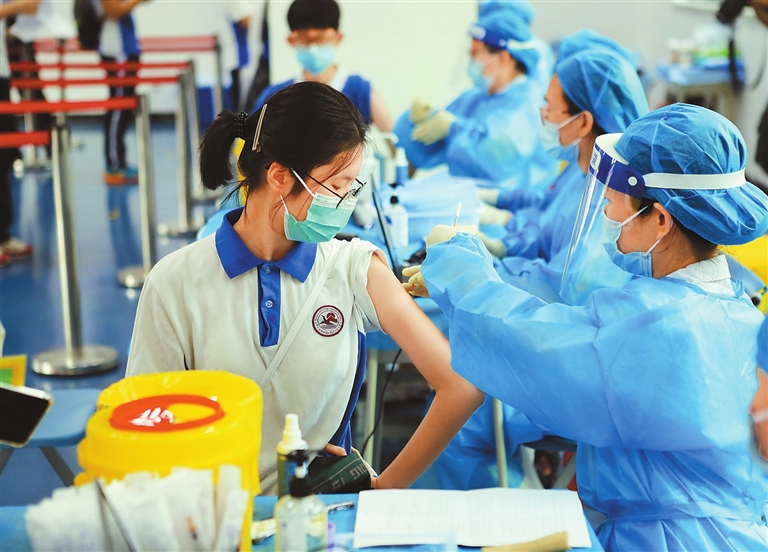 Zhang Yu
JeniZhang13@163.com
SHENZHEN officially started vaccinating teenagers aged between 12 and 17 against COVID-19 on Thursday.
A total of 536 students at Shenzhen Futian Foreign Languages High School in Futian District received the COVID-19 vaccines at the school Thursday morning. They were among the first batch of high school students in Shenzhen to get the shot.
Guo Yulin, an incoming high school senior this September, was one of the students who received their first COVID-19 shot Thursday.
"It didn't hurt at all. I want to get vaccinated for my own safety and the safety of others," Guo told Shenzhen Daily after he received his first dose.
Shenzhen Futian Foreign Languages High School would have approximately 1,600 students receive the COVID-19 vaccines at the school Thursday and Friday. Those vaccinated Thursday morning are all incoming third-year high school students, the school said.
According to Shen Zhiliang, president of the school, there are 1,938 students at the school who are eligible for the vaccines. However, some students are on vacation during the summer break, so they will get the vaccine shots on a later date.
According to the city's plan, Shenzhen will complete the vaccination of students aged between 12 and 17 before Sept. 19.
Mainland students will mainly get vaccinated in a centralized way, supplemented by individual appointment vaccination.
Students from Hong Kong, Macao and Taiwan can make an appointment through their school organizations or personal appointment at the 10 designated COVID-19 vaccination sites.
Students aged 15-17 are required to complete their first dose between Friday and Saturday and the second dose between Aug. 21 and 23. Students aged 12-14 need to complete the first dose between Aug. 21 and 23 and the second dose before Sept. 19.
The students who will receive the COVID-19 vaccines should provide an informed consent letter signed by their parents or guardians and the name and ID number of at least one of their parents and be accompanied by school staff or their guardians.
On the other hand, the COVID-19 vaccination schedule for foreigners under 18 is expected to begin this September, according to the city's health commission.
Personal appointment for the vaccination is available via the WeChat accounts "szwjwwx" (深圳卫健委), "szcdcepi" (深圳疾控), and "jkshenzhen"(健康深圳). Reservation for vaccination appointments for students aged 12-14 will begin Aug. 1.
At present, the COVID-19 vaccines used for teenagers aged 12-17 are inactivated COVID-19 vaccines approved by the Central Government, which includes Sinopharm and Sinovac vaccines.